3 Steps to a Pain-Free Perky Booty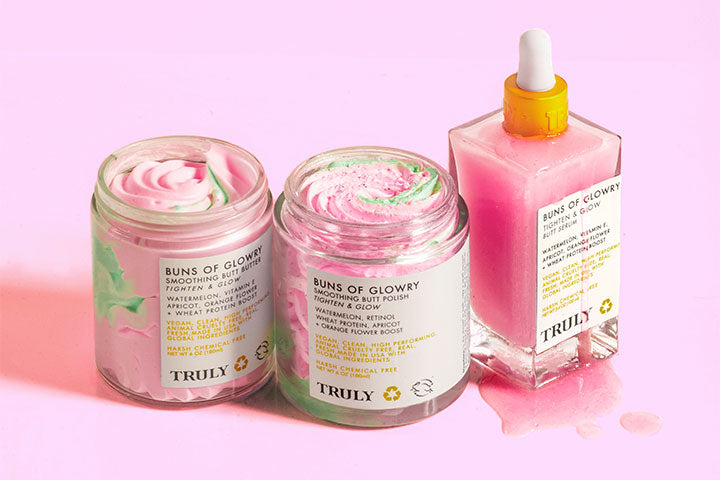 Everyone wants a perky booty. Not only does it look good in a bikini, it looks fantastic in a snug pair of jeans. But how do you obtain a firm and lifted booty without going under the knife *eeek!!!*?
Truly has devised a three-step booty lifting formula that consists of three antioxidant packed skincare products to smooth out cellulite, while giving your buns an extra push. The kind that makes your derriere look fabulous in every outfit – on every occasion.
If you've been neglecting your booty for too long, it's time to offer it some major TLC.
BUNS OF GLOWRY SMOOTHING BUTT POLISH
Never heard of a butt polish before? You've been missing out for far too long!
Formulated with wheat protein and watermelon extract, Truly's Buns of Glowry Butt Polish offers all the hydration and nutrients your butt needs for ultimate firmness and a line-free appearance.
Its chief ingredient, watermelon extract, is rich in amino acids, vitamin C, and lycopene, all powerful antioxidants that promote cell regeneration, hydration, and gentle exfoliation. In other words, the stuff your booty needs to look its best.
Wheat protein's role is to fill out fine lines and hollowness in the skin, thanks to its high content of ceramides. The lipid that locks in moisture to plump up skin from within.
HOW TO USE:
In the shower, lather up a Buns of Glowry mix with water and massage into your booty, before rinsing off with warm water. For best results, leave the mixture on the booty area for 5-10 minutes before rinsing.  
BUNS OF GLOWRY GLOW & TIGHTEN BUTT SERUM
The second step of the natural butt-lifting process: Buns of Glowry Butt Serum. Created with a blend of high performing vegan ingredients such as bitter orange and apricot, this lightweight formula will strengthen, firm, and hydrate, leaving you with an ultra-firm booty.
Bitter orange is packed with methoxylated flavones and flavanones which help to reduce dimply skin. As for apricot, this mineral-rich ingredient is high in phenolic compounds and carbohydrates to nourish, tighten, and moisturize your booty.
It is also made with vitamin E, hibiscus extract, and beetroot – more superstar skincare ingredients to give your bum a natural lift.
HOW TO USE:
After showering, apply 4-5 drops to the butt region. Massage well until fully absorbed before putting on clothes.
BUNS OF GLOWRY TIGHTEN & GLOW SMOOTHING BUTT BUTTER
And finally – the latest Truly product: Buns of Glowry Butt Butter.
Like the rest of your body, your tush needs just as much attention to keep it looking smooth, plump, and lifted.
Rich in amino acids, thanks to its watermelon content, this vegan booty butter will leave you with a smooth and cellulite-free derriere that glows. It's also enriched with vitamin E and wheat protein – two other booty BFFs.
HOW TO USE:
After applying Buns of Glowry Polish and Serum, use a generous amount of Butt Butter to the bum region. Massage in until absorbed, then leave for 3-5 minutes before wearing clothes.
Want to get the best butt of your life?
Get your
Beauty Booty bundle
today!
Share
---