5 Products I Can't Live Without As A Skincare Columnist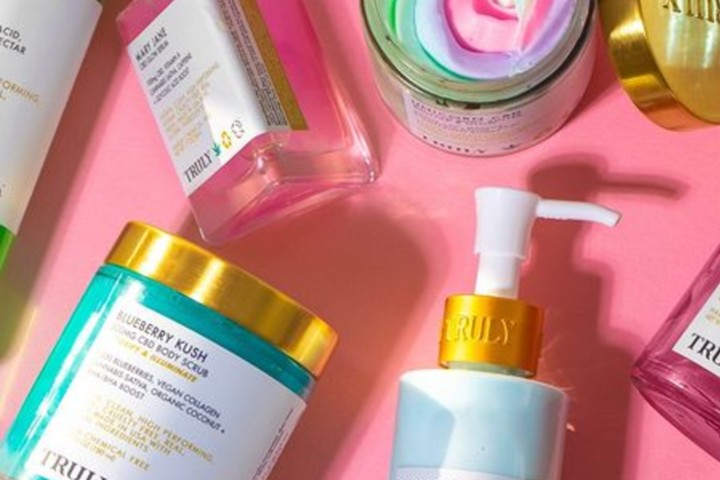 We all have skincare products we gravitate towards. Maybe you have a go-to daily cleanser you use every day in the shower or a lip balm you apply every couple of hours?
As a skincare columnist, I write about beauty products every day. But I do have a few staples I rely on for keeping my skin healthy, soft, and smelling divine. Sure, it's fun to try new products, but at the end of the day, you can't beat the tried and tested products you know work best for you.
Let me show you my favorite skincare products – and why I can't live without them.
Blueberry Kush CBD Body Scrub
This is my fave formula for getting super soft, clarified skin. A lot of us forget to exfoliate our body – focusing more on our face. But if you want clear pores and glowing skin, you need to make exfoliation part of your body care routine. It doesn't need to be done daily – 1-2 times a week is enough!
When I exfoliate, I use Truly's Blueberry Kush CBD Body Scrub. Besides smelling great, it's also extremely gentle and highly moisturizing. You know how some scrubs leave you feeling dry and irritated? This one doesn't at all!
That's because it's made with skin-friendly ingredients like blueberry seed oil and hemp which support the barrier function, promoting protected, hydrated skin.
But don't think "gentle" means this product isn't tough. This Blueberry Scrub draws out impurities and detoxifies the skin thanks to its blend of vegan collagen, coconut oil, and AHA/BHA boost. Simultaneously, it soothes and hydrates for illuminated skin from head to toe.
Coco Cloud Luxury Shave Butter
I love a good shave butter. For me, it just enhances the whole shaving experience. Applying something that feels and smells fabulous – it just feels so indulgent and luxurious.
Truly's Coco Cloud Butter gives me that feeling. It's my shaving essential!
A whipped coconut milk-infused butter with a fluffy, easy-to-apply texture, this product delivers a super smooth and moisturizing shave. Unlike many other butters, Coco Cloud won't leave you feeling sticky or greasy. Despite being hydrating, it's lightweight and easy to wash off.
The reason I love this product so much is because it's packed with skin-nourishing ingredients like elasticity-restoring coconut milk, naturally-plumping mango seed butter, and skin-brightening argan oil.
In addition to leaving your skin feeling soft and smooth, it'll also combat ingrowns and irritation so you won't have to deal with any painful side effects of shaving.
Mary Jane Glow Mask
After a day in the sun (even with a thick layer of sunscreen on), my skin tends to feel a little worn out. When that happens, I like to soothe it with calming ingredients and replenish it with essential hydration – something I get from Truly's Mary Jane Glow Mask.
This formula is made with aloe and hemp to reduce redness, and CBD to nourish and hydrate the skin. It also contains the anti-aging powerhouse ingredient retinol to speed up cell turnover. And thanks to its caffeine content, Mary Jane Glow helps to tighten and brighten the skin.
I turn to this product particularly in the summer time. Whenever I get a little red or my skin feels irritated, I slather this on and by the next day, the redness has gone.
At the same time, it's a great acne-fighting mask thanks to one of its key ingredients – glycolic acid, which literally exfoliates away blemishes.
Buns of Glowry Smoothing Butt Polish
The butt is a beautiful thing and yet, we hardly spend any time taking care of it!
Thankfully, with Truly's creation of Buns of Glowry Butt Polish, I now have a product specifically designed for the booty that *visibly* plumps and sculpts. And did I mention how amazing it smells? That watermelon fragrance … it smells so good, I look forward to using it every day – and it gets you feeling those summer vibes!
With a blend of amino-rich watermelon and ceramide-packed wheat protein, this formula is designed to hydrate, retexturize, and perk up your booty while fading fine lines and cellulite. It also contains jojoba seeds to exfoliate away breakouts for an ultra-
smooth, baby-soft bum. And vitamin E for a derriere that glows!
You can use it either as an in-shower scrub or a mask. I like to use it as a mask before taking a shower. I massage it in like a scrub just to get the blood flowing and wake up my circulation, and then I let it sit for 5-10 minutes before rinsing it off in the shower or tub. This way, all the nutrients and antioxidants sink into my butt for more visible results.
GLOAT Big Juicy Lip Oil
I love a glossy lip. With GLOAT Oil, you can achieve a glossy lip, only with the added benefits of active ingredients that nourish your pout. So they can look fabulous while receiving all the goodness they need to stay looking and feeling soft and healthy.
Summer or winter (or basically any season in between), this lip oil blends hyaluronic acid with coconut oil to deliver extra TLC for your lips. Best of all, this formulation is so lightweight and silky, it simply melts into the lips, creating the perfect base before applying lipstick. In other words, you can apply it as a primary base before lipstick or as a standalone lip gloss for a shiny, kissable pout. I also like applying a thick layer of it before bed to wake up with ultra-soft lips.
GLOAT Oil … there'll always be a place for you in my heart *means purse*.
As much as I love trying new products, I like having my go-to's that I know I'm happy with and that deliver results I seek. The above products do exactly that. Give them a try for yourself and see if you agree with me! And of course, don't be afraid to try out more – remember, not every product works the same for every skin type.  
Share
---