6 Anti-Stress Skincare Products to Chill TF Out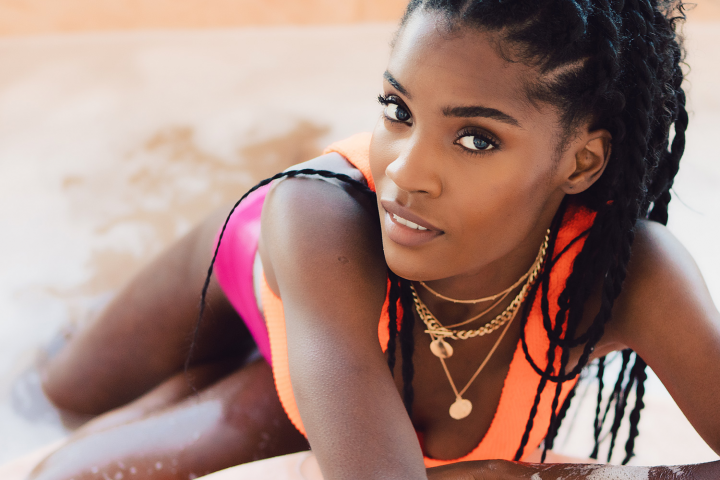 Anti-stress skincare is rising in popularity, and it's not hard to see why. Between COVID, the increasing workload, and all the other stuff that crops up in our lives, we all need a little chill and skincare time, right?
At Truly, we prioritize self-care more than anything because we believe you deserve to get head to toe pampered, beauty babe. Here are six of the best anti-stress skincare products to help you chill TF out.
#1: Starface Jelly Sleep Mask
A face mask you can sleep in! Starface Jelly Sleep Mask is a two-in-one overnight mask that's formulated with exfoliating alpha hydroxy acids, collagen-boosting retinol, and brightening vitamin C. This dreamy jelly mask feels cool and comforting on the skin, while boasting anti-aging superpowers to let you wake up looking plumped and renewed.
Retinol helps make skin look plumper and reduces the appearance of fine lines and wrinkles. Glycolic acid gently buffs away dead skin cells, allowing a smoother texture. And vitamin C fades hyperpigmentation while fending off free radicals to keep skin young and radiant.
Kick back and relax with this rejuvenating face mask that's made to brighten, tighten, and smooth overnight. It'll crank your stress levels down in a flash!
#2: Mary Jane Bubble Bath
When life gets hard, draw yourself a bubble bath. Mary Jane Bubble Bath is a soothing formula of CBD, vitamin A, glycolic acid, and caffeine. These ingredients work together to reduce inflammation, bring moisture to the skin, banish breakouts, and calm the soul. If you're looking for quick stress relief, wind down in these CBD-infused bubbles to instantly feel more at peace.
There's really not much a bubble bath doesn't solve. After a hard day at the office, slip into your tub, make sure you pour this bubble bath in, and let the formula work its magic. You could even drop in a few essential oils like lavender oil to make it an aromatherapy session in your tub. Set the mood by lighting a few scented candles, grabbing your fave beverage, and switching on some calming tunes. It'll be bliss! After all, a bubble bath is always the perfect remedy after a stressful day.
#3: Moon Jelly Adaptogenic Body Cleanser
This de-stressing cleanser is one of our favorite beauty products for relieving tension in the mind and body. Infused with ashwagandha, lavender, aloe, and chamomile, these calming ingredients work in harmony to wash away impurities, de-stress the mind, and soothe sore muscles. Plus, it's an extra gentle formula that's perfect for dry skin, sensitive skin, or any other skin type.
Powered by a slew of soothing botanicals, this daily body wash will bring harmony to your life and make your showers sooo much better. It's definitely a mood enhancer and will bring your cortisol levels right down.
#4: Moon Shower Adaptogenic Spa Mist
Prioritize self-care tonight and take your shower routine to a whole new level of chill with this de-stressing spa mist. Simply spritz it in your shower, and let those magical herbs instantly calm your mind. Formulated with adaptogenic herbs such as Ashwagandha and lavender, and natural soothing ingredients like eucalyptus oil, these ingredients work together to eliminate stress and promote a restful night of beauty sleep.
While ashwagandha soothes the senses, eucalyptus oil invigorates and promotes clearer breathing. By using this formula in your shower routine, you create the perfect zen environment for nurturing your mind and body. Use it every day or every time you feel stress bubbling up inside of you. In fact, you can spray it anytime, anywhere. It doesn't need to be in the shower if you're looking to enjoy its calming effects in another room — like, for instance, your bedroom, lounge, or office.
#5: Moon Rocks Body Scrub
Stressed skin tends to look dry, dull, and depleted. You can turn that around by buffing away the dullness using a soothing, brightening exfoliator like our Moon Rocks Body Scrub. It's basically a lightly whipped sugar scrub enriched with coconut oil, lavender, and vitamin E to hydrate, calm, and brighten skin all over. Then there's blue tansy — a moisturizing skincare ingredient that diminishes dryness and promotes all-day dewiness.
Vitamin E is packed with essential antioxidants to give your skin a daily dose of nourishment to support cell function and promote overall skin health. Another plus point: in this formula, we used environmentally friendly, skin friendly sugar instead of harsh, non-biodegradable microplastics, meaning it's gentle enough for daily use — and supports skin health without harming the planet.
#6: Coco Cloud After Shave Moisturizer
A deeply hydrating and conditioning body lotion that's packed full of shea butter, coconut milk, and mango to diminish dryness, relieve irritation, and give skin a day-long dewy glow. While it's technically a post-shave treatment, this moisturizer can be used on a daily basis after showering to seal in moisture and keep skin soft and smooth. And that coconut-y scent? You'll feel like you're in paradise with this dreamy formula slathered all over you. It's an instant mood booster!
For best results, include it in your daily skincare routine after showering. You may have already seen this formula on TikTok. It's already pretty hot over there. And it's one of the best products for helping you chill TF out if your days just feel a little too stressy.
We're all seriously waaay too stressed. Fortunately, there are ways to relieve that stress from yoga to deep breathing exercises — or whatever floats your boat. Even skincare can help you to relax. That said, it does need to be the right products infused with calming essential oils and other soothing ingredients to quell irritation, redness, and lower your stress levels.
You can shop Truly products on Ulta, Sephora EU, and on our official website. You'll find everything from under-eye creams to blemish-busting serums and more! Whether you've got dry skin, oily skin, or sensitive skin, we've got something for everyone. Plus, we use the best ingredients available such as hyaluronic acid and ceramides to deliver visible results.
Share
---