7 Beauty Products to Bring to the Gym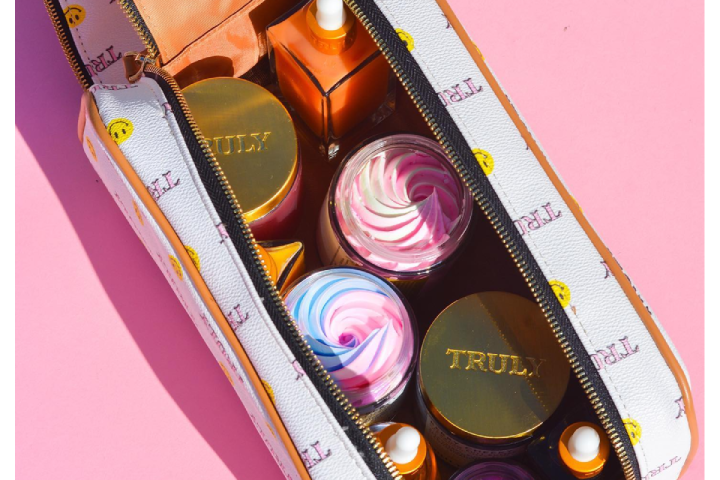 Gym skin is a thing. It's characterized by redness, breakouts, and dryness. And it's what happens when you don't pack your gym bag smartly.
Sweating can trigger a whole range of skin concerns ranging from acne to rosacea and eczema. That's why you need a solid skincare routine (or at least a few basic habits) to keep your skin in its finest shape. 
Here are the 7 beauty products you need to bring to the gym to maintain clear, healthy skin.
#1: Unicorn Fruit Whipped Body Butter
It smells like cake, and works like deodorant. This multi-tasking, viral-worthy body lotion is your post-workout BFF for keeping your pits smells peachy, and the rest of your body feeling soothed and hydrated. Simply massage it into your smelly spots after working out, and you'll smell sweeter than cake icing. 
Made with a base of shea butter infused with acai, rosewater, vitamin E, green tea, and collagen, this all-over moisturizer soothes, plumps, hydrates, and sweetens. It can also be used as a lip balm, cuticle softener, and split end smoother -- in case you've only got space for 1 product in your bag.
#2: 24k Gold Black Soap Cleanser
Cleansing is super important after a sweaty workout session. And don't just reach for makeup remover cleansing wipes. You need something that will penetrate the pores and eradicate pore-clogging, breakout-causing impurities -- like our 24k Gold Exfoliating Cleanser.
With the power of antibacterial African black soap, anti-inflammatory gold, and impurity zapping charcoal, this 2-in-1 cleanser can be used on the face and body to thoroughly cleanse skin and prevent breakouts. It's suitable for all skin types -- including sensitive skin and dry skin, thanks to its soothing, hydrating properties.
#3: Tansy Water Body Mist 
To keep your skin clear all-over, spritz on some Tansy Water Body Mist post-workout. Our Tansy Water Body Mist is made with a blend of blue tansy, blueberry, antioxidants, and salicylic acid to fight inflammation, decongest pores, and promote a nourished, brightened, and even complexion.
Keep a bottle of it in the locker room for post-sweat sessions to keep your chest, back, and butt blemish-free. It's our fave beauty essential for getting rid of grime and oil, while leaving skin refreshed -- without needing to rinse or dry. Plus, it'll feel amazing after a gruelling cardio session.
#4: CBD Jelly Facial Serum
Hydrate, calm, and clear all at the same time with our CBD Jelly Facial Serum.
Bringing your beauty routine to the gym might sound like a lot of hard work. Surprisingly, it's pretty easy once you're equipped with an arsenal of powerful, multi-tasking skincare products. And most importantly, it'll spare you from all those nasty skincare side effects like breakouts, redness, irritation, and dryness. 
Truly's Hemp Jelly facial serum is formulated with hemp and aloe to help with inflammation, salicylic acid to treat active breakouts, and vitamin A to help speed cell turn over. Apply it after your yoga or cardio session to keep your skin moisturized while treating and preventing breakouts. Plus, it'll cool down any workout-related redness you worked up in the gym. 
#5: Super Star Patches 
You never know the moment a zit will strike. Stay prepared by packing our Super Star Pimple Patches in your gym bag. 
These pimple patches are flecked with retinol and salicylic acid, and designed to stop active blemishes in their tracks. While hydrocolloid works to drain fluid from freshly popped zits, salicylic acid fights acne-causing bacteria and retinol speeds cell turnover, promoting faster healing. Alongside helping to remove your blemish, these babies will also help prevent acne scarring and hyperpigmentation.
Whenever a spot pops up, stick one on and let it begin working its magical healing powers. Plus, it'll keep you from picking and prodding, which only ever makes matters worse. Oh, and did we mention they also look super cool? Talk about tackling breakouts in style!
#6: Sunscreen 
SPF is a must -- no matter where you are. Once you've finished working out, always wash your face thoroughly using a gentle cleanser and finish with a thin layer of sunscreen to protect your skin from UV rays.
Exposing unprotected skin to UV rays can lead to signs of premature aging, such as fine lines, wrinkles, and discoloration. The best way you can prevent this from happening is by always wearing SPF 30 daily -- and re-applying throughout the day if you're spending prolonged periods of time outdoors.
You can also stay protected by covering up with a hat, scarf, and sunglasses.
#7: "For Luscious Locks" Hair Brush
Perhaps you keep your hair up in a messy bun or pony inside and outside of the gym. If not, invest in this vegan boar bristle hairbrush to keep your strands strong, healthy, and smooth post-workout.
Our vegan boar bristle brush detangles all hair types without damaging your hair! Featuring multi-layered bristles, this brush is gentle on your scalp, stimulating to the scalp to encourage hair growth, and wonderfully detangling for a smooth, manageable finish. 
Spritz in a little dry shampoo, and you're ready to go!
There are numerous things you can pack in a gym bag -- towels, water, mascara, eyeliner, highlighter, toner etc. As much as makeup can enhance your features and blur out breakouts, it isn't the answer to clearer skin. 
If you want to maintain clear, smooth, and glowing skin post-workout, you'll need to fill your bag with a few essentials to keep your pores from becoming clogged and your skin from becoming inflamed.
Speak to a dermatologist if you're continuing to experience skin concerns after working out even with these products in your bag. You may have a skin condition that needs to be treated with prescriptions products or medicine.
In the meantime, shop our skin-loving sweeties on Amazon, Sephora, Ulta, and on our official website. 
Share
---