8 Best Products for Oily Skin Under $35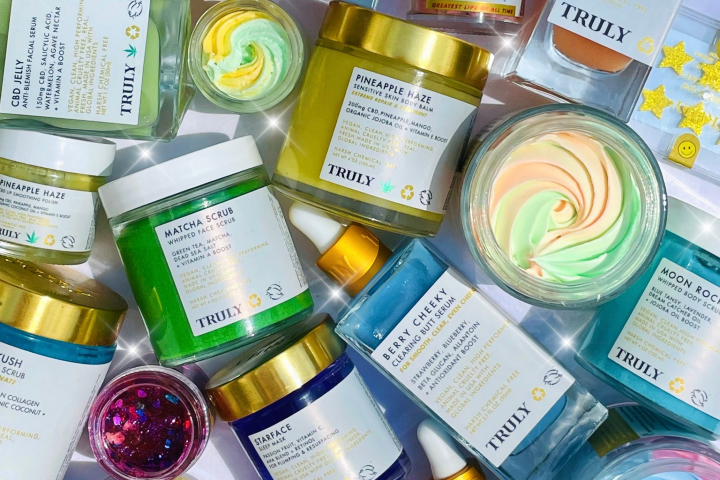 Got oily skin? Oily skin types spend their lives trying to attain or maintain mattified skin. If you're looking to dim the shine and the side effects that come from having oily skin — blackheads, whiteheads, and blemishes — we've got just the products to help you out.
Here are eight of the best skincare products for oily skin that cost under $35.
#1: CBD Jelly Anti-Blemish Facial Cleanser
To keep skin looking matte, oily skin types should be washing their face morning and night using a gentle yet invigorating face wash. But don't just choose any cleanser. Pick one that's formulated with sebum-wicking ingredients like salicylic acid, charcoal, and glycolic acid.
Truly's Anti-Blemish Facial Cleanser is a clarifying formula of salicylic acid, retinol, hemp, and watermelon. Its star ingredient — salicylic acid — is a beta hydroxy acid (BHA) that exfoliates away dead skin cells and excess oil, preventing the formation of breakouts.
#2: Mary Jane Glow Serum
Mary Jane Glow Serum is a brightening treatment powered by hemp, glycolic acid, and powerful antioxidants to firm, bright, hydrate, and balance oil production. Lightweight and resurfacing, it's the best moisturizer for oily and acne-prone skin. In addition to its mattifying effects, this formula can treat skin concerns such as dark spots, dullness, and even fine lines and wrinkles. It'll keep your skin oil-free while leaving skin feeling smoother.
#3: Matcha Face Scrub
Exfoliation is essential when you have oily skin. With all that excess oil clogging your pores, exfoliation can help keep pores clear and breakouts at bay. Truly's Matcha Face Scrub is a universal sugar-based scrub that's gentle on all skin types, yet invigorating enough for oily skin.
Alongside sugar's skin buffing effects, glycolic acid plays a role in resurfacing while matcha, coconut oil, and aloe soothe and hydrate.
By incorporating this face scrub into your weekly skincare routine, you can help keep your skin less oily while warding off blemishes.
#4: Super Star Acne Patches
Since oily skin is more prone to breakouts, it's important to keep them in check by patching up any pimples that pop up. One of the best products for the job is acne patches. They work by absorbing oils and impurities, promoting skin healing and preventing the formation of new blemishes.
Super Star Acne Patches aren't just cute (they're star-shaped after all, they're also flecked with retinol and salicylic acid to buff away dirt and sebum, speed cellular turnover, and banish acne-causing bacteria. They work in tandem with hydrocolloid to remove your blemishes while also preventing scarring and discoloration. They also provide a barrier between your blemish and your fingers. If you're a serial pimple picker, these patches are the holy grail for keeping the breakout clean and promoting speedy healing.
All skin types, including sensitive skin, dry skin, oily skin, and combination skin can benefit from including them in their beauty routine.
#5: Volcanic Rosewater Mist
A balancing all over mist to drench skin in dewy hydration while sapping up any excess oil. Volcanic Rosewater and aloe give Rosewater All-Over Hydrating Mist its balancing, soothing, and hydrating powers. Aside from offering oil control, this sweet-scented mist prompts a healthy skin barrier while reducing inflammation and hyperpigmentation. It's basically like a toner, only in mist form.
With frequent use of this rose-scented mist, you can look forward to a brighter skin tone and less oiliness. You can also spritz it over your facial moisturizer and night cream for added dewiness. It'll leave your skin feeling mega fresh.
#6: Black Jelly Blemish Body Serum
Oily skin doesn't just stop at your face. If you've got oily skin, you probably have an oily chest, back, and butt. Unfortunately, that's just the way it does. The trouble is, it can mean you're prone to issues like body acne.
Clear up pesky body breakouts with our Black Jelly Blemish Body Serum. This ultra light serum harnesses the antimicrobial powers of tea tree, witch hazel, and black charcoal which work together to pull out oil and impurities while improving the look of acne scars. It's guaranteed to leave skin feeling clean and looking clearer without being overly drying.
#7: Anti-Blemish Body Lotion
Another formula made for the body, Anti-Blemish Body Lotion is a lightweight body moisturizer that deeply hydrates and clarifies skin. Its key ingredients — glycolic acid, squalane, blackberry, and lactic acid — join forces to unclog pores, sap excess oil, and seal in long-lasting moisture for skin that feels silky soft without the shine.
You need to be especially careful when buying face moisturizers and body creams when you have oily skin, as most of them tend to clog pores and leave skin feeling greasy. Always choose a lightweight, non-comedogenic formula that won't clog your pores or increase grease.
#8: Golden Leaf Resurface & Brighten Face Mask
A hydrating, brightening, and anti-aging mask that's perfect for oily skin types. Golden Leaf Face Mask is made with a blend of resurfacing AHAs and BHAs, hydrating hyaluronic acid, and calming hemp to clear away zits and excess sebum, bring moisture to the skin, and quell inflammation. It's not just beneficial for oily skin, though. Dry and mature skin types can enjoy the benefits of this rejuvenating mask thanks to its hydrating and collagen-supporting benefits.
Having oily skin might feel like a bummer, but there are plenty of products available (in the drugstore and above) that can keep your skin clear and shine-free. It's also important to invest in an oil-free sunscreen with SPF 30 or higher. Layer it over a vitamin C serum for added protection.
Other skincare ingredients to look out for in your cleansers, serums, moisturizers, and eye creams include niacinamide, ceramides, and glycerin. You might think you don't need extra moisture when you have oily skin, but keeping your skin moisturized will prevent your skin from producing more oil, and making things even greasier for you.
If your oily skin is getting you down and none of the products listed above help, consult a dermatologist.
Truly Beauty products are available for purchase on Ulta, Sephora EU, and on our official site.
Share
---