8 Great Benefits of Geranium Oil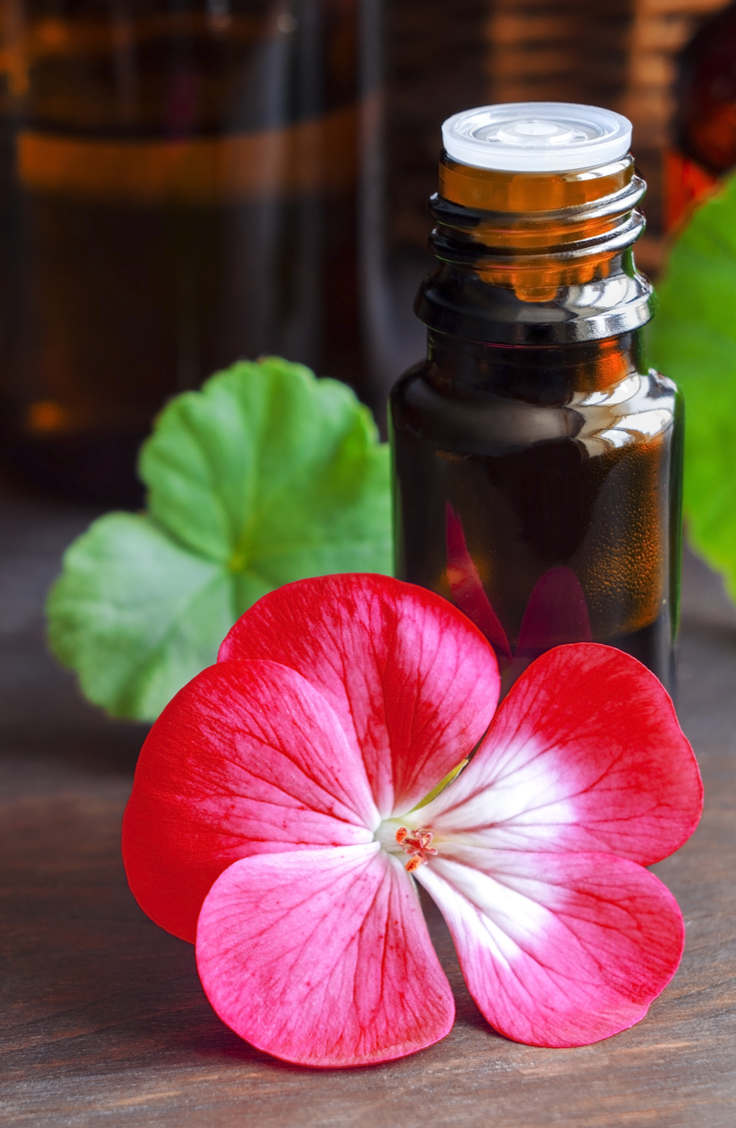 Geranium oil is an essential oil commonly used in aromatherapy to treat mental, physical and emotional health. But that's not all it's used for. Once used by Egyptians for promoting radiant skin and healing wounds, geranium essential oil is a beauty must-have and it's gradually making its way into the beauty realm. From treating acne to functioning as a natural deodorant, the effects of geranium oil are diverse yet effective. 
It is most well-known for treating shingles and nerve pain, but the beauty benefits of this oil shouldn't be ignored either. Before we go into its slew of beauty benefits, let's first hear more about what it actually is. 
WHAT IS GERANIUM OIL?
Extracted from the stems and leaves of the geranium plant (pelargonium graveolens), Geranium oil is grown in Europe and Asia, but the plant species is native to South Africa. This oil is considered safe with no harmful side effects. In fact, for a long time, it's been used for health care purposes primarily, thanks to its antidepressant and antiseptic properties. Indeed, it is known for uplifting depressed patients and can also be used for nerve pain, fungal infections and as an insect repellent. Most notably, it is used in aromatherapy, as well as in lotions and perfumes owing to its therapeutic effects and floral scent.
WHAT'S THE DIFFERENCE BETWEEN GERANIUM ESSENTIAL OIL AND ROSE GERANIUM?
While both come from the pelargonium graveolens plant, the two are different - slightly anyway. Rose geranium has the botanical name Pelargonium graveolens var. Roseum. Geranium's botanical name is simply Pelargonium graveolens. 
In terms of their active components and benefits, the two are extremely similar. Geranium's main chemical constituents include: geraniol, eugenol, citronellol, geranic, citral, citronellyl formate, and terpineol. 
The only real difference is the scent. Some people prefer geranium, while others prefer the fragrance of rose geranium oil. 
Now it's time to find out why geranium and rose geranium essential oil aren't only made for your diffuser. Topical application is also possible and in many cases recommended for those seeking its sparkling skin benefits.
GERANIUM OIL BENEFITS
Wrinkle warrior
This natural astringent helps tighten and firm up facial skin and ultimately, slow down the effects of aging. Add a few drops of geranium to your face lotion and apply it daily. It shouldn't take much longer than two weeks before you start seeing your skin toning up and those wrinkles lessening. 
Acne eliminator 
According to a 2017 study, geranium's antibacterial, antiseptic and antimicrobial properties offer significant benefits for acne-prone skin. When applied topically, geranium essential oil or rose geranium essential oil can minimize breakouts and reduce skin irritation. It also functions like anti-inflammatory drugs, only without using medication and without any side effects. Mix a teaspoon of coconut oil with 3-4 drops of geranium, then apply the mixture directly onto breakouts. Apply to breakouts 1-2 times per day until breakouts disappear. 
Natural deodorant
Geranium essential oil is a circulatory oil. That basically means it leaves the body through perspiration. So, if you want your sweat to take on a floral scent, there's no better or more natural deodorant than geranium oil. It also has antibacterial properties which help to eliminate body odors. Add several drops of geranium and 8 tablespoons of water to a spray bottle. There you have your own natural perfume, ready to use. 
Dermatitis demolisher 
Thanks to its soothing, anti-inflammatory properties, geranium essential oil can treat dermatitis and other skin conditions. For best results, add a few drops of geranium to your face lotion or cleanser. Alternatively, mix it with a carrier oil such as peppermint, tea tree or jojoba oil. 
Hair repairer
If you didn't know it already, your hair loves oil. It's a great conditioner for the mane. Geranium oil is especially effective thanks to all its antioxidants that strengthen hair follicles and strands. Mix together 2 drops of geranium, lavender essential oil, clary sage oil and rosemary oil. Apply the mixture to your scalp and hair strands, then let it soak in and inject all its goodness (this should take around 15 minutes), before rinsing off well. For a less intense hair mask, add a few drops of geranium oil to your shampoo or conditioner. 
Skin cleanser
Hard to believe that oil can actually cleanse your skin, isn't it? But it can be really effective in removing the day's dirt and grime and balancing skin oils. With topical application of this oil, it's best to apply just a small amount on a cotton pad or add it to water to cleanse your skin. Mix it with lavender essential oil for a calming, cleansing experience.
Scar fader
Geranium essential oil is a cicatrisant. That means it speeds up skin healing and wound healing and helps regenerate cells, making it ideal for fading scars. Whether you have marks from acne, boils, pox or surgery, rose geranium or ordinary geranium can both heal your skin quickly and effectively. The oil will also boost blood circulation below the surface of the skin, aiding uniformed distribution of melanin. 
Skin and muscle relaxant 
From your face to your achy joints, geranium oil is a great massage oil to ease your tensions. Plus, it smells wonderful too - especially rose geranium essential oil. Mix a few drops with carrier oils such as carrot seed, chamomile, jasmine and ylang ylang for an ultra relaxing experience. You can also add a few drops of the essential oil to your body wash for an extra soothing shower. 
Geranium oil isn't just useful for curing antifungal conditions like athletes foot and nerve conditions such as shingles. You also don't need to use it in aromatherapy alone. Not when there are so many benefits to applying it topically for its slew of beauty benefits. 
NOW ENJOY SOME ALONE TIME WITH GERANIUM
So, take some time out for yourself. Schedule some true me-time. Then enjoy the fabulous benefits geranium essential oil brings. This plant part oil can be used to treat acne, fight wrinkles, and even as a natural perfume that you can easily make from home. You don't need to have a health condition to benefit from geranium oil. There are plenty of beauty benefits to this essential oil. Just make sure you always buy 100% natural geranium oil with a high therapeutic grade. 
Share
---