A $10k-Worthy Skincare Routine for Under $100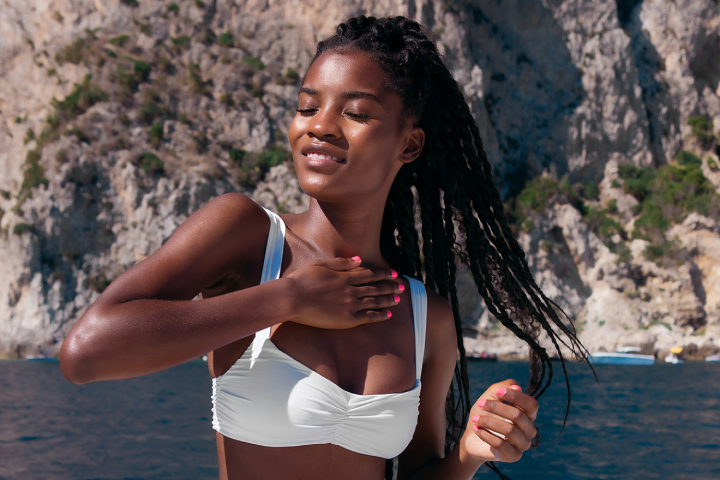 People spend a fortune on lavish skincare products like serums, oils, moisturizers, and face masks. In the end their skincare routine costs more than their monthly salary. 
Do you really need to spend a five figure number on your lotions and potions? Or is it all just money down the drain?
Well, from where we're standing, you can definitely get all the firming, brightening, and clearing effects from beauty products that don't cost a fortune. We know because we've tried and tested these products for ourselves -- multiple times -- and we're always 100% satisfied with the results. 
Here's a $10k-worthy skincare regimen that costs less than $100. 
Blueberry Kush Scrub
Made from the finest high-grade ingredients, Blueberry Kush Hemp Body Scrub is here to clarify, smooth, and illuminate your skin.
With a base of sugar and an anti-inflammatory, antioxidant-rich collab between CBD and blueberry, you can buff away dead skin, excess oil, and product buildup for super silky, soft skin that glows. AHAs and BHAs also lend their exfoliating abilities to even out discoloration, rid pores of impurities, and prevent blemishes from forming. It's perfect for dull, oily, or acne-prone skin.
This formula also contains hydrating coconut to nourish and moisturize dry skin, as well as vegan collagen to blur out fine lines and wrinkles.
While we've already mentioned it, blueberry seed oil is the star of the show in this formula thanks to its ability to support the skin barrier function and protect again blue light and free radicals. It will leave the skin feeling and looking extra glowy.
Use this scrub in the tub or shower 2-3 times a week to keep dryness, breakouts, and dullness at bay while making your skin look bright and perky. It's the holy grail skincare products we can't live without!
Feels like: $3,500
Actual price: $33.00
Unicorn Fruit Body Polish
Hand whipped and heavenly, this creamy, multicolored body polish smells so delicious you could eat it. It harnesses the soothing powers of matcha, chia, acai, and rose for a self care session fit for a queen. This buffing, brightening, and moisturizing polish will leave your skin feeling soft as satin and looking as dewy as one of the Truly babes.
Utilizing the power of shea butter as a base, this nourishing formula smooths skin and retains moisture for even the steamiest of showers. It also soothes any irritation in sensitive skin types thanks to its aloe and green tea combo.
Our Unicorn Line as a whole features some of the best skincare products you'll find, such as body butter, lip balm, and hair mask. However, if you're looking to give your skin a little in-shower detox to rid it of dirt, oil, and impurities, the polish is your perfect in-shower companion. Plus, it works for all skin types -- dry, sensitive, and even oily skin. 
Use this body polish in the shower or tub 2-3 times a week to keep your skin tone bright and body soft and candy-scented. 
Feels like: $2,500
Actual price: $25.00
Moon Lit Shimmer Oil
Got a Valentine's Day date coming up? You'll love how this nourishing, flash-absorbing champagne gold shimmer perks up your skin. Formulated with a brightening blend of chai and turmeric, this sparkling body oil will leave your skin with boosted luminosity for a radiant glow on the go. It's also made with witch hazel to reduce inflammation and antioxidant-rich vanilla to neutralize free radicals to reverse skin damage and leave skin smelling sweet. It's the ultimate glow recipe!
Moon Lit Shimmer Oil is buildable on all skin tones for a customizable glow. Whether you're looking for a subtle shimmer or disco ball levels of dazzle, this body oil is delightfully versatile to suit your mood, outfit, and the occasion. 
Apply it to your cheekbones, cupid's bow, shoulders, cleavage, or thighs -- or all -- for a gorgeous head-to-toe sparkle. 
To use: start with your cleanser, toner, eye cream, and moisturizer, and then go in with your shimmer oil. If you're wearing it in the day time, don't forget to layer up with sunscreen SPF 30 for maximum protection from skin-damaging UV rays. 
Feels like: $4,000
Actual price: $40.00
How to be a Smart Skincare Shopper
So you see, you don't need to fork out thousands on fancy sheet masks, night creams, and serums to achieve the results you're seeking. At Truly, we pride ourselves in making clean, cruelty-free products that work well and suit all budgets.
In case you're wondering how to tell whether a product's worth the money or not, here are some quick tips for shopping skincare smartly.
Look for high performing ingredients: the best products contain the best ingredients. Scan the ingredients label and look for ones like salicylic acid, retinol, vitamin C, vegan collagen, hyaluronic acid, niacinamide, watermelon, tea tree oil, and AHAs such as glycolic acid and lactic acid.

Make sure they're high up on the list: say your problem's pimples, then you'd need a formula with salicylic acid or AHAs. These ingredients should be close to the top as this indicates there is a high concentration of this ingredient in the formula. The lower down an ingredient is, the less of it there is in the product.

Beauty brands aren't everything: when you're browsing drugstore skincare, you probably look for the well-known brands, right? Don't. Look for product and what's in the product instead of merely choosing a good brand. There's no reason why you can't get an even better foaming cleanser, under-eye serum, or gel-cream from a lesser known brand. That doesn't mean the famous brands aren't good. It just means consumer awareness can save you a lot of money and potentially offer you even better results.
Speak to your dermatologist before trying new products if you have a skin condition like eczema or rosacea. You don't want to aggravate your condition.
In the meantime, browse our selection of lush but wallet-friendly skincare at Trulybeauty.com. Our products are also available on Amazon, Ulta, and Sephora. 
Share
---