A Low Maintenance Lip Care Routine for Luscious, Kissable Lips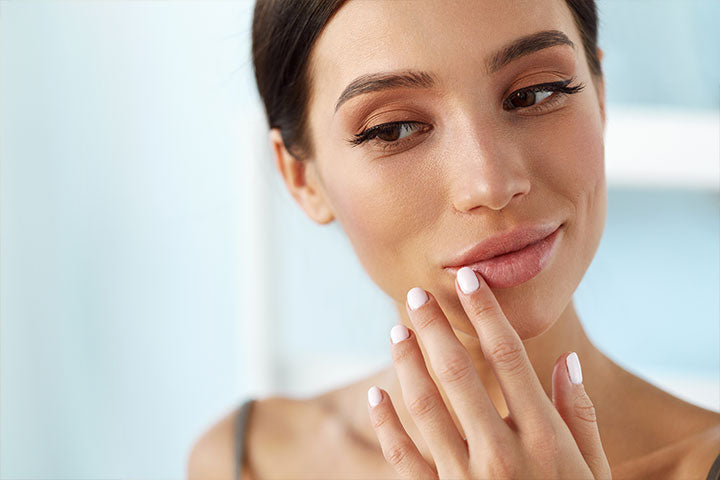 Lip balm is a daily lip care essential. But a lip balm can't do everything for your lips. To keep your pout feeling soft and smooth, you'll need a few other lip care essentials to keep them in tip top condition.
Once you establish a lip care routine, it'll be much easier maintaining the health of your pout. Plus, it won't take long before you start seeing some major returns on your investment (IOW, dreamy, kissable lips to die for!).
Nobody wants dry, flaky lips. Plump, soft, and juicy – that's what you're aiming for. Let us help you create your own daily lip care routine for the dreamiest pout ever. You're welcome!
WHY A LIP CARE ROUTINE MATTERS
Believe it or not, our lips need way more attention in staying healthy than our facial skin. That's because our skin can regulate its own moisture barrier – our lips can't.
Now that's not to say there aren't similarities between the two. They both, for instance, consist of the dermis, epidermis, and stratum corneum. But that's where its similarities end.
Our lips are much thinner and more delicate than the rest of our body, which is why they are prone to dryness, flaking, and overall deterioration.
Lips also contain no sweat glands or subcutaneous glands – the two things facial skin has to keep it moisturized. Without a self-moisturization process in place, our pout is much more vulnerable to environmental aggressors like pollution and UV rays. It is also more likely to flake and dry out. Not a good look!
So how can you prevent that from happening in the first place? By adopting a good old lip care routine. It's easy to do, affordable, and above all, you'll see results very fast.
AN EASY LIP CARE ROUTINE TO FOLLOW
We're going to break down our lip care routine into a few simple steps that you can follow to get the greatest lips of your life (GLOAT). Ready to see your pout transform? Let's get started.
Exfoliate your Lips
Every lip care routine starts with de-scaling the pout. Exfoliating the lips makes an instant difference to their appearance and it'll make them look and feel smoother and plumper. Plus, sloughing away those dead skin cells allows the next products to come to actually penetrate the skin – the reason why exfoliation comes first in the routine.
A lip treatment like Truly's GLOAT Sexy Soft Lip Scrub smooths and preps the lips for whatever's next to come. Formulated with peppermint and hyaluronic acid, this hydrating lip scrub gently exfoliates dry, flaky lips to deliver a silky-smooth pout.
Apply a small amount onto clean, dry lips and massage gently in circular motions. Wash off with lukewarm water or wipe them clean.
Pucker Up that Pout
Next up: the lip mask. You use face masks all the time … why not lip masks too? Your lips need equally if not more attention anyway and a great way to show them how much you care is through nourishing lip masking.
Truly's Heartbreaker Lip Plumping Mask is loaded with aloe, ceramides, vitamin E, and peppermint oils to deliver softer, smoother, and bigger lips in just a few minutes. You'll feel the sting the second this jelly glides onto your lips. That means the collagen boosting ingredients are already working to plump up your pout.
Apply a generous helping of mask to clean lips. Let it sit for 3-5 minutes. Then wash off with water. Don't worry if you feel a tingling sensation – that just means it's working.
Give them a Drink
Now that your lips are prepped and puckered, pat on something that will give them the moisture and nourishment they need. Your lips are far more prone to dryness than your facial skin, so they require even more attention to keep them healthy and hydrated.
Try Truly's GLOAT Luscious Lip Butter, a butter-based lip plumping balm infused with peppermint and hyaluronic acid to soften lips, reduce lines, and lock in moisture throughout the whole day.
Packed with plumping ingredients, this balm will leave you with pillowy soft, voluminous lips all day long.
Apply the butter throughout the day whenever your lips need extra nourishment. It's a daily essential for soft and smooth lips.
Oil Up and Shine
To finish up, add a little shine and extra TLC to your pout. There's no better way to do that than with Truly's GLOAT Big Juicy Lip Oil. Bursting with a nourishing blend of oils and hyaluronic acid, your pout is instantly prepared, moisturized, and juicy with this lip oil. And it just melts onto the lips, creating the ideal base before applying lipstick.
Your lips need constant moisture to keep them looking their best. While you might already apply a swipe of lip balm from time to time, your pout deserves much more of your attention to stay looking silky smooth and juicy. A good old oil always works like a charm in hydrating and perking up the pout.
Apply a thin coating of the oil all over your lips. Wear it alone or follow up with lipstick. You can also apply a generous coating before bed to wake up with super juicy lips. For best results, use daily.
Clean Lip Care
At Truly, we believe in clean and cruelty-free beauty only. That means all our lip products are vegan, cruelty-free, and 100% clean. All our products contain natural ingredients that work with the skin rather than against it, and they're suitable for all skin types – including sensitive skin.
Ingredients really do matter in lip care products. If it's packed with harsh chemicals and toxins, it's not going to benefit your pout – hurt it, rather. That's why Truly sticks to natural, vegan ingredients only in our lip care products. And we make sure they're loaded with lip-loving oils and butters for maximum moisturization.
So if you want a clean, vegan lip care routine, incorporate the Truly products recommended above for healthy, happy lips.
Share
---