An Exhaustive Face And Body Skincare Routine For Under $100 (That'll Last)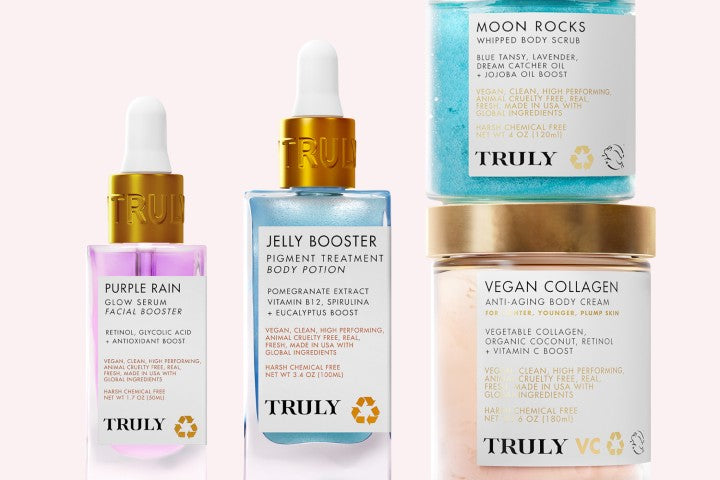 When you think about skincare, the first thing that comes to mind is your face, right?
But here's the thing: the skin on your body requires just as much love as the skin on your face. 
Following a daily skincare routine for your face and body using hydrating and nourishing skincare products can work wonders for your complexion. Besides making your skin clearer and healthier, you can also see it as a form of self-care and wellness. By taking better care of your skin, you are actively doing something nice for yourself. And that's self-care 101!
To help you out, we've put together a really easy skincare routine suitable for all skin types that'll get your skin glowing from head to toe. And you can get all the skincare products you need for under $100!
Exfoliation 
Exfoliation is a crucial part of any skincare routine. Best of all, it can often double up as a cleanser! While we don't advise exfoliating your skin every day, on days you do exfoliate, feel free to switch out your cleanser in replacement for a scrub. Just like your facial cleanser, an exfoliator will remove the day's dirt, diminish oil buildup, clear your pores, and in doing so, prevent breakouts. Of course, you can also go ahead and use your daily cleanser in addition to exfoliation. A cleanser is equally as important in getting rid of grime and keeping pimples away. It's especially important for acne-prone skin types.
In the shower, use Truly's Moon Rocks Whipped Body Scrub on both your face and your body. This formula blends blue tansy with lavender, jojoba oil, and dream catcher oil to balance out oily skin, provide moisture, and clear the pores.
Try to focus on the back, as there are larger and more oil glands there than any other part of your body. Sloughing away those dead skin cells will help prevent breakouts from occurring there. You can use it alone or after your face wash or body foaming, gentle cleanser. 
Hyperpigmentation Treatment
If you have blemishes like dark spots and acne scars, follow up with a hyperpigmentation treatment to actively address these issues. You can use it to treat any discoloration on both your face and body.
Truly's Jelly Booster Pigment Treatment is rich in antioxidants and vitamins such as vitamin B12, pomegranate extract, spirulina, and eucalyptus that target and lighten hyperpigmentation anywhere on your body. At the same time, it offers hydration and moisturizing properties. So if you've got dry skin, you don't have to worry about this formula drying out your skin. 
After showering, apply several drops to affected areas. Massage it in well until fully absorbed before putting on clothes.
Serum
Your skin is constantly being bombarded by inflammatory influences which can cause premature aging which comes in the form of fine lines and wrinkles. That's why it's worth looking out for skincare ingredients like vitamin a, vitamin c, and vitamin e - antioxidants that protect and repair your skin. It's also essential to hydrate the skin (both on your face and body). The most hydrating ingredients out there include hyaluronic acid, jojoba oil, and shea butter. 
Of all the beauty products out there, we highly suggest investing in a nourishing, brightening face oil. Applying serum is one step you should never miss - it's the best skincare step for addressing skin concerns, such as dryness, dullness, fine lines, and hyperpigmentation. 
Truly's Purple Rain Face Oil combines retinol (vitamin A) with glycolic acid, jojoba oil, and other antioxidants to resurface the skin, target visible signs of aging, and deliver a glowing complexion. 
Any dermatologist will tell you to add retinol into your routine - it really is the gold standard for gorgeous skin. However, if you have sensitive skin, limit your use or retinol to prevent irritation and redness. 
Apply two to five drops to cleansed facial skin. Massage into your skin and let it absorb for one to three minutes before applying moisturizer. For best results, use daily, both day and night.
You can also apply this collagen-stimulating oil to your neck, chest and any other areas of your skin prone to aging. 
Moisturizer 
"Twenty-five percent of our body's immune system is found in our skin cells," says aesthetician Joanna Czech. "But only a tiny amount of our skin is on our face – the rest is on our body, so we need to take care of it for a better complexion and for our health."
That's why it's important to a moisturizing body cream every single day - to hydrate your skin and keep it looking youthful. And the body cream you choose should be just as high quality as your face, eye creams, and night creams. 
Look for formulas infused with age-counteracting ingredients such as AHAs and BHAs to boost cell turnover. Also, look for hydrating ingredients like hyaluronic acid and coconut oil for a softer skin texture.
Body lotion is a must for healthy, vibrant skin. According to Beverly Hills-based dermatologist Dr. Harold Lancer, if you only time to use one body product daily, make it a body moisturizer.
"That's because multi-layer skin-moisture loss in the long run makes the skin look older," he adds. 
Ideally, you need to moisturize your skin daily - or even better, twice daily. Look for a moisturizer that offers a nourishing mix of nutrient-rich ingredients and antioxidants to help boost collagen product and reduce signs of aging.
Truly's Vegan Collagen Body Cream is loaded with collagen, coconut oil, retinol and vitamin C to even out the skin tone, provide essential hydration, and restore youth.
Want all of these products? Get the Body Brightening Kit for only $95.00.
Of course, SPF is another essential when it comes to your face and body skincare routine. So invest in a sunscreen with at least SPF 30 for maximum protection. You can get sunscreen from your local drugstore. Ask for a zinc-formulated sunscreen if you have acne-prone skin. You could also add in other skincare products if needed, like a cleansing oil, toner, makeup remover, or salicylic-acid formulated face wash. If you're prone to sunburn, invest in an aloe-based gel, too.
Share
---