Are Your Makeup And Skincare Routines Compatible?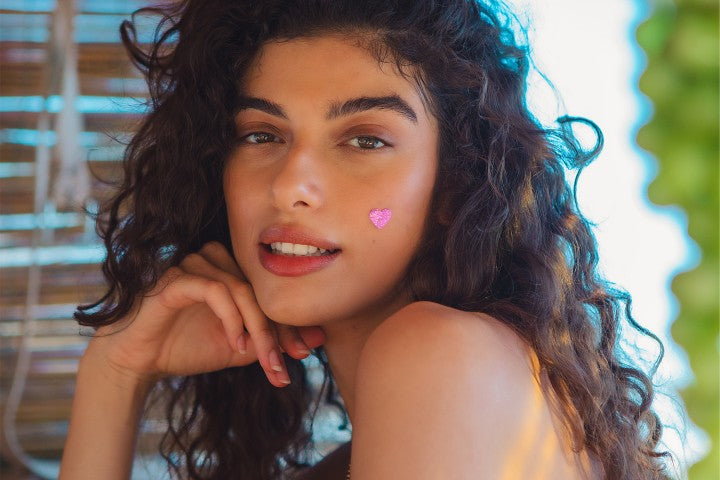 Trying to uncover the underlying reason your makeup looks meh?
No need to play detective anymore! We've got the answers for you...
It's because of your skincare routine. Believe it or not, what you apply on your skin can greatly affect the appearance of your makeup - and how long it lasts. Sometimes, you don't even need makeup to achieve the specific look you're after - provided you've got some high-performing skincare products that is!
Let us show you how to make your makeup and skincare compatible for the best possible results.
DEWY FOUNDATION
Needs: Cleanser, Exfoliator, & Lightweight Moisturizer
"You can pack on as much makeup as you want, but if your skin isn't fresh, the makeup will never look fresh," says makeup artist Laramie. 
And the best way to get fresh-looking, flawless skin? Cleanse, exfoliate, then moisturize!
Besides allowing other skincare products to penetrate better, starting with a clean and freshly scrubbed face will allow the foundation to glide on easier and improve the end result.
Hydration is always an essential for providing a good base for makeup. But cleansing and exfoliating prior to applying foundation will remove buildup of dirt and dead skin cells, and make layering much more effective.
Got acne prone skin? Try Truly's CBD Jelly Bundle before applying foundation. It's formulated with a blend of CBD, salicylic acid, and glycolic acid to banish breakouts and balance oily skin. Seeing signs of aging in your skin? Opt for Truly's Vegan Collagen Bundle instead. It's made with a nourishing blend of retinol, vitamin C, and vegan collagen to fade fine lines and eliminate dark spots and dryness.
SHIMMERY HIGHLIGHTER
Instead of Makeup: Face Serum & Eye Roller 
It turns out, you don't really need highlighter to give your cheekbones some shimmer. You can achieve a similar natural glow by applying a face serum with an eye roller.
Rolling the eye serum on instead of applying it with your fingers gives your skin a little massage, boosting circulation and flushing out excess fluids for a brighter, even skin tone, and less swollen appearance.
Opt for a serum packed with antioxidants like vitamin C serum which works to brighten the skin, like Truly's Blueberry Kush CBD Face Oil.
MATTE LIPSTICK
Needs: Lip Care
A proper lip care routine and matte lipstick should work in tandem. Applying matte lipstick to dry, cracked lips will only make the product look dry and flaky - not a good look!
To prevent that from happening and ensure your lip makeup looks great, adopt a daily lip care routine that includes at least a moisturizing lip oil and butter. If you spend a lot of time indoors, try looking for a lip balm formulated with SPF 30 to give your pout extra protection from UV rays and prevent sun damage.
You can also take your lip care routine one step further by adding in an exfoliant to slough away dead skin cells, dry skin, and provide the perfect base for lip makeup.
Try Truly's 4-Step GLOAT Kit, which features a lip scrub, serum, oil, and butter formulated with hydrating, plumping ingredients like peppermint, hyaluronic acid, and coconut.
CONCEALER
Instead of Makeup: Eye Cream & Acne Stickers 
Concealer is great at covering blemishes and dark circles under the eyes. However, you don't always need it if you have the right skincare products. 
If your issue is dark circles or puffiness, choose an eye cream formulation that actively targets those issues, like Truly's Eye Candy Anti-Puff Eye Cream. Its active ingredients include hyaluronic, sea kelp, and glycerin. 
Got blemishes you want to hide? Treat them with Truly's Super Heart Acne Patches. Made with hydrocolloid to drain fluid from zits and benzoyl peroxide to zap away the bacteria in any zit, these patches can quickly get rid of your blemishes.
AVOID MAKING THESE MAKEUP-SKINCARE MISTAKES
Here are some common mistakes people make when it comes to makeup and skincare.
Rushing your Skincare and Makeup Regimen
"Rushing your skincare application can mean wiping off one product when you apply the next – you lose some of the benefit and it can make a mess when you try to apply makeup as it won't adhere well to skin," explains dermatologist Dr. Sam Bunting.
To prevent product pilling, let each step sink in before following up with the next. This will build up a super smooth base which improves makeup application.
"Once your morning treatment product has absorbed, apply moisturiser where needed," says Bunting. "Once absorbed (enough time to get dressed), then apply sunscreen. Once this has dried completely (check emails), apply makeup."
Applying Products in the Wrong Order
When it comes to skincare layering, always apply water based products before oil based products. Starting with thinner textured water will allow products to absorb, while oil seals in the active ingredients and should be the last step of your regimen.
In other words, applying your anti-aging oils first won't allow your AHAs or BHA in your toners, lotions, and retinoid products to work effectively.
Missing Out on Exfoliation
Piling skincare and makeup on top of layers of dead skin won't sink in as well as it would on exfoliated, healthy skin. 
Add an exfoliating acid to your routine to encourage regular skin cell turnover, which will improve skin texture and improve the absorption of new products.
You'll just need to be careful if you have sensitive skin, as some exfoliating products can irritate the skin. Overall exfoliation is crucial for all skin types.
Understanding your skin needs will make skincare and makeup application much easier and the results far better. So look for products that hydrate and nourish your skin to ensure your makeup glides on smoothly. And don't forget to follow up with broad spectrum sun protection cream to keep your skin healthy and protected. This should be applied as the last step of your skincare routine right before you layer on your makeup. 
Share
---