Beauty Birthday Gifts to Buy the Capricorn Babe IYL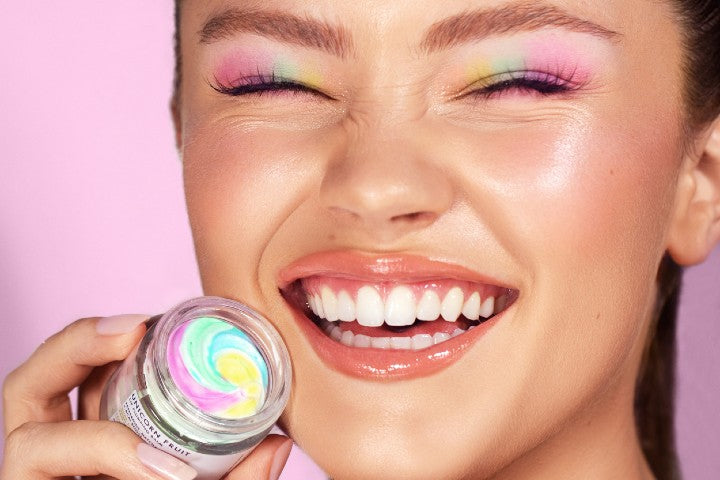 Your Capricorn friends' birthdays are getting closer...which means you need to start thinking about presents!
These no-nonsense sea goats are known for being hardworking, ambitious, and playful. Show them how much you appreciate them with the perfect beauty gift set.
Here are some last-minute gift ideas for the Capricorn babe in your life -- in case you're stuck for ideas. 
Unicorn Party Kit
Caps love to wear different aromas and scents, and she's bound to love the candy-scented lineup of our bestselling Unicorn Fruit Products. Viral on TikTok, our Unicorn Fruit skincare products are an all time favorite for good reason. Packed with game changer ingredients like matcha, chia, and rose, these beauty products nourish and hydrate skin while leaving a fragrant, floral, and candy-scented coat of vanilla and sandalwood. 
Inside, she'll find our Unicorn Fruit Body Polish, Body Butter, Lip Balm, and signature Eau de Parfum. She can synchronize her personal scent as her shower polish, body butter, lip balm and perfume work in tandem to deliver an all over Unicorn Fruit fragrance.
For a long-lasting, all-day scent, layer Unicorn Fruit Eau De Parfum over freshly applied Unicorn Fruit Body Butter. She can wear it all night long without the scent fading!
Date Night Survival Kit
Is your bestie a typical Capricorn in that she's always working late? Treat her to an evening of self-care with our Date Night Survival Kit. She deserves a few moments to herself and this is the bundle to do it with.
Featuring a lineup of six Truly faves, the bundle includes Buns of Glowry Smooth Butt Polish, Acai Your Boobies Lifting Boob Polish, 24k Gold Black Soap, Coco Cloud Shave Butter, Super Heart Patches, and Coco Rose Fudge Butter, complete with a gold spoon for scooping.
These products contain the best ingredients around, such as retinol to fade fine lines and improve skin tone; shea butter to hydrate and soften skin; and African black soap to cleanse away impurities and breakouts.
It's the perfect gift for ladies who always put work first. This is their chance to indulge in a little well-deserved pampering!
Mini Beauty Bag
Give her the opportunity to transport all her favorite products in one single (and extremely stylish!) vegan leather beauty bag. She can fill it with her serum, moisturizer, lip gloss, and mascara -- and still have space for her keys!
Giftees will love this adorable mini beauty bag. It's also a sure way to inspire beauty on the go! 
Ultimate Smooth Legend Shave Kit
Give your sea goat bestie or sister the gift of a perfect shave with our Ultimate Smooth Legend Shave Kit. 
Our 3-step bestselling shave kit features our cult-favorite products to complete your Truly shave collection: Smooth Legend Pre Shave Scrub, Happy Hairless Shave Butter, Glazed Donut After Shave Oil, with a complementary Truly signature magnetic razor + fuzzy pouch.
Capricorns are known for being hardworking, which is why you need to give her an excuse to just chill out and enjoy herself. For most Capricorns, shaving is a long, tedious job that they rarely have time to do. With this luxury shave set, she can enjoy every moment of her shave and end up with a bod smoother than Selena Gomez!
Moon Bath Essentials
Capricorns don't need high-tech items, hair dryers, or sneakers. They need a decent enough excuse to put down their phone and simply relax. You can help them unwind and soothe their mind with our Moon Bath Essentials Kit. 
The kit contains our ashwagandha-based Moon Jelly Body Cleanser plus our eucalyptus-based Moon Shower Adaptogenic Spa Mist to help calm the skin and mind, reduce redness and inflammation, and promote relaxation. It's the perfect duo to pick up her mood and soothe any nervous energy or tension.
Tuned n Tanned Trio
We know she's a winter babe, but that doesn't mean she doesn't want to look bronzed and glowing all year round. This 3-step sunless self tan kit features our Hotter in Person Bronze & Blur Cream, Moon Rocks Body Scrub, and Berry Cheeky Polish to prep the skin for a sunkissed, shimmery tan. It's the best skincare gift for giving her summer vibes -- even in winter!
Ultimate Body Bundle
A rare beauty gift for that one of a kind Capricorn babe in your life! Few retailers offer products designed especially for the butt and boobs. Enter Truly's Acai and Buns of Glowry lines. These lines use high-performing ingredients like retinol, vitamin E, and wheat protein to tighten, smooth, and plump the skin on her butt and boobs.
Between the pandemic and her naturally hardworking personality, your fave Capricorn gal deserves a little TLC on her birthday -- and beyond! If you can't make that clear in English, spell it out with skincare instead. She should get the message loud and clear.
Suitable for all skin types, this is the go-to beauty bundle for all zodiac signs.
Glow Up Kit 
Since dewy and fresh is replacing matte in 2022, help her get ahead of skincare trends with our Glow-Enhancing Skincare Kit. Featuring a face mask, facial serum, and heart-shaped acne patched, this trio uses CBD and caffeine to brighten, glycolic acid to buff away dead skin, and hydrocolloid to drain active zits of fluid.
Besides looking extremely cute and pretty, she'll love the way this kit leaves her skin looking and feeling!
Gift guides for Capricorns typically include Apple products, Amazon books, and Sephora whatnots. If you're looking for something different to gift your Capricorn bestie on her b-day, choose one of our beauty gift sets above. She's guaranteed to love it!
Whether it's an excuse to just chill out and unwind or a chance to maintain a year-round glow, your sea goat sis, mom, or bestie will be highly appreciative of these beauty birthday gifts. Most importantly: make sure she really does give herself some time out -- and indulge!
Share
---