Beauty Gifts to Get Him this Valentine's Day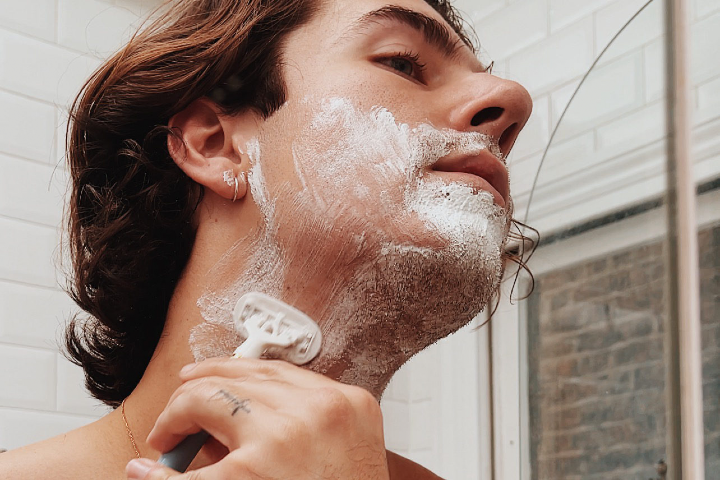 Looking to find the perfect gift for your significant other this Valentine's Day? Even if things aren't that serious, but you still want to get a great gift for the guy in your life, you've got plenty of options.
Is your guy always stealing your lotions and creams? Or does he actually have a skincare routine of his own because he takes pride in his appearance? Perhaps your partner doesn't use much of anything at all, and you'd like to change that -- not to change him, but to improve the self-care experience for him. 
You're in luck! We have TONS of cool beauty gifts you can get your guy for V-Day. Plus, you don't even need to leave your house since you can order them right here. Keep scrolling for the best Valentine's Day gift sets we know he'll LOVE as much as he loves you. 
The Man's Shave Kit
A 4-step shave routine to get him smooth, soft, and irritation-free for date night. 
Does your guy constantly complain about shaving? Make sure he never complains again by getting him this soothing, nourishing shave kit designed especially for men -- by men.
Our ultimate shave kit provides every skincare step necessary for clean, smooth skin. Created by the guys of Team Truly with coarse hair, lower skin pH, and oily skin in mind, it's everything your man needs to enjoy a clean, ultra-close shave. 
What's inside? Our 24k Gold Exfoliating Cleanser to buff away dead skin and prep skin for shaving, Coco Cloud Shave Butter for an effortless razor glide and smooth finish, Black Jelly Blemish Treatment to soothe irritation and blemishes, and Glass Skin Facial Serum to hydrate, soothe, and reveal a more radiant, clear complexion.
Coconut milk in Coco Cloud Shave Butter is essential for softening coarse facial hair while anti-microbial properties combat irritation and ingrowns. Key ingredients in our bundle like antimicrobial tea tree + African black soap banish blemishes by drawing out impurities, clearing pores, and soothing inflammation.
Moon Bath Essentials
Has hubby been working lates every night? Help him unwind and relax with this Moon Bath Essentials Kit. It includes a calming body cleanser and spa mist infused with a blend of super herbs to cleanse the skin, calm the senses, and soothe muscle aches and pains. 
These two adaptogenic beauty products offer a luxe shower experience and are a subtle way to say "I love you." 
Using calming ingredients like lavender, eucalyptus, and Ashwagandha, these products also promote clearer breathing and address the effects of stress on the mind and body for a more restful night's sleep. Trust us, he'll LOVE it.
You can make this Valentine's day beauty gift even more special by setting the tone for when he comes home. Light some candles, put on some sexy tunes, and welcome him to a romantic evening with you, the shower, and our Moon Bath Essentials. 
The 3-in-1 Bundle
Show him how smitten you are by treating your man to this 3-in-1 Skincare Kit. Even if he's not much of a skincare enthusiast, he'll have a hard time not enjoying these hydrating, exfoliating, and anti-aging products. 
Inside, he'll find our Moon Rocks Body Scrub to buff away dead skin and ward off unwanted ingrown hairs, Vegan Collagen Polish to strengthen, restore, and condition skin, and Pimple Party Pack to patch up blemishes and make them heal faster. They can also be used on shaving-related nicks and wounds.
These products use powerhouse ingredients like anti-aging retinol, brightening vitamin C, and moisturizing shea butter to leave skin clear, smooth, and 
It's a great gift idea for your loved one to show them how much you prioritize their wellbeing. 
Bodne Bundle
The best beauty gifts are often the ones that tackle that special someone's specific skin concerns. Sure, not everyone wants to be made aware that they have acne or prominent wrinkles. That said, he'll probably be happy that you found a solution so he can tackle the issues now.
This 4-step body acne kit is designed to cleanse, mist, moisturize and spot treat your way to a blemish free bod. Whether you're getting breakouts on your back, chest, or butt, these blemish-busting baddies are here to help clarify your skin.
Featuring Cherry Jelly Body Cleanser, Dragon Milk Body Lotion, Blue Tansy Body Mist, and Party Pimple Pack, these formulas contain ingredients like AHAs, beta glucan, allantoin, and niacinamide to clear, smooth, moisturize, and boost shine (the good kind!).
Sure, it's not a Chanel Eau de Parfum or a limited edition Tom Ford number, but we're sure he'll appreciate the thoughtfulness. 
Pineapple Haze Restoring Bundle
Next to SPF, moisturizer is a crucial step in a skincare routine to keep skin smooth and hydrated, while maintaining a healthy skin barrier. If your guy never moisturizes, it's time to convince him! And the way to do that? With this Ultimate Head-To-Toe Hydration 4-step bundle. It's yellow, pineapple-scented, and the perfect gift for guys on V-Day.
The Pineapple line features a: foot and hand cream, lip polish, lip balm, and all-purpose salve. Each product focuses on repairing and restoring the skin from dryness and damage --bringing your guy fresh, healthy, hydrated skin. 
This may not be your typical gift guide suggestion for guys. That said, wouldn't he appreciate something a little different that the typical socks, eau de toilette, and wallet he usually gets? Don't worry if he's not a face mask, manicure, or pedicure kind of guy. You can still wow him with this moisturizing + repairing 4-piece skin saver.
We know that guys can be difficult to buy for -- unlike your gal pals who are probably satisfied with a sheet mask, eyeshadow palette, hyaluronic acid serum, or tube of mascara. Luckily, these beauty gifts are bound to make him happy this Valentine's Day -- and you can order them easily on our site, Amazon, Sephora, and Ulta. Happy Valentine's Day, cuties!!!
Share
---