Beauty Products that Cost Less than Your Pumpkin Spice Latte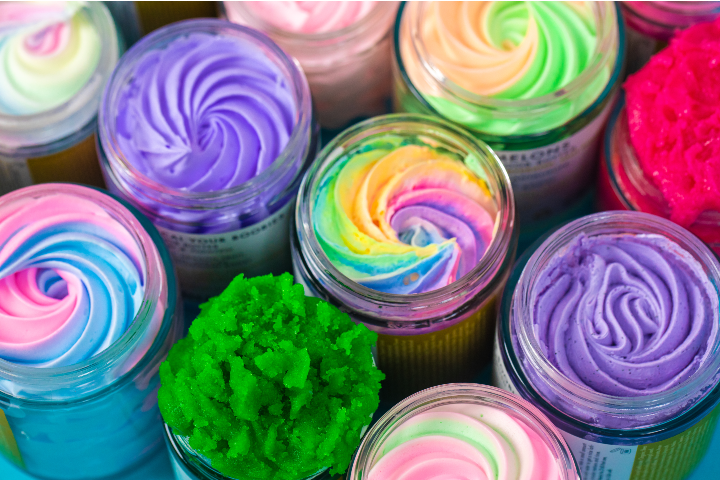 It's officially pumpkin spice latte season! 
As scrumptious as this fall-inspired hot beverage is, a Starbucks Venti PSL will set you back $5.25. At Truly, you can get your hands on a few nice beauty products and accessories for less than that!
Below, our top five products that cost less than your pumpkin pie spice latte. 
Rainbow in Mirrors Hair Mask
Rainbows in Mirrors Split End treatment mends and seals split ends, while preventing future splits from forming. Made with a nourishing blend of avocado and argan oil, this formula conditions, repairs, and restores dry, frazzled hair. 
While avocado injects shine into strands, argan oil uses its high content of antioxidants, fatty acids, and vitamin E to soften, hydrate, and prevent splitting and breakage. It's the perfect formula for hair desperately in need of TLC! 
Layer on dry hair. Leave on for at least 20 minutes or overnight in a shower cap for an even deeper hydration treatment. Rinse well.
Star Fruit Hydrate & Shine Hair Mask
Star Fruit Hydrate & Shine Hair Mask strengthens, hydrates, and adds shine to dry, damaged, lackluster hair. Formulated with coconut oil and chamomile, these ingredients use their soothing, hydrating, and collagen-boosting powers to stimulate hair growth, protect hair from damage, and recover the overall health of your mane.
Coconut oil is deliciously rich in vitamin E, fatty acids, and moisture. Its essential nutrients are lauric acid, which feeds the hair vitamins, minerals, and medium-chain fatty acids. This hydrating oil is said to improve scalp health, fight infections, and support hair growth. 
Chamomile oil boosts collagen in the hair -- the main protein that helps in hair re- growth. It's also packed with vitamin E and vitamin C which shield strands from damage caused by frequent exposure to the sun. Chamomile oil is one of the most soothing oils for the scalp that can help treat dandruff.
Layer on dry hair. Leave on for at least 20 minutes or overnight in a shower cap for an even deeper hydration treatment. Rinse well.
White Satin Pouch + Spoon
Complete your Truly collection with this limited edition White Satin Pouch and Mini Gold Spoon! It's the perfect, travel-friendly duo for keeping your skincare products protected on the road and scooping the right amount of product up without transferring germs into the container!
Fill it with your lip balms, lotions, vitamin A serums, and polishes. Anytime you need a quick moisture top up, simply scoop out a small amount from the tub and apply. This miniature spoon is super convenient when you're not within reach of a faucet and hand soap. It prevents the transfer of germs into your skincare products, keeping you safe and sound!
You can also fill your satin pouch with makeup like mascara, eyeshadow, and eyeliner so everything's in one place when you're on the road and ready to primp. 
Bacteria-Blocking Face Mask
Since it's still ultra important to keep your nose and mouth covered when out and about, why not look good doing it? Trade in your standard medical mask for this adorable red-mouthed face mask.
This lightweight, breathable mask is perfect for socially distanced ventures. It's also reusable and washable for continued use. 
Apply over nose and mouth to protect yourself -- and others! 
Truly House of Beauty Key Chain
Add some glamor to your keys by adding on this Truly House of Beauty Key Chain. It's so cute and adorable -- perfect for all those playful souls out there. Take it with you on your Pumpkin latte (or cold brew!) runs, on your Walmart visits...take it anywhere!
It's a great way to show your love for the Truly brand -- and the Truly fam!
AND A FEW COOL PRODUCTS THAT COST LESS THAN TWO PUMPKIN SPICE FLAVOR LATTES...
Pumpkin chai lattes are indeed addictive, and certainly a nod to fall and Halloween season. But what if you skipped two in favor of a beauty product that costs less? Scroll through our top picks for products that cost less than what you'd pay for two pumpkin cream lattes.
Heart Your Imperfections Blemish Patches
They're going viral over on TikTok! These pink heart-shaped patches are a cute and fun way to tackle your blemishes. Using the power of hydrocolloid, this patch drains fluid from active zits, and injects it with breakout-banishing goodness to make those pesky blemishes go away. 
While a growing number of retailers are selling these patches, none come close to the acne-attacking powers of Truly formulas.
Our Stars Prevent Scars Acne Patches
Truly's Our Star shaped blemish patches are flecked with anti-inflammatory, zit-draining hydrocolloid, and exfoliating glycolic acid to banish breakouts while protecting skin from irritation and preventing scarring.
Hydrocolloid is the ingredient responsible for extracting bacteria and dirt from the pimple. Glycolic is an AHA that exfoliates away dead skin cells. And tea tree oil is an anti-inflammatory that soothes and prevents irritation. Together, these ingredients promote clear, smooth skin, and an overall even skin tone.
Hand Sanitizer Germ Killin' Gel
Keep your hands squeaky clean with this Bacteria-Banishing Hand Sanitizer. Made with 70% alcohol, this product is a handbag staple for keeping your paws germ and bacteria free while out and about. 
Not only is it effective in killing germs and bacteria, it's absolutely adorable and fits in any bag. It's also made with an aloe vera blend so your hands stay clean and hydrated. It's perfect for bags, traveling, and gifting. 
It turns out, you can choose from a range of beauty products and accessories that cost less than your morning pumpkin spice latte. 
At Truly, we pride ourselves in delivering vegan, cruelty-free, preservative-free beauty products at affordable prices so that we're accessible to all.
Want to get in on the Truly action? You'll find all our products on the official Truly Beauty website. You can also shop our skin and beauty products over on Amazon and Ulta. 
Share
---