Beauty Stocking Stuffers for $14 or Less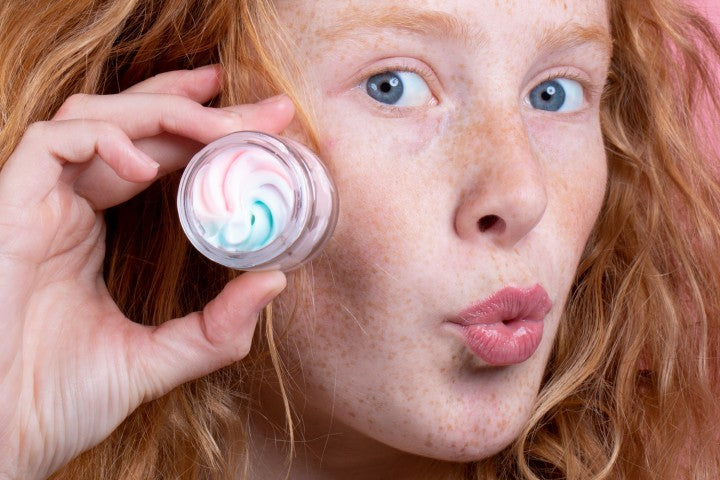 Nothing compares to that warm fuzzy feeling you get on Christmas morning when finding your stocking stuffed with presents. You know it. We know it. But does your mom, bestie, or fave colleague know it?
Give them a Christmas morning to remember with one or more of these beauty stocking stuffers. From hair masks to skincare formulas, here are the best beauty gifts under $14 to give your loved ones this holiday season!
Scroll through, and take your pick from a wide selection of wallet-friendly goodies!
Rose Gold Hair Comb
The perfect gift for anyone with longer hair!
Our rose gold hair comb is great for all hair types. With its widely spaced teeth, this adorable girly comb ensures wet or dry hair won't snag while detangling. Use it for detangling, styling, or evenly distributing conditioner -- it's your go-to comb. Plus, it'll fit nicely in her stocking!
Star Kisser Lip Plumping Mask
This lip plumping glitter mask looks just as festive as it'll make her feel when she finds it in her stocking this xmas! Glittery and gold, it could light up a tree! But that's not the best part...
Formulated with hyaluronic acid, aloe, and peppermint, this lip mask does three things at once: it hydrates, plumps, nourishes, and smooths! It's the perfect Christmas gift for those beauty loving ladies in your life. 
This pout-plumping blend will perk up your kissers with nourishing moisture and minimize fine lines and wrinkles for a soft, smooth finish.
Pineapple Haze All Purpose Skin Salve
Since dry skin is practically a winter epidemic, this moisturizing multipurpose skin balm may be just what she needs to put dry skin to bed. Infused with hemp, jojoba oil, mango, and pineapple, this fix-it-all balm can be used to treat dry patches of skin, and relieve irritation, cracked heels, rough elbows, and chapped lips. You can even use it to smooth split ends.
Hemp is a natural skin soother, while pineapple extract contains bromelain, an enzyme that buffs away dead skin. It's the perfect stocking stuffer for reliving her of winter dryness! 
Star Fruit Hydrate & Shine Hair Mask
Fill her stocking with a face mask, eye mask, and this shine-enhancing hair mask. 
Star Fruit Hydrate & Shine hair mask restores essential hydration and natural vibrancy to dry, lackluster strands. Made with coconut oil and chamomile, this travel-size beauty product adds shine, strengthens, and hydrates to prevent future dryness and breakage. It's a great gift for anyone who appreciates the finer things in life.
GLOAT Sexy Soft Lip Scrub
The best beauty stocking stuffers are pretty, pink, and power-packed -- just like our luxe GLOAT Lip Scrub. It's the lip treatment she never knew she needed until now!
Sexy Soft Lip Scrub smooths and preps lips for a perfect pre-lip gloss, lip balm, or lipstick application. This hydrating, plumping lip scrub gently exfoliates dry, flaky lips to help your lip products absorb better and create a flawless finish! Nourishing neem seed oil and hyaluronic acid sink deeply into your pout to help hydrate while peppermint offers its plumping powers.
Coco Rose Milk Hair Strengthen & Shine Hair Mask
Inspire her to prioritize self-care by dropping this smoothing hair mask into her stocking. She'll be overjoyed! Coconut hydrates dry hair while rose cleanses the scalp without stripping it of moisture. Together, this duo works to smooth, add shine, and fortify strands.
Combine this holiday gift with a pack of hair ties, matte foundation, and hand cream -- and bam, you're all set! 
Unicorn Fruit Lip Plumping Balm
Centered around our bestselling Unicorn Fruit Body Butter formula is an ultimate hydrating, lip plumping duo. It glides on effortlessly to give your pout an extra oomph while diminishing dryness and flaking. Moisturizing ingredients like shea butter and acai leave lips feeling soft and smooth, while plumping ingredients like peppermint visibly supercharge your pout. Wear it alone or under your favorite gloss!
She'll love the smell of it, feel of it, look of it, and results from it!
Heart Shaped Acne Patches
Nail polish, eyeshadow, or mascara may all seem like a better, kinder gift idea than pimple patches. But here us out! 
Our heart shaped pimple patches are one of our most glamorous beauty products. No kidding! And while they may seem too simple and adorable to work, they're packed with zit-draining hydrocolloid to speed up the healing process of freshly popped zits. These patches are the go-to treatment for quelling breakouts. Literally every person needs a pack of these!
Rainbows in Mirrors Hair Mask
One of the most affordable yet best gifts you can buy her this holiday season: our split end sealing hair therapy mask.
Rainbows in Mirrors Split End treatment takes repair to a whole new level, restoring the color and vibrancy of hair, while reinforcing damaged ends and hydrating strands. 
Avocado delivers hydration, while argan oil brings illumination and prevents breakage.
White Satin Pouch + Spoon
It's a COVID world. Let's keep things clean!
Complete your gift set stocking stuffers with this limited edition satin bag and mini gold spoon! This duo is ideal for scooping just the right amount of product without transferring germs into the container. Plus, it makes the cutest little vanity accessory!
We hope you've found this gift guide useful for picking up one or two nice (and extremely wallet-friendly) stocking stuffers! 
You will find all our products on our official website (trulybeauty.com) and over on Amazon, Sephora, and Ulta Beauty.
In addition to these $14 and below highlights, we offer a wide range of beauty products ranging from cleansers to serums and cosmetic trunks. Happy shopping everyone!!!
Share
---