Best Truly Products for First-Time Buyers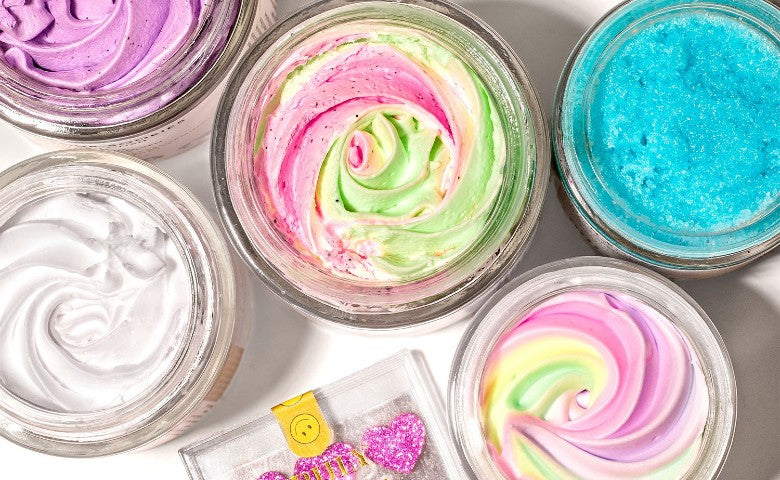 Are you looking to buy vegan beauty products that align with your ethical values? Truly Beauty is a leading online supplier of clean, sustainable, and cruelty-free skincare products. By discovering top beauty trends and remedies from around the world, we devise the most unique and effective hair, body, and skincare products without compromising on quality. 
We believe in striving high with your beauty products. That's why we've spent years creating vegan & clean formulations that perform optimally without leaving a negative impact on the environment or our fellow inhabitants – animals. 
By continuing to work with world-renowned physicians, microbiologists, and chemists, we will continue to provide you with breakthrough vegan beauty products that deliver desirable results.
But where to start? If you're a Truly newbie, no worries! We've selected a few products that are ideal for first-time buyers. Not only are they natural and plant-based, but they're also super effective at targeting various skin concerns. Take a look!
BEST TRULY PRODUCTS FOR BEGINNERS
Unicorn Fruit Whipped Body Butter
At first glance, this multi-colored body butter resembles a rainbow in a tub. Go beyond the beautiful exterior and its unique formulation of acai, matcha, vegan collagen, and rosewater delivers hydration and an overall appearance of youthfulness. It not only looks delicious, it smells utterly heavenly too. Seriously, you'll have a hard time convincing yourself that you can't actually eat it with a spoon. Featuring natural and calming ingredients, it's the perfect beginner product. Plus, it'll keep your skin feeling soft and silky all day long without leaving behind a greasy residue – yuk!
To use:
Apply the colorful body butter all over your body after showering or bathing. For best results, use daily. 
Get your Unicorn Fruit Whipped Body Butter.
Coco Cloud Whipped Luxury Shave Butter
The menial task of shaving is way more fun when you lather up in coconut foam. This whipped shave butter is made with vanilla, coconut milk, argan oil, and white tea to deliver a luxurious and ultra-close shave, while leaving your legs smelling divine. By softening the skin, coconut milk prepares the skin for a super smooth shave that won't leave behind nicks and cuts. It really is a beautiful vegan shaving butter that provides wonderful results and smells amaaaaazing! Who said shaving had to be boring? 
To use:
Using warm water, lather up the butter and shave following the growth of your hair. For best results, use every time you shave – and make sure you shave while or after showering. This will ensure a closer shave.
Get your Coco Cloud Whipped Luxury Shave Butter.
Super Heart Patches
Pimples were never cute…until now! These super cute heart patches may look adorable on the outside, but they're also super fierce on the inside. Packed with benzoyl peroxide and AHA's, these acne patches kill acne causing bacteria, blasting blemishes and reducing inflammation as soon as you stick one on your zit. The best part is, you'll look majorly cute brandishing heart-shaped stickers on your face. 
To use:
After cleansing and drying your skin, apply the sticker onto the blemish. Leave it on for at least six hours or overnight for best results. Remove the sticker and repeat until that pesky pimple disappears.  
Get your Super Heart Patches. 
Moon Rocks Whipped Body Scrub
Everybody needs a decent body scrub to keep their skin soft and glowing. And if you're an avid fake tanner, body scrub is imperative to keep your tan looking even, natural, and streak-free. Truly's vegan body scrub is made up of all-natural ingredients including blue tansy, lavender, dream catcher oil, and jojoba, among others. Besides being highly moisturizing, this scrub is also soothing and effective at calming inflammation. The result? A beautiful, even, dewy complexion. So if you have sensitive skin and you're looking for something that won't break you out in a rash, this is it.
To use:
Massage a generous amount of the scrub into your skin. Leave it on for a couple of minutes for ultimate hydration, then rinse off with warm water. For best results, use 1-2 times per week. 
Get your Moon Rocks Scrub.
Buns of Glowry Smoothing Butt Polish
Brightening, tightening, and moisturizing, this plant-based, cruelty-free butt polish is here to give your tush an extra push. Thanks to wheat protein's firming abilities, this formula can lift your butt, while minimizing the appearance of cellulite. It's also formulated with amino-rich watermelon extract and vitamin E to hydrate, plump, and glow. Want an amazing tush in those new high-waisted jeans? Buns of Glowry always delivers on its promise.
To use:
Massage a small amount of Buns of Glowry into your booty and rinse. You can also use the product as a mask before showering. Mix the polish with water to create a lather, then apply on your booty. Leave it on for 10 minutes and rinse. For best results, use 2-3 times per week. 
Get your Buns of Glowry Polish.
Acai Your Boobies Lifting Boob Polish Firm & Tighten
Truly doesn't just do butt lifting – we do boob lifting too. If you want to perk up your pair, try Acai Your Boobies polish, designed to lift, firm, and smooth. Made with acai berry, retinol, and dragon fruit, this bust polish is packed with antioxidants that firm and tighten your chest. It also smooths out lines, wrinkles, and stretch marks. 
To use: Mix the polish with water to get a lather, then massage on your chest in circular motions and rinse. You can also take things up a notch by applying it as a mask before showering. Leave it on for 10 minutes before rinsing. For best results, use 2-3 times per week. 
Get your Acai Your Boobies Polish.
These six Truly products are excellent for newbies. That's because they're clean, cruelty-free, and effective without being too harsh on the skin. In other words, they're perfect for all skin types. Plus, they're really easy to use and you'll start seeing results within just a few weeks of using them. 
Share
---