Clean Hands with a Conscience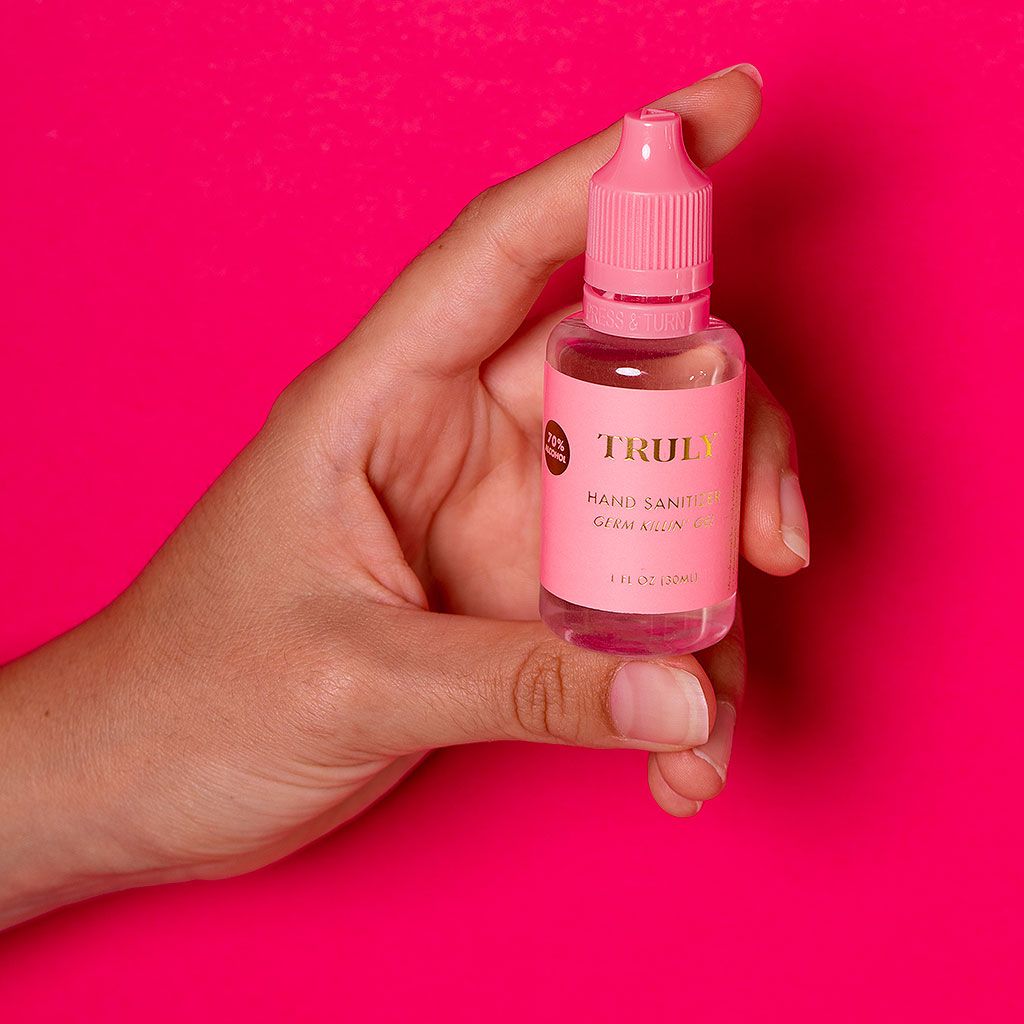 Since the COVID-19 pandemic interrupted our lives and left us compulsively washing our hands, we've received numerous requests for a vegan hand sanitizer.
For several months now, our team has been working on Truly Hand Sanitizer, and are so excited to finally bring it into the world this summer.
Truly's Hand Sanitizer Germ Killin' Gel was designed with connection and community in mind. We hope that with this hand gel, you can stay close to the community around you, while preventing the spread of germs that may lead us back into self-quarantine.
According to the Centers for Disease Control and Prevention (CDC), alcohol-based hand sanitizers effectively reduce the amount of germs, dirt, and bacteria on your hands. It's the simplest, most convenient way to maintain germ-free hands whenever and wherever you are.
Made with a 70% alcohol, aloe vera blend, Truly's hand sanitizer will keep your hands clean without drying them out. It's perfect for all day, everyday use. Plus, it doesn't look like your regular bland, medical-branded bottle. This hand sanitizer is pretty and pink and fits in any bag. So you can keep your hands clean and hydrated all day long. And it won't stand out among your other pretty pink items.
Whenever soap and water are not available, massage 2-4 drops of this gel throughout both hands. Re-apply every hour. Don't feel bad about offering a squirt into your friends' hands either. Clean hands save lives, remember.
It's also a cruelty-free hand sanitizer made with natural plant-based ingredients. So you can enjoy clean hands with a clear conscience.
We're grateful to other businesses out there producing hand sanitizer. It's what's keeping the world healthy right now. We also want to thank all the individuals and organizations out there who are doing everything they can to help. From sewing masks to delivering meals and gifts to healthcare workers, it all makes a huge difference.
We are all united in this devastating pandemic. Let's come together and continue taking those small yet effective actions that make a difference in combatting COVID-19. Like washing our hands regularly or applying hand sanitizer when out and about.
To the Truly community: we're delighted to bring you our brand NEW cruelty-free Hand Sanitizer. It's a beautiful formula in beautiful Truly-like packaging that's small enough to fit in any bag.
And don't forget, spread the word to your friends and family!
Truly's Hand Sanitizer is here to stay – and save lives. Next week, we'll be releasing our adorable face mask too!
Meanwhile, take care, stay safe, and spread the word!
The Truly Beauty team
X0X0
Get your bottle of Truly Hand Sanitizer right here for only $6.00
Share
---