Coconut Oil For Skin -- Just How Effective Is It?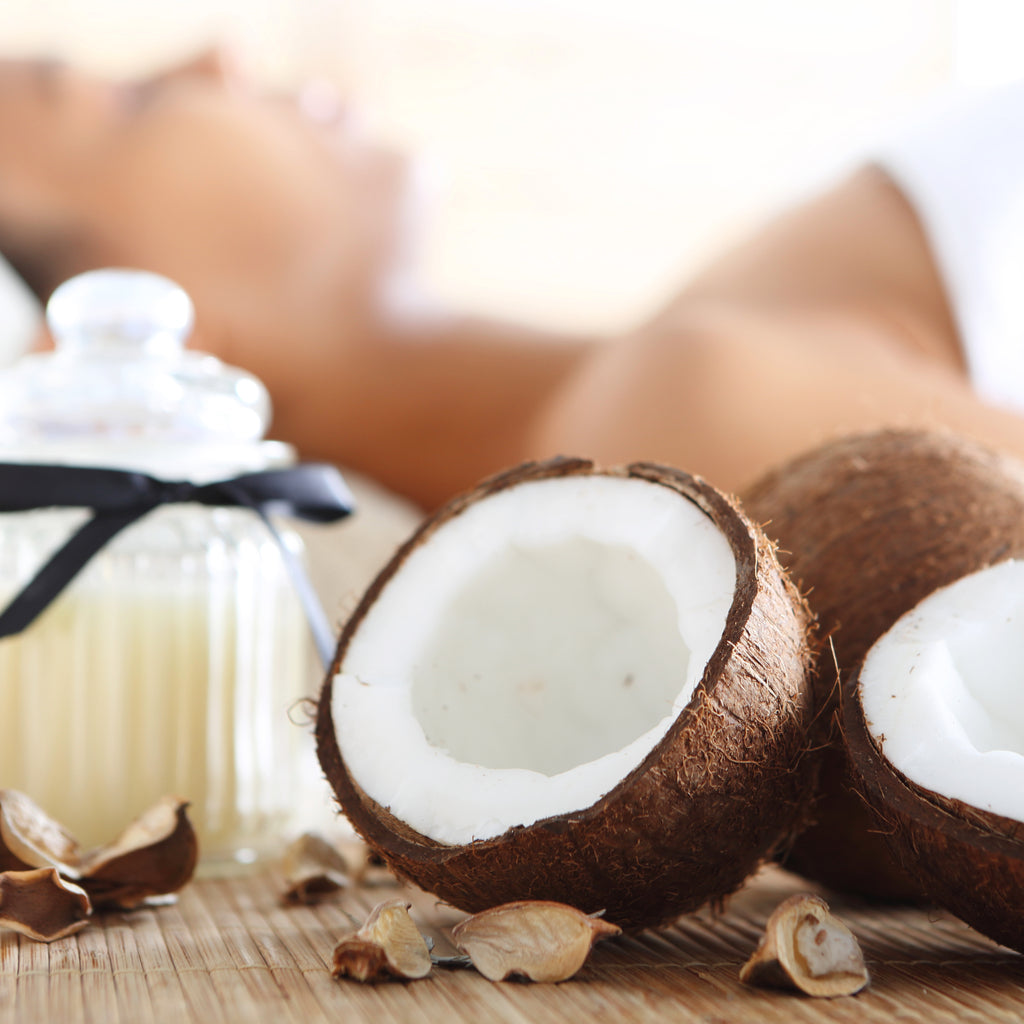 Coconut oil isn't anything new in the beauty world. But there is a lot of inaccurate information out there that greatly misrepresents coconut oil.
For example, is it really as moisturizing as people say it is? Does it actually prevent breakouts or cause them? 
Let's take a look at what the benefits of coconut oil actually are.
WHAT IS COCONUT OIL?
Coconut oil is a fat extracted from the oil of raw coconuts. 
Rich in medium-chain fatty acids make up around 65% of its total composition.
Here are the fatty acids found in coconut oil:
Lauric acid: 49%
Myristic acid: 18%
Palmitic acid: 8%
Caprylic acid: 8%
Capric acid: 7%
Oleic acid: 6%
Stearic acid: 2%
Linoleic acid:

 

2%
There is a lot of competition over which the best skin oil is. Is it avocado?Olive oil? Or argan? With numerous seed oils, nut oils, and vegetable oils to choose from, it's easy to feel overwhelmed. Here's why you might want to consider using coconut oil-- and not just as part of your current ketogenic diet. Dietitians will of course urge you to consume it by the jar, but coconut oil isn't just for a cooking oil or means to lowering your blood pressure. 
BENEFITS OF COCONUT OIL
Coconut oil is largely known for its slew of health benefits. Thanks to its dietary fats, this oil can decrease LDL cholesterol to improve brain function in people suffering with Alzheimer's disease. According to the American Heart Association, it also promotes heart health. 
Aside from its list of health benefits coconut oil is also a superfood for the skin. Thanks to its healthy fats antibacterial properties, it can treat a number of skin conditions and complaints.
Let's take a look at the top coconut oil benefits. 
It's a Fabulous Moisturizer
Applying coconut oil to your skin is a great way to help keep it hydrated. According to a study, patients with mildly dry skin responded just as well to coconut oil for dryness as they did to petroleum. 
Rather than using it solely as a moisturizer, dermatologist Joshua Zeichner, MD recommends applying it as the final step in your skincare routine. This way, it locks in all of the hydration and seals in the goodness of the products used before.
For example, once you've cleansed and moisturized your skin in the evening, use coconut oil over the top to keep all that moisture inside.
According to Dr. Frances Prenna Jones, "Coconut oil is a great emollient if the barrier function of your skin is disturbed. It's great at repairing and restoring this quickly as it is rapidly absorbed into the epidermis."
It Can Treat Eczema
Drawing from all of its fatty acids and anti-inflammatory coconut oil has also been shown to treat eczema, a condition characterized by itchy, scaly rashes on the skin.
A study compared the effects of coconut oil and olive oil in 52 adults with eczema and found that applying pure virgin coconut oil significantly reduced redness and helped treat eczema.
Another study found that coconut oil led to a 68% decrease in eczema severity. This showed that coconut oil is more effective at treating this inflammatory skin condition than petroleum. 
It Can Help With Acne Breakouts
Due to its high fat content and oiliness, few can be sure whether this health food helps or hinders acne-prone skin. The< bottom line is, it can help. Provided that you always use pure oil that is.
Coconut oil may be useful in treating acne-prone skin, because it has high levels of skin-soothing linoleic acid—something that's deficient in the skin of people with acne," explains Dr. Zeichner. "It also contains lauric acid, which is thought to be antimicrobial, so it may lower levels of acne-causing bacteria on the skin and reduce inflammation."
WHAT COCONUT OIL TO USE?
First of all, always check the packaging before purchasing coconut oil. You definitely want to check it contains zero additives. Secondly, always look for extra virgin coconut oil. And finally, if you can find it, opt for organic coconut oil. These factors make a difference to the quality of the oil and to the effects they have on the skin. 
HOW TO USE COCONUT OIL ON THE SKIN?
There are lots of ways to use coconut oil aside from reaping its health benefits like promoting weight loss, preventing heart disease, and lowering cholesterol levels. By all means, add a tablespoon of coconut oil to your smoothies, but don't forget to use it topically too. It does a lot of good!
What else is coconut oil good for? Well, you can use it as a lip balm, as a hair mask, as a nail hydrator, and of course, for skin cleansing. 
Coconut oil as a cleanser is a great way to keep the skin looking fresh and vibrant. Regardless of its high saturated fat content, this MCT oil can be very beneficial for the complexion. Packed with medium-chain triglycerides, coconut oil cleanses, hydrates and nourishes.
The best way to use it is as a makeup remover. Start by thoroughly massaging the oil into your skin. Remove with a muslin cloth. Then remove the remaining dirt and skin cells with a skin type specific cleanser. 
Coconut oil is also a natural antifungal so you can also use it on the skin to treat fungal skin conditions or fungal acne.
VEGAN COLLAGEN FACIAL SERUM
Just because your stuck indoors, doesn't mean your complexion should suffer.
Pamper your skin with this Vegan Collagen Facial Serum, formulated with vegan collagen to plump up your skin and swipe away fine lines and wrinkles.
Collagen is a prolific ingredient in the beauty industry thanks to its potent anti-aging properties and ability to tighten skin to deliver an overall youthful appearance. 
Added to the serum elixir equation: retinol, vitamin C, and coconut oil.
This beautiful blend of powerful anti aging ingredients will leave your skin looking more youthful than ever -- and not to mention ultra soft and glowing!
Get your own Vegan Collagen Facial Serum now for just $45.00.
Share
---