Dewy, Not Greasy: The Glazed Donut Primer 101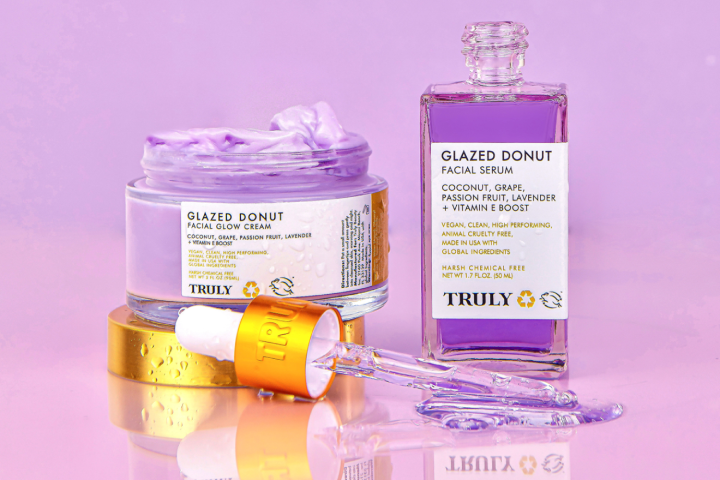 The glazed donut look can best be described as a super glowy and dewy finish, achieved through strategic use of moisturizers to intensely hydrate, nourish, and ultimately brighten skin.
Dewy skin doesn't have to mean greasy skin, though. Especially if you already have oily skin, the last thing you want is to invite more shine.
Luckily, you can enhance sheen without looking greasy. We've got the best 2-in-1 moisturizer and primer to prep skin for a gorgeous glazed donut makeup look — without the grease.
This Glazed Donut Makeup Primer is 'Filter in a Bottle'
Meet our NEW Glazed Donut Skin Set, featuring a face serum + cream developed with nourishing oils and antioxidants to drench skin in long-lasting hydration without clogging pores, enhancing shine, or leaving skin feeling greasy.
Inspired by our O.G. Glazed Donut Shave Oil, this duo was designed especially for your face to let you create that iconic Glazed Donut look a la Hailey Bieber.
Besides intensely hydrating dry skin, this Glazed Donut duo works great as a makeup primer. In fact, we discovered that applying one or both of these formulas prior to foundation and concealer gives you a next level glowy makeup look. Alongside this, they ensure smooth makeup application for a flawless, poreless finish.
Why it's Special
This 2-step skincare routine is a shortcut to that glazed skin look you've been seeing on celebs, TikTok, and of course, the Truly babes! While Hailey Bieber shared her recipe for glazed donut skin, the slew of skincare products she uses to achieve the look racks up to nearly $500.
If you don't have the time or money to mimic Bieber's formula, our Glazed Donut Skin Set is your solution. In only two steps, and with a price tag well under $100, you can get that gorgeous glow in a matter of seconds.
You can use it as part of your daily skincare routine or makeup routine. It really is the quick fix for glowy, healthy skin that looks lit from within!
How it Works
Infused with grapeseed, shea, vitamin E, and passion fruit, this duo provides skin with an instant burst of hydration and nourishment for a grease-free gleam that lasts all day.
Thanks to antioxidant rich grapeseed and vitamin E, these formulas help with brightening, firming, and softening the appearance of fine lines over time. While shea and passion fruit support the skin barrier and seal in moisture for a day's worth of dewiness.
Since foundation looks best on hydrated skin, this Glazed Donut Set provides adequate moisture to skin, allowing your concealer and foundation to melt in seamlessly for a glistening, grease-free finish. It also softens and smooths so that foundation looks extra flawless — like your second skin, almost.
The Benefits
Here's why you need this Glazed Donut Primer in your life.
Naturally glowier skin. With or without makeup, your skin will twinkle after applying these two treats. They'll also help to improve skin tone and texture for a naturally smooth, glowing appearance.
Extra flawless makeup. Foundation glides on seamlessly with Glazed Donut as a primer. Plus, your makeup will look twice as glowy with these dew-boosting formulas underneath.

Dewy, not greasy. This skincare trend isn't about matte-ifying skin. But you can definitely achieve a dewy finish without looking shiny.

Long-term anti-aging effects. Packed with antioxidants, the Glazed Donut Set can help support collagen production, softening fine lines over time with continued use.
Suitable for all skin types. It's perfect for dry skin and even sensitive skin can benefit thanks to its soothing effects credited to shea and neroli.

 
How to Use
After using your daily cleanser, pat a couple of drops of Glazed Donut Serum into your face and neck. Then apply a thin layer of Glazed Donut Facial Glow Cream on top. You can follow up with eye cream and SPF, if you're dealing with dark circles or planning to go out. Leave it to absorb before applying your makeup products.
FYI: you can use these formulas with your other skincare products. The actives inside combine well with most other ingredients, including retinol, vitamin C, AHAs, BHAs, and niacinamide.
Our Fav Glazed Donut Hacks
Just some fun ways to use the Glazed Donut goodies...
Mix a drop of serum with your daily liquid foundation for an extra glow boost.

Pat a tiny amount of serum over your lip balm for extra gloss!

Pat a small amount of serum onto the high points of your face to highlight your features.

 
How to Get Glazed Donut Makeup
Our Glazed Donut Makeup Tutorial
According to makeup artists, every good makeup look starts with a good primer. Meet your new fave primer: Truly's Glazed Donut Skin Set.
To achieve the glazed donut makeup look, start with a super hydrating base, aka, our Glazed Donut Serum + Cream. While the experts recommend using a hyaluronic acid serum, you'll get all the hydration your skin needs thanks to the nourishing oils found in this duo.
Next, focus on dewy (not matte) products with a light coverage. And most importantly, don't overuse your foundation! Simply pat a small amount into skin so you're left with a luminous, more even looking complexion.
When you're done, complete the look with a very light dusting of powder, a cream-based highlighter, and finally — setting spray. And you're all set!
Tip: if this is a daytime look and you're going out, make sure you apply sunscreen after using the Glazed Donut Face Cream.
Shop Our Glazed Donut Makeup Primer
The secret to flawless, luminous skin? Our Glazed Donut Skin Set! While they work great individually, they work even better together. To create that highly-desired glazed donut makeup look, prime your skin with our GD Serum + Cream. It's the upgrade your makeup routine needed — and your skin will GLEAM because of it!
Share
---