Expert-Approved Tips for Improving Skin Texture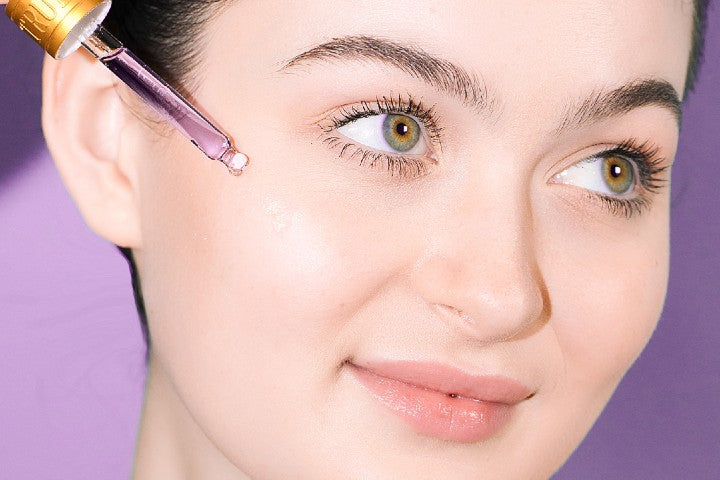 Your breakouts have finally cleared. Hooray. But there's something about your skin that looks, well, meh.
If you're experiencing rough patches, dullness, oversized pores, and bumps, it could be what is known as uneven skin texture.
"Skin texture is essentially a measure of how smooth your skin feels," says Adarsh Vijay Mudgil, M.D., founder of Mudgil Dermatology in NYC. "Bad skin texture is rough and uneven," she explains.
It's the result of a build-up of dead skin cells that make the skin look and feel rough, bumpy, and uneven.
Luckily, if you get ahead of the problem with good skincare habits and effective products, poor skin texture can be a thing of the past.
Below, the best tips for improving your skin texture, as approved by the skincare gurus.
Exfoliate Your Skin
Exfoliation is a process that sloughs away dead skin cells to brighten the complexion and improve texture. The build-up of dead cells can quickly deteriorate the skin's surface and appearance, which is why it's important to incorporate exfoliation into your routine. Not daily – that would be too harsh on the skin. But certainly 2-3 times per week.
"Cleansing and mild exfoliation can give skin a smoother, more radiant appearance by removing dead skin cells on the surface and allowing light to reflect from the skin," explains dermatologist Dr. Lillian Soohoo.
You can opt for either chemical or physical exfoliation. The former uses chemicals to break up dead skin cells and wash them away. The latter utilizes a coarse substance to scrub away dead cells.
We recommend opting for physical exfoliation at home and leaving chemical exfoliation to the pros.
Recommended: Truly's Matcha Face Scrub.
Moisturize
If you have rough skin, try using an oil-based moisturizer to hydrate and nourish your skin. Rough skin happens when your skin produces less oil than usual. Without this oil, your skin's lipid barrier is depleted, leaving your complexion prone to dryness and roughness. Using a rich moisturizer will help replenish the skin's barrier function and improve skin texture.
"We know that skin hydration levels start to decline during the second half of the day, leading to dryness, flaking, and rough texture," says dermatologist Dr. Joshua Zeichner, MD. "Stick to moisturizers that contain calming ingredients like niacinamide to even tone and texture."
Recommended: Truly's Cream Skin Face Moisturizer.
Wear Sunscreen
According to dermatologist Caroline Robinson, "Chronic exposure to the sun can cause many issues, including dullness, uneven tone, fine lines, textural changes, and an increased risk of skin cancer, which is why sunscreen is so important."
We know people say it all the time. But seriously guys, it's a big deal – with big consequences.
"I recommend sunscreen that is SPF 30 or higher, broad spectrum, and water resistant," says Robinson.
Rely on Retinol
Retinol is capable of working a myriad of skincare wonders. From smoothing out fine lines and wrinkles to addressing acne, this vitamin A derivative can also enhance your skin texture.
"I recommend a retinol serum in the evening before bed to help stimulate cell turnover and collagen production while you sleep," says Dr. Zeichner.
Retinol really is an angel for evening out discoloration, brightening skin tone, minimizing large pores, and smoothing skin texture. The secret to making this ingredient work for you is to stay consistent. Apply it regularly if you want to see results.
Recommended: Truly's Purple Rain Facial Oil.
Opt for Vitamin C
Vitamin C is a potent antioxidant that helps even out skin tone, fade dark spots, and improve uneven skin texture. You need this ingredient in your daily beauty regimen if you want to shun unhappy skin.
As skincare guru Ling Chan explains, "adding vitamin C to your skincare routine will help improve skin texture by providing a powerful antioxidant to repair and defend the skin from environmental damage and restore suppleness while reducing pigmentation, scar tissue, and age spots." Vitamin C can also brighten your complexion.
Recommended: Truly's Vegan Collagen Facial Serum.
Make Water Your BFF
Aside from helping the body flush out toxins, drinking plenty of water keeps your skin hydrated, which in turn makes it look smoother, glowier, and generally a lot better.
"The more water you drink, the more hydrated and plumper your cells become," says dermatologist Dr. Anna Guanche. "The metabolic processes inside the cells can work most efficiently."
Aim for eight to ten glasses of water per day. You'll notice a difference within days of upping your water intake.
Oh, and don't forget to increase your consumption of vitamins, too. Loading your body with micronutrients and antioxidants can significantly improve your skin's health – and maintain it.
Try a Laser Treatment
Sometimes, products just won't cut it when it comes to treating uneven skin texture. Luckily, there are plenty of in-office treatments that can help – including laser therapy. It's the easiest, fastest, and most effective method for smoothing, brightening, and rejuvenating your complexion.
"Laser treatments like fractional resurfacing work wonders for improving skin texture," says Dr. Mudgil.
If you're still unhappy with your skin texture, despite trying all the tricks in the book, you should definitely consider booking yourself 2-3 laser sessions. It'll pay off for your skin.
"Opt for a well-controlled laser with a skilled and qualified provider," suggests Dr. Guanche. "Each of these procedures can work extremely well if performed in a series. Don't expect a one-and-done treatment, which can be harsh, risky and can lead to other problems such as hyperpigmentation, scarring or a white, shiny face."
Visit a Dermatologist
If you've tried everything, but you still can't get rid of rough, uneven skin texture, it's time to book an appointment with your dermatologist to find out what's really going on. Your doc will be able to help you find the root cause and offer the best treatments.
Besides laser therapy, you can also choose from other treatments like microneedling, microdermabrasion, peels, and chemical exfoliation. These will help with deeper textural problems like sun damage, acne scars, and severe roughness.
Share
---