Got Maskne? Try These Celebrity-Approved Pimple Patches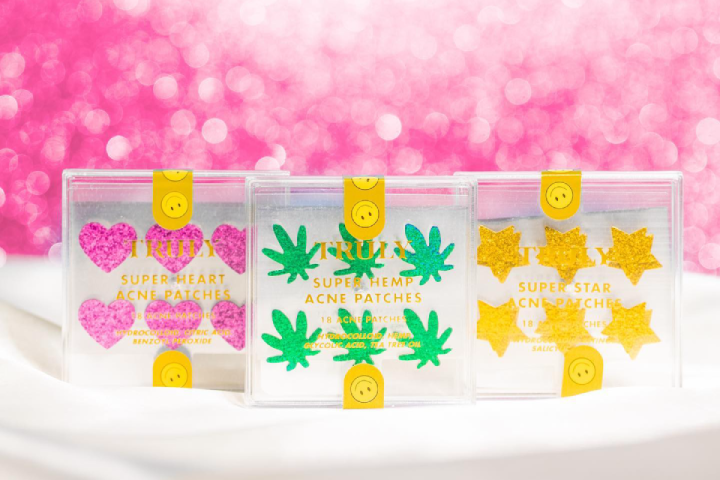 In our era of mask wearing, pimple patches have never been more relevant. 
Since wearing face coverings has led to all sorts of nasty skin concerns like irritation, breakouts, and blemishes, wearing acne patches beneath your face mask may be the best way to not only disguise active breakouts, but heal them in the process!
Lucky for you, Truly has some of the best pimple patches online for clearing up your maskne. And we've got celeb approval on one specific patch! 
Scroll down to hear more...
How Do Pimple Patches Work?
Pimple patches are small stickers made with a wound healing gel called hydrocolloid. Hydrocolloid quite literally drains active breakouts of gunk and oil, helping them to heal fast and effectively. 
"Pimple patches work by absorbing any drainage from the pimple and covering the wound to prevent further trauma to the site, such as picking," explains board-certified dermatologist Amy Kassouf. "They work best on open, draining, healing pustules, papules and cysts."
While you know you shouldn't pick at or pop zits, you probably still do it anyway, right? Acne patches serve as a barrier between your hands and your pimple, preventing you from picking and ultimately maximizing the healing process.
According to the derms, pimple patches work best on active bumps, and will not work at all on closed lesions or deeper lesions. They may not work on blackheads and whiteheads, either. 
But if you've got an angry, red zit living rent-free on your skin, acne patches can be one of the best spot treatments for removing impurities, reducing inflammation, and helping spots heal. 
Why You Need to Wear Them Under Your Face Mask
According to New York City dermatologist Rachel Nazarian, pimple patches can be helpful at speeding up healing time and minimizing the inflammation associated with maskne. 
"What makes them a great option is that they protect the area from some of the same irritating triggers that can create and inflame pimples under your mask," she explains. "They act as a barrier against the bacteria and humidity from your breath, and even the chronic rubbing and friction from the mask itself."
She recommends using acne patches early whenever you see or feel a breakout forming. The earlier, the better! She also advises choosing a patch that aligns with the size of your pimple. Since pimple patches typically contain zit-drying ingredients, you don't want too much of your normal skin exposed to the ingredients, as it may cause irritation. 
If you've got sensitive skin, choose patches that are on the gentler side in terms of ingredients. All are made with hydrocolloid, but some are infused with other ingredients for extra zit-zapping action. If you've got easily irritated skin, look for ingredients like aloe, tea tree oil, and hyaluronic acid which can help reduce redness and bumps.
If your breakouts are bad and your skin can handle it, look for patches formulated with acne-fighting ingredients like salicylic acid, benzoyl peroxide, and vitamin A.
Stick to Your Skincare Routine, Though
As great as pimple patches are at healing active blemishes, they won't actually prevent future breakouts. If you've got acne-prone skin, you'll still need to follow an acne treatment plan in the way of a daily skincare regimen. 
To keep your pores clear and treat acne, use a cleanser, topical treatment, moisturizer, and sunscreen every day. You should also be exfoliating 2-3 times per week to buff away dead skin cells and ultimately prevent pores from clogging. 
Look for skincare products formulated with acne-fighting ingredients like salicylic acid, benzoyl peroxide, vitamin C, retinol, and alpha hydroxy acids.
Steer clear of heavy, comedogenic lotions that clog the pores and trigger acne.
We recommend our Anti-Blemish Facial Kit.
Try these Celebrity-Approved Pimple Patches
Back in 2020, Millie Bobby Brown posted a selfie on her Instagram making a funny face and wearing pink heart-shaped pimple patches on her cheek and chin. And those pimple patches just happened to be Truly's #HeartYourImperfections Acne Stickers.
A playful—and powerful—pimple patch, our pimple-draining acne patch uses the power of hydrocolloid to drain fluid from active zits, delete debris from deep within the skin, and heal freshly popped pimples. These pink heart-shaped patches seem way too cute to actually work, but just wait until you try them yourself. And since they contain nothing other than hydrocolloid, these stickers are more than suitable for all skin types. 
Clearly, Millie Bobby Brown was onto something.
Shop Acne Patches 
Whether you've got oily skin or dry skin, we've got pimple patches to suit every skin type. Scroll down to hear all about our awesome acne patches for all.
Super Star Patches
Flecked with retinol and salicylic acid, this super patch helps remove your blemish while preventing scarring, dark spots, and hyperpigmentation. While hydrocolloid drains fluid from existing zits, retinol speed cell turnover rate to flatten blemishes, and salicylic exfoliates away grime and dead skin.
Super Hemp Patches
If you've got acne and dryness at the same time, reach for these healing yet hydrating hemp stickers. Formulated with glycolic acid to buff away grime, hemp to balance out dryness, and tea tree to help reduce inflammation and redness, this super patch keeps your skin chill.
Super Heart Patches
The newest version of our heart-shaped stickers, our Super Heart Patches combine benzoyl peroxide + AHA's to help kill acne causing bacteria, treat blemishes, and minimize inflammation!
Pimple Party Pack
Developed with your body breakouts in mind, Pimple Party Pack come in our biggest size yet for tackling larger body blemishes. 
Want to get through this pandemic healthy and blemish-free? Start sticking on pimple patches underneath your face mask to keep your skin clear and fresh. It'll banish existing breakouts, heal freshly popped zits, and prevent mask-related irritation. 
If you suspect you have a skin condition, visit a dermatology professional before using acne patches to prevent any undesirable side effects.
You can purchase our acne patches on the Truly website, Amazon, Sephora, and Ulta. 
Share
---