How to Create a Capsule Skincare Collection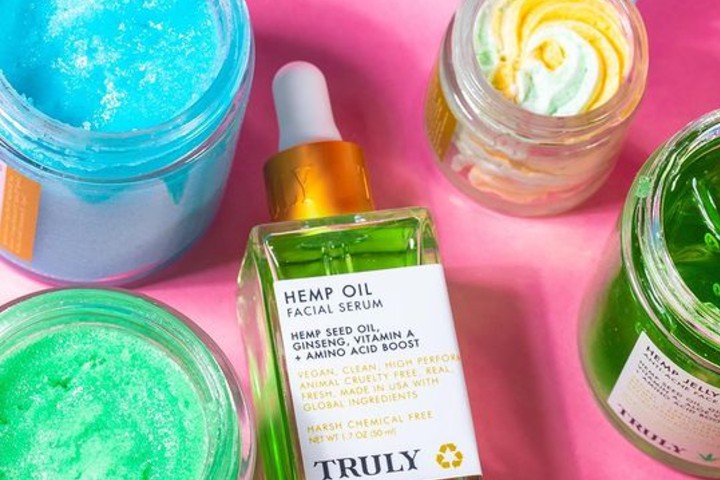 Lately, capsule wardrobes have become a thing in the fashion world. The concept is that editing your wardrobe down to your fave clothes can help you conserve energy, time, and money. It sounds so good, we've decided to make capsule skincare collections a thing, too! Because, why not?
Just like your wardrobe, your beauty cabinet can also end up overfilled with products you haven't used in years or serums that just aren't working for you. We know buying skincare products is super fun! But honestly, you really don't need all that many products to keep your complexion clear and glowing.
WHY MINIMALISM WORKS
When you hear about 12-step Korean glass skin routines or celebrity beauty regimens that would set you back thousands of dollars, it's easy to think more is better. It's not.
"Fifty percent of people I see in my clinic have too complicated a regimen that is actually damaging the skin barrier and unbalancing the natural acidic pH," says dermatologist Dr Justine Hextall. Hear that? "Damaging!"
She continues, "My advice is find what works and try to stick to it for longer than a week! Products can take at least six weeks to start making a difference... continued use is necessary to maintain the results."
And that's the beauty of the capsule skincare stash. It simplifies your skincare regimen, stripping it of all the unnecessities to promote a healthier, happier complexion. 
Here's how to put together your own capsule skincare routine.
WHAT TO INCLUDE IN YOUR CAPSULE SKINCARE COLLECTION
There are five products that belong in every skincare routine.
Cleanser
Daily cleansing is a must – especially at night, to rid your skin of the day's dirt, grime, pollution, and makeup. The secret to cleansing efficiently is choosing the right cleanser. Many cleansers contain chemicals and sulfates that dry out the skin, strip it of its nourishing oils, and leave your face feeling all tight and itchy. 
You want a cleanser that removes the day's build-up of dirt and grime while holding on to its essential moisture. Our pick? Truly's Super Matcha Facial Cleanser, designed to cleanse, nourish, and rejuvenate your complexion.
It's important to pay attention to how your skin reacts to each product. If you do not really see a difference or your skin is getting worse after several weeks of use, switch cleansers.
Exfoliator
You don't need to exfoliate daily, but you do need to fit it in 2-3 times a week if you want to achieve or maintain flawless skin. Exfoliation is important. It unclogs pores, reduces acne, evens skin tone, and even boosts other skincare products' absorption. You'll also notice how much smoother your skin feels following an exfoliating session. 
Made with matcha, green tea, and dead sea salt, Truly's Matcha Scrub delivers gentle exfoliation for softer, brighter skin. 
Best of all, it's the perfect multi-tasking product as you can use it on your body too.
Serum
Dozens of serums might sound like the pathway to great skin, but one is enough – if it's the right formula for your skin type or concern.
Serums are unique in that they contain high concentrations of active ingredients and penetrate deeply. Still, you'll need to select a serum specifically targeted to your skin's needs in order for it to work.
Aging skin needs an antioxidant-packed serum like Truly's Vegan Collagen Serum, which blends coconut, retinol, vitamin C, and vegan collagen for a youthful appearance.
Whereas dry skin requires plenty of moisturizing ingredients. Truly's Hemp Oil Facial Serum provides omega acids which help hydrate and soothe the skin. 
Moisturizer
Moisturizer keeps your skin soft, hydrated, and supple. It has an important place in your capsule skincare collection. 
"Always use a moisturizer with barrier repair benefits," says celebrity esthetician Renée Rouleau. "If you have very dry skin, you may think you need a super heavy, thick moisturizer, but what you really should be looking for is ingredients that repair your skin barrier. This doesn't have anything to do with the weight of the product itself."
Look for ingredients that offer great barrier repair benefits like carrot oil, cranberry oil, jojoba oil, and sweet almond oil. We suggest Truly's Cream Skin Face Moisturizer. It contains hyaluronic acid and sea kelp to provide and seal in moisture to the skin. 
Sunscreen
A step never to be missed! Like, ever. Even when you're indoors, wearing sunscreen protects your skin against blue light emissions – the light that comes from your digital devices and wreaks havoc on the skin.
Make sure you choose a sunscreen with at least SPF 30 to provide as much protection as possible. If you're out in the sun, remember to re-apply ever 1-2 hours. And apply generously. 
When you skip the sunscreen, you're exposing your skin to extremely damaging UV rays that could result in photoaging, dark spots, and even skin cancer.
WHAT YOU DON'T NEED IN YOUR CAPSULE SKINCARE COLLECTION
Products like face mists, toners, and essences – while beneficial – can be excluded from your capsule skincare collection. If you're really looking to streamline your skincare collection, focus on acquiring high-quality, suitable-for-your-skin-type-and-complaints products as listed above. Because those are the products you really need for amazing skin.
You should also clear out any products past their expiration date or ones you know you've had for a really long time. Like food, cosmetics do have an end date.
While you're at it, take a good look at the products you have. Examine each product objectively and ask yourself, do I use it? Is it working for me? Will I be using it within the next month? If your answer's no, get rid of it. There's no room for it in your capsule beauty collection.
So you see, streamlining your skincare routine isn't that hard. It's all about finding high-performing products and getting rid of the poor-performing ones. Much like you'd do when creating a capsule wardrobe. Haven't worn that sweater in years? It's time for it to go. The capsule skincare collection goes by the same philosophy.
Share
---