How to Get Rid of Fine Lines on Forehead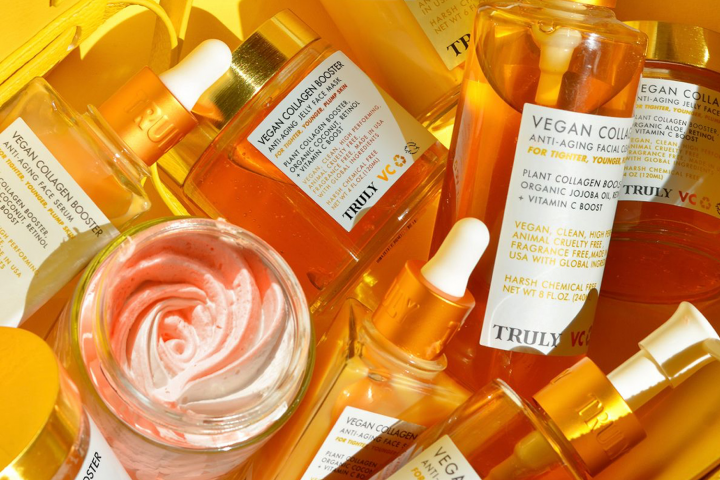 Discover how to get rid of fine lines on forehead and what causes forehead lines in the first place.
Everyone gets fine lines and wrinkles at some point in their life. It's normal, it's common, and absolutely nothing to be concerned about. That said, forehead lines can be a bit of a nuisance since they're not easy to conceal. On top of that, any facial movements tend to make those lines even more prominent.
On the plus side, there are plenty of ways to smooth out those lines and prevent them from forming altogether. Below, find out more about these horizontal lines, including what causes them and how to get rid of fine lines on forehead. 
Why Do I Have Fine Lines on My Forehead?
The main cause of forehead lines is repetitive forehead facial expressions. From dramatic facial expressions to raising your eyebrows, these repeated movements make you more prone to developing forehead lines. 
Getting older also makes you more likely to develop these pesky lines. This is because collagen and elastin production decrease with age. Since collagen and elastin are the proteins that keep skin smooth, firm, and supple, having too less of them leaves your skin susceptible to fine lines, wrinkles, and sagging.
Of course, there are other factors to bear in mind too. For instance, UV exposure, lifestyle habits, and genetics can be a few reasons why you're seeing lines on your forehead. Even not drinking enough water can make lines appear more noticeable.
When it comes to knowing how to get rid of fine lines on forehead, it's worth knowing what causes them in the first place so you can start taking preventative steps.
At What Age Do Forehead Lines Appear?
According to dermatologists, forehead lines mostly affect patients 25 and up. There are two main explanations for this.
First, if you're someone who makes a lot of repetitive movements in that area, eventually you will start to see fine lines appearing. Second, after the age of 20, the body produces less collagen and elastin, leaving skin vulnerable to premature aging. 
However, it's possible to develop fine lines at any age, especially 20 onwards. You might even be lucky enough to get to 30 without any trace of forehead lines.
If you're looking for how to get rid of fine lines on forehead, keep on scrolling. We've rounded up the best treatments for forehead lines too!
Do Fine Lines on Forehead Go Away?
As long as your forehead lines are not very heavy and deeply set in the skin, they will go away with the right treatments. For the best possible outcome, be sure to stick to an anti-aging skincare routine and be consistent. 
Of course, prevention is always the best medicine. Daily sunscreen use and avoiding repetitive facial movements will help significantly in preventing forehead lines. 
How to Get Rid of Fine Lines on Forehead
Provided that you're dealing with fine lines and not deeply set wrinkles on the forehead, you should be able to get rid of forehead lines completely. Here are the best ways to treat fine lines on forehead.
Retinoids
Retinoids are proven to stimulate collagen production and cell turnover, helping to smooth out lines and firm the skin while improving overall skin tone and texture.
Luckily, you'll find retinol in a plethora of anti-aging creams and serums. According to the derms, retinol works best at night to reduce the appearance of fine lines on forehead -- or wherever else they may be. That's because skin repairs itself best at night, so retinol is even more restorative when you apply it in the evening before bed.
Alpha Hydroxy Acids (AHAs)
Alpha hydroxy acids can also be effective for keeping skin smooth and youthful. These exfoliating acids dissolve dead skin cells on the surface of skin, offering a resurfacing effect that improves skin texture and skin tone while making lines appear less noticeable. Some of the best AHAs out there include glycolic acid and lactic acid.
Again, you'll find AHAs in a number of products including cleansers, serums, and toners. Just go steady when using them to avoid irritating your skin.
Antioxidants
With regards to how to get rid of fine lines on forehead, look for products packed with antioxidants like vitamin C and E. 
Antioxidants are crucial for keeping skin healthy, springy, and smooth. Vitamin C is a powerhouse antioxidant that does a number of things for the skin. For starters, it helps to brighten and fade discoloration. Alongside this, vitamin C protects skin against free radical damage. And finally, vitamin C keeps the skin looking youthful and radiant.
Vitamin E is another excellent one. While it's anti-aging benefits aren't as potent as that of vitamin C, it does intensely nourish and strengthen the skin for an overall improved appearance.
The Best Skincare for Fine Lines on Forehead
If you want to know how to get rid of fine lines on forehead, try these anti-aging skincare sets that'll work wonders on your creases.
Vegan Collagen Booster Set
Meet the hardest working anti-aging set ever! Retinol, vitamin C, and plant collagen booster come together to increase skin's elasticity and plump out lines for your smoothest, most radiant skin.
Inside, you'll find a facial cleanser, mask + serum, plus a body polish + cream complete with a gorgeous St. Tropez Luxury Travel Trunk.
Glow Up Routine
Get ready to glow up with this ultra dewy routine! It features a face mask + serum powered by glycolic acid and caffeine to gently resurface and spur collagen production, resulting in smoother, brighter skin.
And for your next pimple SOS, stick on one of these heart shaped patches. It'll clear it up in no time!
Glazed Donut Skin Set
Get a dewy, spa-worthy glow in just two steps with this luxe Glazed Donut Skin Set featuring a facial serum and cream.
Plus, if you're looking for how to get rid of fine lines on forehead, this dreamy duo can help. Formulated with antioxidants and emollients, it'll soften those creases in no time while leaving you looking as glossy as a glazed donut.
Treatments for Forehead Lines
Most of the time, you won't need in-office treatments to remove lines on forehead. If they're only faint lines, the skincare products above (used regularly) should be enough. However, if you have deeper set lines, you may want to consider these treatments when it comes to how to get rid of fine lines on forehead.
Botox
If you can get over your fear of needles, Botox (botulinum toxin) can be highly effective at smoothing away forehead lines. Botox works by relaxing the muscles under the skin so you can no longer make the facial expression, making the skin unable to create the wrinkle. It's both a treatment and a preventative. Results typically last around three to six months. 
Fillers
Fillers are another good option if you can stomach needles. Hyaluronic acid-based fillers plump out lines, giving your forehead a visibly smoother appearance -- instantly. Results can last anywhere from six months to one year. 
Microneedling
Microneedling is a standard treatment for fine lines and wrinkles. Plus, it offers other benefits.
"From microneedling alone, you will look plump, pink, and luminous for a couple of weeks. On a short-term basis, it plumps the skin and makes the skin look more radiant from inflammation and very superficial swelling" says dermatologist Macrene Alexiades, MD, Ph.D.
Laser Therapy
One of the best rejuvenating skincare treatments of all has got to be laser therapy. However, it can be painful and does come with a high price tag.
"Fraxel Dual uses fractional laser technology which penetrates deep into the skin layers to trigger the body to promote its natural healing, improving overall texture and skin tone," explains board-certified dermatologist Dr. Michele Green. "The results of Fraxel are gradual over time as the body replaces old damaged skin cells replacing it with new collagen and elastin."
How to Prevent Fine Lines on Forehead
While you have plenty of options as for how to get rid of fine lines on forehead, prevention will always be better than cure. Prevent lines from forming altogether by following a daily anti-aging skincare routine comprising of retinol, AHAs, and antioxidants. 
Your daily routine should comprise of a cleanser, serum, moisturizer, and sunscreen (SPF 30). Aim to exfoliate 1-2 times per week to get skin fresh and glowing without irritating it.
Most importantly, wear sunscreen every day and re-apply every two hours. Sun exposure is one of the leading causes of premature aging, so if you want your skin to look as young as possible for as long as possible, prioritize daily sun protection.
Follow these tips on how to get rid of fine lines on forehead for the next 3-6 weeks and you'll notice a visible improvement. 
Share
---