How to Identify Your Skin Type (And What Ingredients to Use)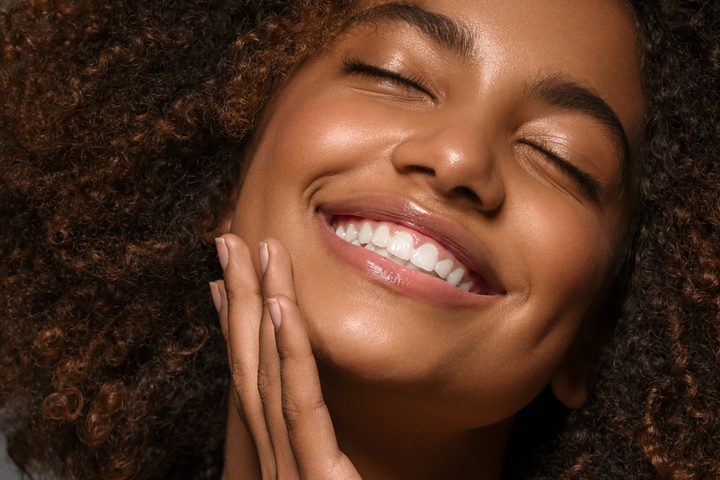 Skin type. It's that word facialists and dermatologists use to dictate everything you do in your daily skincare regimen. From your cleanser to your moisturizer, there's allegedly a right and wrong one depending on your skin type. But do you even know what your skin type is? Relax, help is on its way.
Finding out your particular skin type matters because you'll be able to find products tailored to your skin's specific needs. It also prevents any unwanted side effects like breakouts, redness, and irritation – potential outcomes of using the wrong products.
To give you an example, let's say you've been using a facial cleanser designed to treat oily skin, when you actually have dry skin. That would mean you're drying out your skin more and more with every use of that face wash. It would just be counterproductive.
To help you out, we've broken down the different ways to identify your skin type so you can start using products that work for your needs.
WHAT'S YOUR SKIN TYPE?
Shiny Skin?
Skin Type: Oily
Do you see a greasy film on your skin? Are your pores quite large? Do breakouts happen often? You have oily skin.
"This skin type is prone to clogged pores and breakouts...your sunscreen and makeup might seem to ball up or slide off," says Dr. Maryann Mikhail, MD of Spring Street Dermatology. 
Oily skin often doesn't need much moisturizing, but it does need a good, acne-fighting face wash to combat oil production and keep pores decongested. On the flipside, oily skin ages better than other skin types.
If you have oily skin, opt for a cleanser that dissolves oil and an oil-free moisturizer to hydrate your skin without making it greasy and prone to pore clogging.
Ingredients to use: hyaluronic acid, salicylic acid, niacinamide, and tea tree oil.
Product picks: Truly's Pore Shrinking Kit
Tightness or Flaking?
Skin Type: Dry
If you're experiencing dull and lifeless skin, that's a clear sign you have dry skin. That's because dry skin tends to be covered in a layer of dead skin cells. Unlike hydrated skin which reflect light evenly, dry skin causes light to reflect off of these rough skin cells, causing a dull-looking complexion.
Everything from sun exposure to hot showers and harsh ingredients can cause dry skin. It could even be down to plain old genetics. On the plus side, dry skin doesn't break out as much as oily skin. But you will have to bulk up on moisturizer and incorporate more hydrating cleansers into your regimen to diminish dryness.
The best way to treat dry skin is by using a nourishing cleanser, avoid drying ingredients like salicylic acid, and wear plenty of lotion to maintain a hydrated complexion.
Ingredients to use: hyaluronic acid, jojoba oil, argan oil.
Product picks: Truly's Super Matcha Facial Cleanser & Truly's Flawless Skincare Bundle
Red, Itchy Skin
Skin type: Sensitive
Itching, burning, redness, and scaling are the hallmarks of sensitive skin. People with sensitive skin may have acne, eczema, contact dermatitis, or rosacea.
It should be fairly easy to tell if you have this skin type as it tends to react to certain ingredients – especially acids or acne-formulated products which leave the skin prone to dryness and irritation.
To avoid feeling tight and itchy, steer clear of excessive heat and triggers like stress. Pay attention to what you apply on your skin. If you notice your skin flares up after using certain products, it could mean you're sensitive to one or more of the ingredients in them.
Stick to soothing milk or cream-based cleansers. Ideally all of your products should be fragrance-free to avoid triggering redness and other unwanted side effects. Opt for moisturizers that hydrate with calming ingredients like green tea or ceramides to boost your skin's natural barrier and ward off irritation.
Ingredients to use: green tea, aloe vera, rose, lavender.
Product pick: Matcha Skincare Bundle
Oily T-Zone? Dry Cheeks?
Skin type: Combination
Dermatologists can't agree over this skin type.
Some say it's only temporary, brought on by external factors.
"Skin type can change seasonally," notes dermatologist Leslie Bauman. "Combination means you are dry in winter and oily in summer. Some people incorrectly use it to mean oily in the T-zone but this is classified as an oily skin type."
Others argue that combination skin is a distinct skin type characterized by an oily t-zone and dry cheeks.
"Combination skin tends to be oilier in the forehead and nose where you have more oil glands, and drier on the cheeks," says dermatologist Doris Day said. "Sometimes around the mouth can be both dry and oily and more sensitive in general."
Keep combination skin happy by using one product for the oilier areas and another for the drier parts.
Ingredients to try: hyaluronic acid, salicylic acid, tea tree.
Product pick: Truly's Ultimate Skincare Bundle
Fine Lines and Sun Spots?
Skin type: mature
"Mature skin is characterized by increased dryness, sun spots (poikiloderma), fine lines, and laxity," says Dr. Mikhail. It's a natural part of aging, but "it's often related to sun exposure and smoking, too."
In other words, you don't have to be 40+ to have mature skin.
Signs to look out for: fine lines that appear without making expressions, sun spots that won't go away, and broken blood vessels – a sign of sun damage.
If you notice any of these symptoms, you could have mature skin. In terms of your skincare routine, you'll want to incorporate hydrating, revitalizing cleansers, serums, and moisturizers to keep your complexion plump and sculpted.
Ingredients to use: vegan collagen, retinol, hyaluronic acid, vitamin C.
Product pick: Truly's Vegan Collagen Bundle
Distinguishing your exact skin type can work wonders for your complexion. If you've spent a lifetime feeling unhappy with your skin, it's time to re-assess everything you've ever believed about it.
Maybe it never was dry – perhaps you're just sensitive. Could it be that your retinol serum should actually be replaced with a hyaluronic acid serum instead?
In time, and with these helpful tips, you'll learn exactly what your skin needs to look its most radiant self.
Share
---