How to Introduce Your BF To an *Actual* Skincare Routine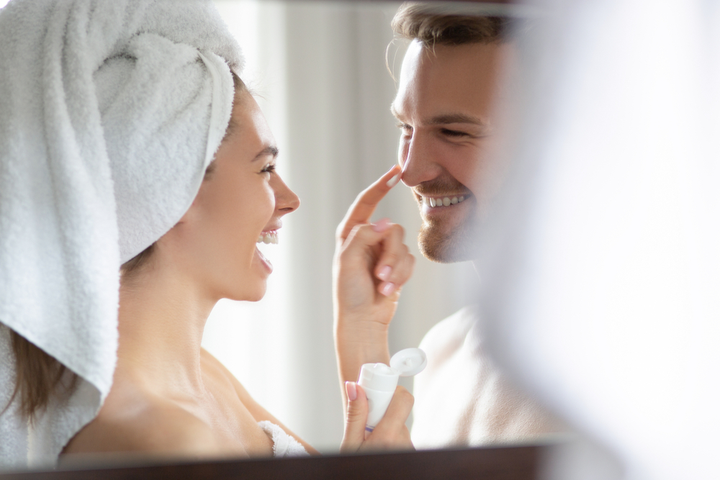 So, here's the situation: your side of the bathroom resembles something of a drugstore, cabinets and shelves filled with skincare products ranging from cleansers to eye creams to face masks and the latest Korean skincare potions. 
Your boyfriend's side...well, does he even have a side? Or are you seriously calling that tiny space he uses to park his 3-in-1 body wash a side? Really? Lol. 
Grooming is just as important for men as it is for women. Yet for some reason, it seems to often get overlooked. 
Want to help him say goodbye forever to his 3-in-1 body cleanser (sorry, but you won't be missed) in favor of a more extensive (and effective!) skincare routine? Yep, it's officially time to introduce your BF to a legit skincare regimen. And we're going to show you how!
WHY MEN NEED A SKINCARE ROUTINE TOO?
As far as we're concerned, skincare is gender-free. After all, who doesn't want healthy, conditioned, and glowing skin? You, your besties, and even your boyfriend wants that.
The problem is, we've seen one too many social media memes and now we're worried. Are dudes really living by one product and one product only? It's time to change that and you can be part of the change by introducing your guy to a self-care regimen that works.
Everybody, regardless of gender, needs to be treating their skin according to their specific needs. If he's got oily skin and he's using a highly moisturizing face wash, that could be causing his breakouts. On the other hand, dry skin and harsh blackhead-removing toners are also not a good mix. 
"A good men's skincare routine should be simple and straightforward," says dermatologist Yoram Harth, and founder of MDAcne. "The kind of products used depends on the age and skin types of every individual. They should be more drying for younger guys with oily skin, and more hydrating for older guys or men with dry skin."
Here, we've put together a great men's skincare routine with our highly recommended beauty products. He's going to love them. We promise!
The Cleanser
Has he got dry skin? Oily skin? Sensitive skin?
Many skin concerns can be called back to cleansers. If someone isn't using the right one, it could end up causing a whole lot of skin issues like blemishes and dryness.
Explain to him the importance of using a facial cleanser that addresses his skin problems. If it's acne, tell him all about the magic of ingredients like salicylic acid and how they attack acne at the core. How could he not want to use something with those kind of superpowers? 
Truly's CBD Jelly Anti-Blemish Facial Cleanser is ideal for oily and acne-prone skin types. Made with salicylic acid (the well-known acne killer), CBD, and retinol, this cleanser rids the skin of impurities and breakouts for clear, radiant skin. 
The Exfoliator
He's never heard of it, you say? If you need to convince your BF to make exfoliating a part of his skincare regimen, tell him it'll make his skin waaay more kissable. See, when you exfoliate the skin, you remove dead skin cells that reveal smoother, softer skin. If he's a first-time user, introduce him to a gentle exfoliant that won't aggravate his skin.
Truly's 24k Gold Black Soap Impurity Cleanser resurfaces and retexturizes the skin without causing irritation. It's also nourishing and hydrating, so it won't dry his skin out. 
The Moisturizer (Or Serum)
Moisturizer may not be at the top of your BF's agenda. But explain to him how beneficial it can be for the skin. Provided that you choose a face lotion or serum formulated with hydrating ingredients like hyaluronic acid and collagen, that is.
Skincare babies don't want to be bombarded with tons of skincare steps. Thus, he can take his pick out of moisturizer or serum. Both offer hydration and nourishment. But if he's looking to tackle specific issues like breakouts or fine lines, for instance, he'll need a serum. 
Truly's Vegan Collagen Facial Serum is an effective anti-aging formula made with vegan collagen, vitamin C, coconut, and retinol to help take care of aging skin. 
The SPF
The most important step of all: sunscreen!
Anyone who wants healthy, youthful skin should use sunscreen - every single day. Ask any dermatologist and they'll tell you the exact same thing. Sunscreen protects the skin from harsh UV rays that cause hyperpigmentation, premature aging, and possibly even skin cancer. 
If there's one skincare tip you should share with your BF, it's this one. Advise him to opt for an SPF 30 or higher if he's fair skinned for maximum protection. Wearing sun protection in the first place can prevent a lot of damage. It really is the best preventative step you can take.
AND IF HE REALLY WANTS TO GO THE EXTRA STEP...
Body Lotion
A good body moisturizer will be his partner in crime in combatting dry, dehydrated skin. It really is a must for maintaining healthy, happy pores.
Truly's Pineapple Haze Sensitive Skin Body Balm is suitable for all skin types. Made with CBD, mango, jojoba oil, vitamin E, and pineapple, this repairing balm has incredible anti-inflammatory, moisturizing, and healing benefits for your bf's skin! It improves the skins elasticity and stimulates cell renewal for ultra smooth skin you'd usually only get from a few sessions with a New York City dermatologist. At a fraction of the price!
Men's skincare is a must. While he might claim he's happy with his 3-in-1 body wash, it's your responsibility (as his loving GF and all) to show him a better way. Or in our book: the only way.
With a solid skincare routine in place, your boyfriend will be able to enjoy better, brighter, smoother skin. And the best part is, it's a routine you can do together as a couple. Talk about ways to bond! This is it! 
Oh yeah, and get ready for all that appreciation coming your way...
Share
---