How to Use Retinol for Best Results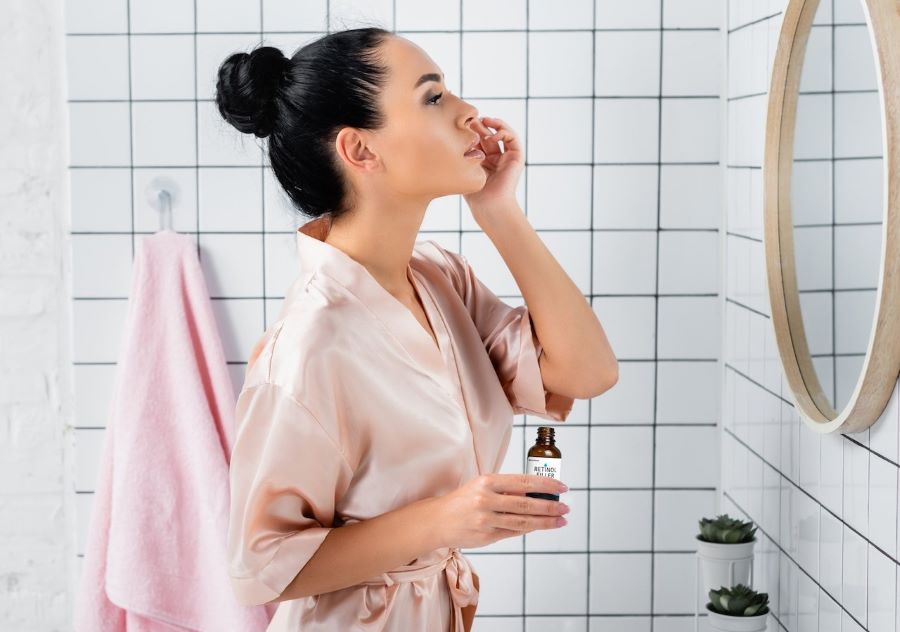 Want to know how to use retinol to get the best possible results? Retinol is a vitamin A derivative that's known for its ability to treat and prevent signs of aging while combating acne and hyperpigmentation. By stimulating cell turnover and boosting collagen production, retinol is a powerhouse anti-aging ingredient that improves skin tone and texture for smoother, younger looking skin.
The question is, how do you properly use retinol for the best benefits without unpleasant side effects like dryness, redness, and flaking? Below, everything you need to know about using retinol the right way.
How to Use Retinol for Best Results
You know it's one of the best active ingredients for softening fine lines, banishing breakouts, and minimizing dark spots. But what's the right way to use retinol? How you apply retinol can affect the results you see. Because retinoids can dry out the skin and sometimes cause irritation, it's best to consult your dermatologist before using retinol in your skincare routine. Most derms recommend starting with a low concentration of the skincare ingredient first to see how your skin reacts. That way, you can adjust once your skin gets used to it.
Here's how to use retinol in your skincare regimen:
Step 1: Wash your face with a gentle cleanser to remove the buildup of excess oil and impurities. This way, your skin will be able to absorb retinol more effectively.
Step 2: Make sure your skin is completely dry before applying retinol. While the derms advise applying moisturizers and serums to slightly damp skin to improve absorption, they don't recommend applying retinol to damp skin. This is because the retinol serum will absorb more deeply into your skin, increasing the likelihood of irritation.
Step 3: Take a pea-sized amount of retinol and apply with your fingertips in upward and outward motions. It's best to start at your neck or chin and go from there.
Step 4: Once your retinol product has absorbed, finish with your moisturizer. Most dermatologists recommend applying retinol at night. This could be in the form of a serum or night cream.
Step 5: Apply a broad-spectrum sunscreen with SPF 30 or higher the morning after, as retinol makes skin more sensitive to the sun.
With so many retinol skincare products available, you can use whichever you like. You'll find retinol in everything from eye creams to lotions, face creams and masks, to name a few.
When's the Best Time to Use Retinol?
Another important factor to consider when it comes to how to use retinol is when to use it. Retinol should only be used at night, especially if you have sensitive skin. That's because retinol makes skin more susceptible to UV radiation. Even if you do apply it in the evening, remember to use sunscreen the next day to avoid sensitivity and sun damage. For best results, only apply retinol before you go to bed.
How Often to Apply Retinol
When you first start using retinol, it's a good idea to start slow. Dermatologists recommend applying a pea-sized amount to your entire face every other night. This is especially important if you have dry skin or sensitive skin as applying too much retinol too soon can result in redness and irritation.
Remember that it takes around several weeks for your skin to adjust to a new product. Use it sparingly at first and then increase your use over time once your skin adjusts. If your skin becomes dry, itchy, or flaky, limit retinol use to every third night.
Most importantly, pay attention to your skin and how it reacts to retinol. Topical retinoids can be potent, which is why the experts always recommend starting slow and giving your skin chance to adjust before using it in your daily routine.
What Step to Use Retinol in Skincare Routine?
How to use retinol in your skincare routine? Here's which step it comes in your regimen.
#1: Cleanser 
#2: Exfoliator
#3: Toner
#4: Retinol
#5: Moisturizer
Of course, with such a wide variety of retinol products available, you may find this changes. For instance, if you're using a retinol cleanser, then this would be the first step. If you're using a retinol face mask, on the other hand, this would be the third step.
Our Favorite Retinol Products
Now you know how to use retinol correctly, here are some of the best formulas for enjoying all the benefits of retinol. Whether you're looking to treat acne, signs of aging, cellulite, or sagging, there's something for everyone right here.
Truly's Super Star Routine
How to use retinol for acne? Reach for the stars with Truly's Super Star Routine. It features a face serum, mask, and star-shaped acne patches all packed with retinol, vitamin C, and salicylic acid to clear up blemishes and gradually fade acne scars and pigmentation. This 3-step routine helps to lift dead skin cells, unclog pores, and improve skin texture for a blemish-free existence.
Truly's Anti-Cellulite Routine
Dealing with a dimply butt or thighs? Retinol works to smooth and refine skin texture thanks to its resurfacing and collagen-boosting effects. This 2-step cellulite treatment comes with a body mask and serum infused with multi-functional flavonoids and .2% retinol to mobilize stored fats and manifest smoother, plumper skin.
Truly's Vegan Collagen Booster Set
Meet the best retinol bundle for targeting signs of aging both on your face and body. This 5-piece set features a cleanser, serum, mask, body polish, and cream powered by retinol, vitamin C, and plant collagen booster. It'll leave skin smoother, firmer, and brighter after just a few uses.
Truly's Bubble Butt Set
Bouncy booty, anyone? Look no further than Truly's Bubble Butt Set. The formulations in this routine—a serum and scrub—harness the elasticity-restoring powers of retinol and hyaluronic acid to give your tush an instant push. This duo treats everything from sagging to cellulite and roughness. Get ready for a dreamy smooth, ultra-toned tush in just two steps!
When Will You See the Effects of Retinol?
As with any other skin care product, the secret to seeing visible results is using it consistently. It's unlikely that you'll see retinol results overnight. However, you will see improvements in tone after the first couple of uses and textural changes take around two to three months. Stay consistent, stay patient, and it will pay off.
How to Use Retinol for the First Time
Whether you're using retinol serum or prescription retinoids, it's always important to start slow. For beginners, dermatologists generally recommend using retinol with a concentration of 0.25 percent to one percent. If you've got super sensitive skin, you'd be better off mixing retinol with your daily moisturizer to dilute the ingredient and make it less potent.
At least in the beginning, avoid mixing retinol with other potentially harsh ingredients like AHAs and BHAs, which can cause irritation. Always finish with a hydrating face cream. Now you know how to use retinol as a beginner, you can start incorporating it into your skincare routine—and start enjoying all the benefits!
Photo by Radiance Beauva, Pexels
Share
---