I Tried the 'Glazed Donut' Skin Craze: See Photos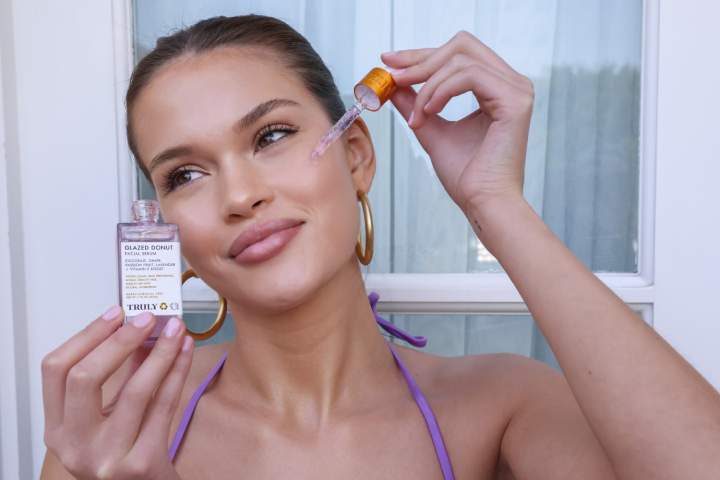 If your skin is looking a little meh these days, the glazed donut skin trend could be exactly what your dull, dry skin is crying out for.
Truly launched the first-ever iconic Glazed Donut product in 2021 and actually coined the term, but it was Hailey Bieber — months later — that got it gaining steam on social media. Hence, the birth of the glazed donut movement.
In a nutshell, glazed donut skin is glossy, glowy, and luminous (the kind of skin I've secretly always desired). While I don't always buy into all the skincare trends you see on TikTok, I fell for the glazed donut craze because it seemed surprisingly easy to get my skin looking like a kripsy kreme goodie.
And the trend just got even easier thanks to the launch of Truly's Glazed Donut Skin Set. But is this 2-step skincare routine really the secret to getting an all-day Hailey Bieber-worthy glow?
I put these skincare products to the test...and this is what I discovered....
The Inspiration
After launching the Glazed Donut After Shave Oil in 2021, Truly's cooling, summer-scented special became an instant bestseller and a TikTok-loved formula. Today, it's a shaving staple for hundreds of thousands of people, regardless of their skin type, to quell post-shave redness, bumps, and ingrowns.
Two years later, Truly is releasing its Glazed Donut Skin Set, featuring a facial serum and cream designed to give you that dewy sheen of your dreams. Naturally, I couldn't wait to give them a whirl!
The Products
Inside the Glazed Donut Skin Set, there's a Glazed Donut Facial Serum, Glazed Donut Facial Cream + 2 golden accessories. Basically, the recipe for soft, dewy, glowing skin.
Luxuriously Rich and Lightweight
Unlike a lot of moisturizers, these products don't feel heavy or greasy. The serum melts into skin, providing an instant burst of hydration and immediately refreshing my dull, slightly sad skin. Instead of looking shiny, my complexion appears smooth, plumped, and dewy. Celeb-worthy skin, almost.
As for the cream, it's obviously thicker and richer than the serum (it is a cream, after all), and yet it feels equally as lightweight when I massage it into my face and neck. Applied over the serum, I experience an even deeper level of hydration — again, without my t-zone or any other areas looking greasy.
A Glimmering, Grease-Free Finish
So many face oil and creams I've used in the past just seem to sit on my skin. Instead of giving me a fresh and glowing appearance, they just leave me super shiny — and forced to dust on whatever powder is within reach to mattify. This duo, on the other hand, nails the glazed donut look without producing that dreaded shine.
Scent
If you're anything like me and even the gentlest of products freak out your skin, you'll be happy to hear that these products are 100% fragrance free. That said, it does have a pleasant and refreshing natural neroli scent, so you'll still smell good!
Perfect Makeup Primers
Another fun fact about these products: they're incredible makeup primers! My foundation and concealer just glides on and looks even more glowy, poreless, and flawless with these formulas as my canvas. I even dabbed a little extra serum onto my cheekbones and collarbone instead of using highlighter — and it worked like a charm!
While these products work well individually, they work even better together. At least, I think so.
The Formula
The key ingredients in these two formulas are passion fruit, vitamin E, grapeseed oil, and coconut. Coconut and passion fruit deeply penetrate the skin, giving you a smooth, soft and gleaming complexion that lasts all day. Antioxidant-rich grapeseed and vitamin E work together to spur collagen production, support skin barrier function, and soften fine lines over time. And in the cream, shea butter can be credited for offering an even deeper level of hydration while sealing it in.
Whether you've got dry, mature, or oily skin, these formulas provide the perfect amount of nourishment and hydration without clogging your pores and triggering breakouts. They promote a balanced, even, and healthy complexion — with some very favorable anti-aging benefits, too.
How to Use
One of the things I love about the Glazed Donut Skin Set is how versatile it is. You can use these products alone, at the end of your skincare routine, or before applying makeup. Whatever way you choose, your skin will sparkle afterwards.
Glazed Donut Facial Serum: Apply one to two drops of serum onto clean skin and pat into skin for optimal absorption. A fun little hack: Mix a drop with your fave foundation for an instant dew boost.
Glazed Donut Facial Cream: Using a small amount of cream, press gently into cleansed skin. Complete your routine with SPF, lip balm, makeup, or nothing!
My Thoughts
Beauty trends come and go, but the glazed donut craze is one I can't get enough of because at the end of the day, who doesn't want to look drenched-in-dewiness all day, every day? Besides making your skin look its glossiest, the layers of hydration involved is like supplementation for your skin.
While Hailey Bieber has openly shared her recipe and tutorials for Glazed Donut skin, she relies on hundreds of dollars worth of products to achieve her signature glow. If you're looking for a faster and more affordable route to the Rhode founder's glistening gleam, I recommend Truly's Glazed Donut Skin Set.
Featuring 2 luxurious, high-performing formulas, it's the shortcut to celeb-worth levels of dewiness — for a fraction of the price. My skin gleamed after the very first use!
I've long struggled with finding moisturizers that leave me glowing without looking greasy. I absolutely hate it when my shiny forehead steals the show on selfies and Zoom meetings. One single use of Truly's Glazed Donut Set eliminated that frustrating shine and left me way more confident. I'm also looking forward to continued progress like an improvement in the appearance of fine lines over the next few weeks of using.
Most importantly, the glazed donut skin craze IS worth it — and Truly's 2-step routine is the best way to get that highly-desired glow you've been craving in just a matter of seconds.
Have you tried the glazed donut trend yet? From glazed donut skin to glazed donut nails, this twinkling trend is taking over! Time to try it for yourself!
Consult a dermatologist before using these products if you have a skin condition, although these formulas are known for being extremely gentle on the skin.
Share
---