Last Minute Xmas Gift for Less: Save $100 on Our Holiday Mystery Bag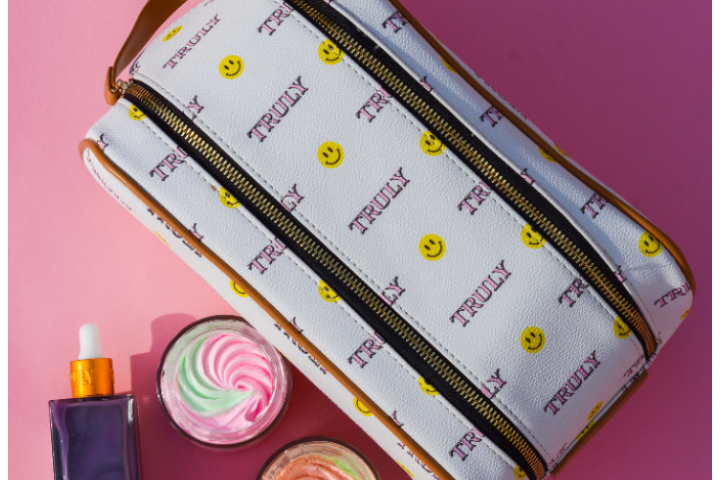 Ho ho ho...our Holiday Mystery Bag is coming soon! For just one day and one day only, you'll be able to get your paws on our final hot deal of the year.
The perfect last-minute Christmas gift, our Holiday Mystery Bag features a bunch of Truly goodies all wrapped up in a Smiley Bag, all for the price of only $99 and with a value of $201.
Don't miss out! This sweet deal will only be valid for one day. Scroll down to hear why it's the best last-minute gift - and some other gift ideas if you're running out of time.
Need Help with a Last-Minute Holiday Gift?
Missed the sale? Still searching for that perfect gift for a loved one? Most holiday gift guides consist of items like earbuds, gadgets, pajamas, coffee makers, leggings, board games, and the list goes on.
As great as these gifts may be, they may not entirely satisfy a giftee this holiday season. The secret to finding a great gift is figuring out a person's passions and needs.
A foodie? Coffee lover? Bookworm? Skincare enthusiast? The best gifts are those with thought and consideration.
Got a bestie or family member who can't get enough of self care and skincare products? The best buy of the season is our Holiday Mystery Bag. One bag, a selection of Truly products, and all for great value! It's like a gift set, only extra surprising and satisfying. She'll love it! Alternatively, go ahead and treat yourself!
What's Inside Our Holiday Mystery Bag?
Lots of fun surprises! Our Holiday Mystery Bag contains four deluxe Truly treats to rejuvenate your skin and leave you glowing this season.
Unfortunately, we can't tell you much more than that. You'll just have to wait and see!
You can buy it for a friend, treat yourself, or split it into four or five individual stocking stuffers.
Save on Our Holiday Mystery Bag
Last-minute holiday shopping just got way easier - and cheaper! If you're looking for a unique gift for a loved one, our Holiday Mystery Bag is the perfect choice.
For a bestselling bag w/ 4 surprise products inside worth $201, you pay only $99. It's a steal! You'll need to be quick though. This deal will only be available for 24 hours.
To make things extra fun, we'll also be keeping the release date a secret too. What we can tell you: it's going to pop up verrrry soon.
Last-Minute Gifts You Can Shop Now
While you wait for our Holiday Mystery Bag's arrival, here are some last minute Christmas gift ideas you can shop today.
Truly Subscription Box
The gift that keeps on giving! Subscribe to our mystery gift box, get a surprise selection of Truly goodies each month. If you're looking for something different to tech gifts and cookware, this is the perfect gift that's guarantee to satisfy well beyond Christmas.
Choose from our Signature Box or Ultimate Box. Each box contains 4-6 SURPRISE skincare products ranging from fluffy whipped shaving butters to smoothing scrubs and moisturizers with a value of $213!
This monthly subscription will make her Xmas wishes come true!
VIP Collection 4.0
Spoil someone special this Xmas with this limited edition collector's set. VIP 4.0 Collection features 11 full-size body care goodies + a FREE limited edition Holiday Robe worth $250. Treat yourself or a loved one to a deeply indulgent pampering experience that'll soothe stressed-out skin, calm the senses, and leave you glowing from head to toe.
Here's what's inside this holiday-inspired bundle: FREE Limited Edition Holiday Robe, Coco Cloud Whipped Luxury Shave Butter, Unicorn Fruit Whipped Body Butter, Jelly Booster Pigment Treatment Body Potion, Buns Of Glowry Smoothing Butt Polish, Smooth Legend Pre-Shave Scrub, Acai Your Boobies Polish, Anti-Cellulite Serum, Berry Cheeky Clearing Butt Polish, Coco Rose Fudge Whipped Body Butter, Coco Cloud After Shave Serum, Cake Maker Butt & Leg Cream, Ice Cream Scoop, and Cake Server.
Strapped for cash? Buy one collection and split it into individual gifts or stocking stuffers. One collection = 12 wonderful gifts.
A Luxury Robe
We have robes in three different colors: pink, blue, and red. All our robes are cute, comfy, and stylish. It might not sound as impressive of a gift as Apple Airpods, bluetooth speakers, an Alexa, or an iPhone, but we're 100% sure she'll be satisfied with this gift.
Truly Gift Card
Can't decide what to get her this Xmas? Let her choose! Gift cards may not seem like the most creative holiday gift but at least you won't leave her disappointed. With a Truly gift card, she can enjoy a shopping spree on you and splurge on all her faves.
Plus, she has so much to choose from. We've got skin, body, and hair care, as well as accessories like luxury robes, high quality vegan leather bags, and silicone product sleeves.
Don't worry if you're super last minute with your Xmas shopping. You can send this gift card virtually so she doesn't have to wait!
Get the biggest bang for your buck on Xmas gifts this holiday! Come back soon to swipe our NEW Holiday Mystery Bag that will only be available for purchase for one single day. With this deal, you'll save over $100 on Truly treats. Alternatively (or additionally!), choose from one of the gifts above and make sure you order by the 19th at the latest to secure its Xmas arrival.
While our products are sold by retailers such as Ulta Beauty, Sephora EU, Target, and Walmart, these discounts and deals are exclusive to our website (trulybeauty.com).
Share
---