Mile High Club (Of Skincare): 5 Products to Avoid Drying Out While Traveling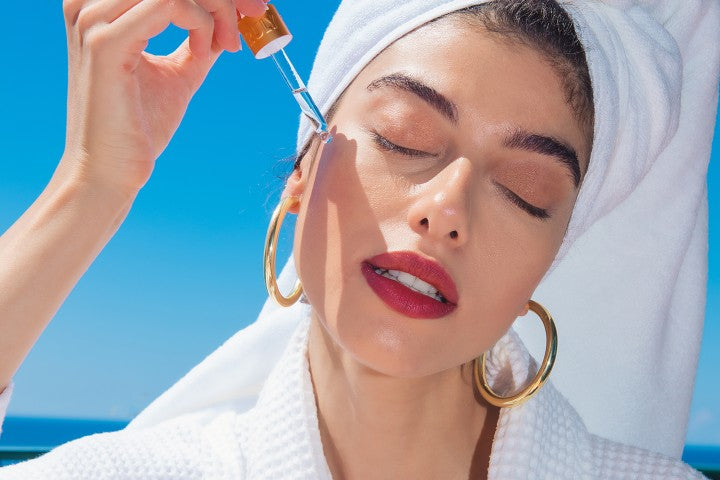 As borders open back up, travel is officially happening again. Yay!
That means being able to step back on a plane and step off anywhere in the world you choose.
But here's the deal about flying: it can take a huge toll on your skin.
That's because the air in airplanes is dry and recirculated, causing a disruption of the skin's outer layer, which causes dryness and inflammation. Being thousands of feet up in the sky also leaves your skin exposed to UV radiation. How's that possible, you ask? It's not like your sunbathing in the sky, right?
That's right, but UVA light can still penetrate through the windows, leaving your skin exposed and vulnerable to damage.
To keep your skin healthy and glowing before, during, and after your flight, we present to you our top product picks to avoid your skin drying out while traveling.
WHY FLYING IS SO DRYING?
According to dermatologist Sejal Shah, M.D., "The humidity level in planes is significantly lower than what our skin is most comfortable [with]; 20% compared with 30-60%." As a result, your skin may feel dry or even oily during or after a flight, as the skin produces more oil to compensate for dryness.
Besides drying out your skin, flying can leave your complexion looking a little dull – and puffy.
"The lower air pressure and higher altitude reduce the amount of oxygen your blood carries, and this lower oxygen flow causes the skin to appear dull and lackluster," explains Dr. Shah. "You can also experience water retention when sitting for prolonged periods of time, and this may make you appear more puffy, especially under the eyes."
Thankfully, there is something you can do about the skincare side effects of air travel. And it starts with using hydrating, rejuvenating beauty products!
BEST PRODUCTS TO USE WHILE FLYING
Flying is now a totally different ball game to what it once was. In addition to using those spare hours to indulge in some self-pampering, there's also a matter of necessity when it comes to washing your face while on-board. We've put together our top five favorites to keep with you while you're flying for flawless (and germ-free!) skin.
Truly's Exfoliating Mary Jane Glow Mask
If you're looking to kill time while simultaneously treat your skin to some TLC, a face mask is the way to do it. We recommend opting for something non-messy like a sheet mask or our jelly face mask. It's exfoliating, hydrating, and doesn't need to be rinsed off.
Formulated with hemp, retinol, caffeine, and glycolic acid, this mask is designed to tighten and brighten your complexion so that you can step off the plane looking extra glossy instead of dull.
Truly's Illuminating Blueberry Kush CBD Oil
Fight in-flight dryness with a nourishing face oil made with fatty oils and vitamins to moisturize, condition, and protect the skin.
Truly's formula contains a powerhouse blend of antioxidant rich oils, vegan collagen, and AHA/BHAs to deliver soft, luminous skin. It's also made with blueberry seed oil to shield the skin from blue light emissions and protect the skin from photoaging.
With most of us glued to our technical devices during a lengthy flight, that leaves our skin prone to photoaging. This oil keeps your complexion safe and protected.
Use the time to apply it to give yourself a little face massage – it'll feel good, give you a nice glow, and help other products absorb more effectively.
Truly's Repairing Pineapple Haze Skin Body Balm
Since your skin is prone to drying out while up in the air, moisturizer is non-negotiable.
"Having a protective barrier on your skin not only keeps you hydrated," says dermatologist Dendy Engelman, but it will also "prevent additional water loss to the low-humidity air."
Opt for our Pineapple Haze Skin Balm which you can use basically anywhere – from head to toe. Packed with pineapple extract, hemp, and jojoba oil, this formula moisturizes, heals, and soothes the skin.
Truly's Smoothing Body Star Perfecting Cream
While you're not going to physically be able to spread this cream all over your body mid-flight, you can still harness the powers of a body moisturizer to illuminate your skin.
Truly's Body Star blends prickly pear with cactus flower to deliver a sweet-smelling, smooth, and hydrated body. It can also reduce discoloration, fade stretch marks, and fight against free radicals.
This luxurious cream is your go-to for keeping your skin hydrated as you travel. Apply it on your hands, feet, or elbows – it's your chance to enjoy a little self-love while on board.
Truly's Hydrating Super Matcha Facial Cleanser
As soon as you get off your flight, head to the nearest toilet to thoroughly wash your face. With all those extra surfaces, skipping a face wash can be harmful for your health and leave your skin prone to breakouts.
Keep your skin clean and hydrated with our Matcha Facial Cleanser. Made with matcha to cleanse skin and soothe inflammation, and vitamin B12 to stop the skin from drying out, this should be your go-to deplaning face wash.
If you're really diligent and you have an extra-long flight (think 10 hours+), you could try washing your face on the plane. The toilet's small, we know, but it'll give you something to do and a chance to stand for a few mins. Plus, you get to refresh your complexion and get rid of all that accumulated dirt and grime.
Ready for flawless in-flight and after-flight skin?
Stock up on our hydrating beauty products so you can enjoy a self-pampering session on board and step off the plane looking head to toe glowing.
Just a little warning: the TSA say liquids are limited to 100ml or less if you're putting them in your carry-on bag. Some of the above products go above that, so make sure you scoop out a small amount and put it in a travel-friendly container so it doesn't get thrown out.
Share
---