Not Content With Your Daily Moisturizer? Try One of These Instead.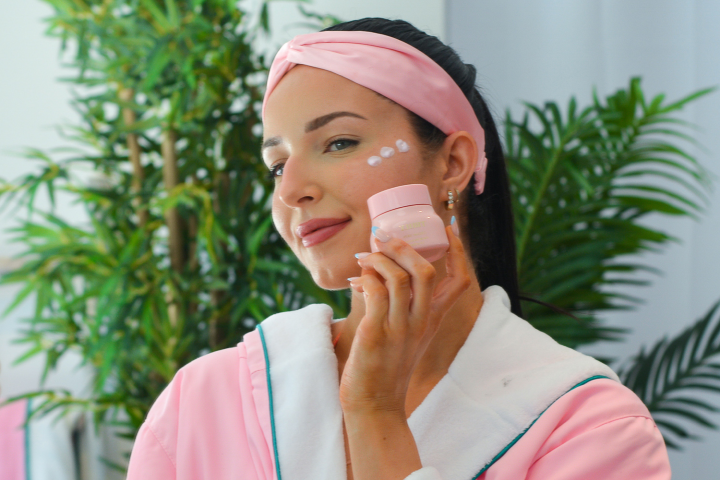 Daily moisturizing is essential for healthy skin, but what happens when your moisturizer isn't giving you the results you want?
Every moisturizer is different. Some are thicker, others are thinner. Some are enriched with vitamins and antioxidants; others contain humectants and emollients. Some are rich and oily, while others are non-comedogenic and oil-free.
Regularly using lotion should be a part of any good skin care routine, but the kind you use can make all the difference to the health and appearance of your skin.
If you're not happy with the daily moisturizer you're currently using, try one of these powerhouse hydrators instead.
Cream Skin Face Moisturizer
Best for: Dry Skin
If you're dealing with daily dryness, you need to look for a formula infused with hydrating ingredients like hyaluronic acid and glycerin. 
Our Cream Skin Face Cream delivers the skin hydration you seek thanks to its nourishing blend of hyaluronic acid, sea kelp, and glycerin. 
Hyaluronic acid and glycerin are both humectants, meaning they pull water into the outer layer of your skin. Sea kelp is a mineral and antioxidant rich skincare ingredient that helps the skin retain moisture. Used together, you're looking at hours of deep hydration. 
HA also has the added benefit of supporting natural collagen while making your skin cells bind and absorb water for a plump, youthful, and glowing complexion.
Try incorporating this face moisturizer into your daily skincare regimen to strengthen your skin barrier and diminish dryness for good.
Flower Child Face Cream
Best for: Aging Skin, Sensitive Skin
When you're seeing signs of aging, like fine lines and wrinkles, you need to look for a topical formulation that utilizes anti-aging ingredients.
Our Flower Child Face Cream is made with a powerhouse blend of hyaluronic acid and hemp, which work together to restore skin elasticity. 
CBD is a natural antioxidant that's packed with vitamins A, D, and E, and rich in essential fatty acids. These qualities make it extremely effective in fighting against free radicals responsible for the aging process. Meanwhile, hyaluronic acid supports collagen production while enabling skin cells to bind and absorb water, which adds volume to the area and ultimately, plumps the skin.
Add this facial moisturizer to your daily skincare regimen to keep skin taught, springy, and soft. 
CBD Jelly Face Serum
Best for: Oily Skin, Acne-Prone Skin
If you experience regular breakouts, you'll need a lightweight daily hydrator formulated with acne-fighting ingredients. The last thing you need is something that's going to clog pores and lead to even more breakouts.
Our CBD Jelly Face Serum utilizes the acne-attacking powers of salicylic acid. This beta hydroxy acid is an exfoliant that dissolves dead skin cells and excess oil on the skin's surface responsible for clogging pores, and triggering breakouts.
It's also made with CBD oil, which helps normalize the elevated levels of pro-acne agents in skin cells. Vitamin A is included in the formula to regulate skin cell turnover and clear acne. 
Use this facial serum in your daily skincare routine to keep skin clear, smooth, and blemish-free.
Mary Jane Serum
Best for: Dull Skin, Rough Skin Texture
If you're dealing with dullness and roughness, you'll need an exfoliating moisturizer like our Mary Jane CBD Glow Serum. 
It's formulated with glycolic acid, an alpha hydroxy acid that removes dead skin cells to reveal smoother, brighter, clearer skin. Alongside this, retinol works to spur cell turnover, while hemp reduces inflammation. 
Use this facial serum in your daily skincare regimen for smooth, glowing skin. 
When to Moisturize
According to dermatologists, the best time to moisturize is after showering, bathing, shaving or exfoliating. Some skin types will need to moisturize twice a day, while others can get away with doing it only once a day.
Moisturizing is especially important after a shower because hot water strips all the moisture and oils out of your skin, leaving it dry and irritated. 
For maximum absorption, apply a thin layer of moisturizer to damp skin. When the skin is damp, serums and lotions penetrate better. It seals in moisture for long-lasting hydration. 
After using a gentle cleanser to wash your face, pat your skin until it's semi-dry, then apply your chosen moisturizer followed by a sunscreen with SPF 30 to protect your skin from UV rays.
Don't Neglect Your Body, Either
Moisturizing your face is important, but moisturizing the rest of your body is equally as crucial in keeping skin healthy. 
Here are some of our top picks:
Vegan Collagen Booster Anti-Aging Body Cream
Featuring retinol, vitamin C, coconut oil, and vegan collagen, this smoothing body lotion brings a youthful appearance to skin. It intensely hydrates your skin while infusing it with potent anti aging ingredients. 
Pineapple Haze Skin Balm
This repairing body balm is a head-to-toe moisturizer that provides instant relief and long-term hydration for dry, distressed skin. While hemp lends its anti-inflammatory, moisturizing, and healing benefits, pineapple extract lends its exfoliating abilities. The end result? Smooth, soothed, hydrated skin!
Body Star Perfecting Cream
Meet -- Body Star, the ultimate body cream that'll give you hydrated, glowing, and with a luminous skin tone. Spread this luxurious cream all over the body for a dose of dewy hydration. 
It's formulated with prickly pear, aloe, and cactus flower to reduce discoloration, fade stretchmarks, calm irritation and rashes, and fight premature aging.
Coco Rose Fudge Body Butter
Made with coconut, rose, shea butter, and vitamin E, this nourishing butter will brighten and hydrate dull skin for an utterly glowing appearance. In addition to its hydrating properties, Coco Rose can help soothe and heal irritated skin on the body.
Remember to always follow up with sun protection after applying your lotions and ointments to shield your skin from the damaging effects of UV rays. Any dermatology professional will tell you the same thing.
If your daily moisturizer just isn't doing it for you, try one of Truly's top formulas. We have one for every skin type!
Those dealing with skin conditions such as eczema should visit a dermatologist before experimenting with new skincare products.
Share
---