Plant-Based Glowing Skin Routine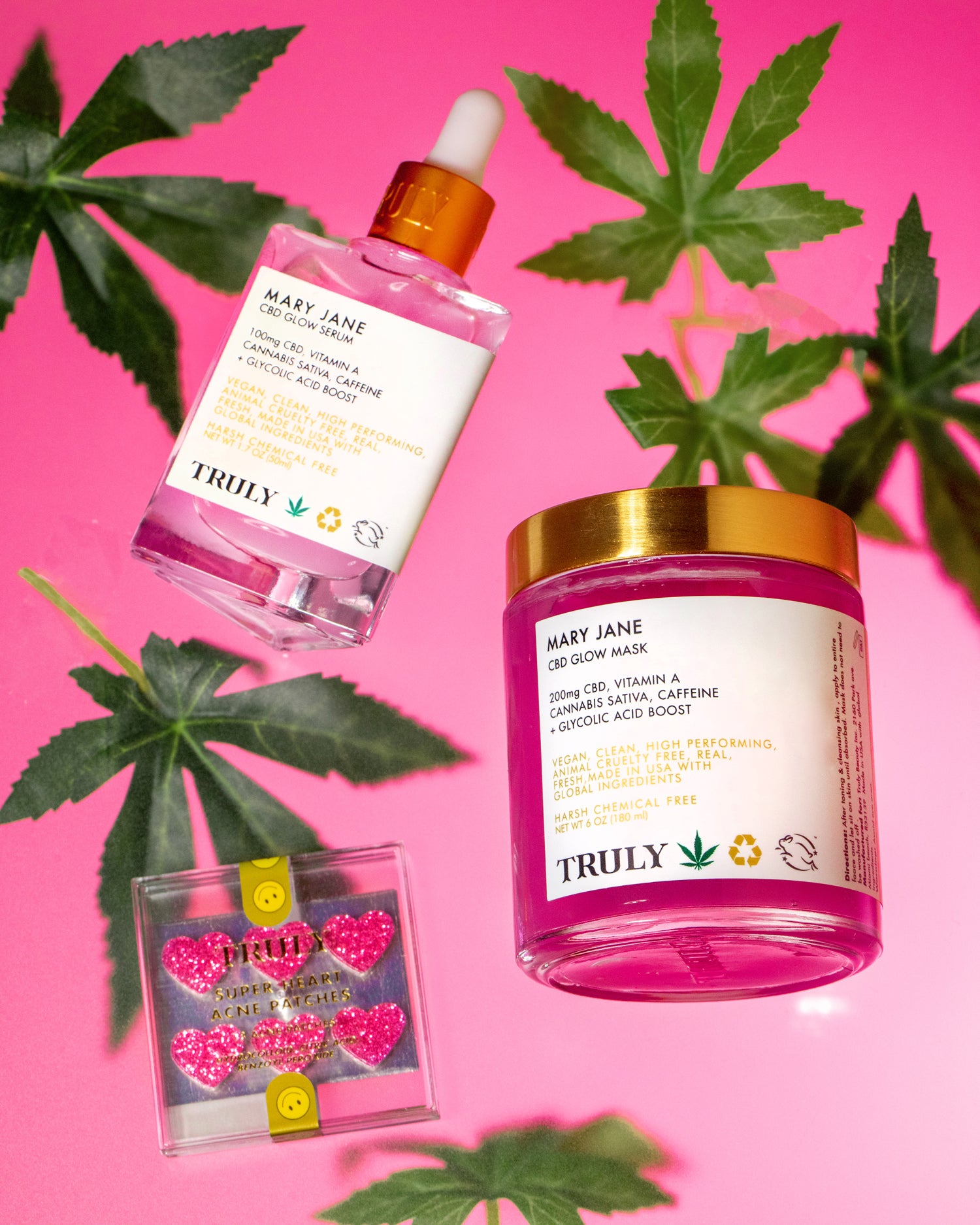 Hello Truly Beauty Babes. We hope your January has been fabulous! Let's discuss how to achieve that glowing skin look with our products. Glowing skin is skin that looks moist and plump--no dryness or flakiness. It's a clean, smooth surface that looks like it's been swimming in the dewiest pools. In fact, a major component of healthy skin...is glowing skin! Now some of us are naturally oily, which isn't necessarily the same as glowing. Too much oil can lead to breakouts.  But if your routine is full of clean products and you're feeding your skin healthy ingredients, then in time your skin will reflect those health vibes with the symptom of glowing skin. If you're looking to get that glowing skin, you can definitely achieve that with Truly products. Here's a guide on to get your skin glowing 'n plumped!
Step 1: Wash With a Plumping Face Wash
Of course, you have to wash your face. We all know that--but you want a hydrating wash with anti-aging ingredients. Typically, these products are a good way to get glowing because anti-aging ingredients help with speeding up your cell turnover rate, which makes your skin appear more youthful. Our Vegan Collagen Facial Cleanser has the powerhouse glowing ingredients: vegan collagen, retinol, and vitamin C. All three of these ingredients boost your collagen production, which is going to help clear away wrinkles, acne, and overall improve the health of your skin. Using this face wash AM & PM is exactly what the glowing-skin-doctor has ordered! 
Step 2: Find Yourself A Dewy Serum
Serums are going to be your best friend if you want dewy skin. We've found success with using serums that feature unique ingredients. Something that can brighten, hydrate, soothe, and plump your skin. We are going to recommend our bestie: Mary Jane! Oh, you haven't heard of her? She's the Mary Jane CBD Glow Serum--aka our cult-classic/best-selling serum. Taking the internet and Ulta by storm, the Mary Jane CBD Glow Serum takes the crown as the queen of glow. The reason? The ingredients, of course: CBD + caffeine + glycolic acid + vitamin A. CBD is going to just add plenty of antioxidants to your skin, protecting it and soothing it. Caffeine is going to wake your skin up, improving circulation and decreasing inflammation. Glycolic acid is a chemical exfoliant, so it's gonna resurface your skin. Vitamin A is a natural form of retinol, which as you know from our previous discussions, is going to boost your collagen production. We recommend using this serum day and night. It also layers perfectly with our Vegan Collagen Face Serum, if you have advanced skin that can handle these ingredients mixing! 
Step 3: Masks? Duh!
Everyone on the skincare planet is obsessed with masks. From clay masks, to jelly masks, to sheet masks, we all can't get enough of masks! Using a dewy-motivated mask a few times weekly is not only going to be healthy for your skin, it's going to give you that desired glow. We introduce you to our newest mask: Mary Jane CBD Glow Mask! Yes, you heard that right. We took our iconic Mary Jane CBD Glow Serum and transformed her into a mask. This mask is filled with all the goodies as the serum, but they are a bit more concentrated than the serum: 200mg of CBD, vitamin A, cannabis sativa, caffeine + glycolic acid boost. The reviews are in: everyone loves this mask! It clears zits, diminishes wrinkles, improves discoloration, and hydrates your skin. Incorporating this mask into your routine creates the path for you to get glowing, dewy skin.
Step 4: Mist Time!
Perhaps the writer's favorite step: mist! Now, not every mist you introduce to your skin is going to create that dewy effects. However, our Volcanic Rosewater is the secret sauce that your skin is missing for that glow! It's formulated with rosewater, aloe, and witch hazel. Rosewater is going to de-puff your skin, while the aloe is going to provide moisture. Misting on top your mask/serums is going to just sprinkle in some of that extra hydration. Our Volcanic Rosewater helps add the shine, due to the aloe, which will create long-lasting dewiness to your skin. 
Step 5: The Last Step--Moisturize!
Every routine comes to this step--you can never forget your moisturizer! If glowing skin is your goal, you want to find a face cream that focuses on that shine. Look for ingredients that prompt dewiness, such as hyaluronic acid. Like a glass of water for your skin, hyaluronic acid helps your skin retain moisture. It's a key ingredient for glowing skin! Our Cream Skin moisturizer is formulated with hyaluronic acid (yasss!!) and sea kelp, which is another antioxidant-rich moisture retaining ingredient. Adding this face cream to your routine will make your skin glow for days--immediately and with long-term use!
That's it for today, kiddos. We hope you try out this glowing skin routine! We just introduced a new bundle for you: the Glow-Up Kit! This kit features our new Mary Jane CBD Glow Mask, our iconic Mary Jane CBD Glow Serum, and our Super Heart Acne Patches! If you tried our glowing routine, be sure to let us know by messaging by direct messaging us on Instagram. XO!
Share
---