Red, White + Blue Skincare for Fourth of July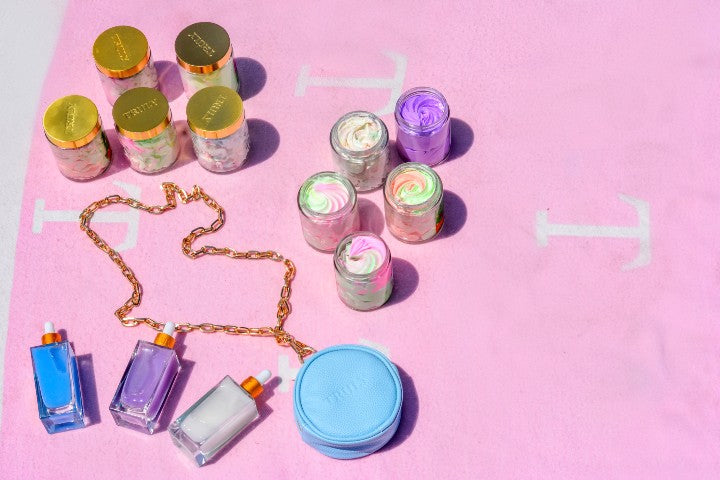 This fourth of July, next to the barbecues and the parties, treat yourself to some red, white, and blue skincare products to celebrate the day. Here at Truly, we have LOTS of exciting things coming your way for the fourth of July weekend, including FREE beauty products, promo codes, and more.
If you're looking for some fun July 4th inspired products to add to your vanity this holiday weekend, scroll down to choose from our red, white, and blue selections. Oh, and before we forget: Happy Independence Day, beauty babes!
Dew You Love Me Jelly Face Mask
Add a splash of red to your vanity or skincare shelfie with this glittery red jelly face mask. This anti-aging mask contains a skin refining blend of retinol, vitamin C, and antioxidants to speed up collagen production and spur cell turnover for skin that looks and feels smoother, brighter, and firmer. Plus, it's a glam little formula for adding some color to your vanity and shelfies.
Cherry Jelly Body Cleanser
Looking to dress up your vanity with a burst of red this fourth of July? Look no further than this cherry-colored acne-fighting body cleanser designed to end bacne for good. A blend of bacteria-zapping BHAs, soothing cherry, and hydrating allantoin work together to treat breakouts on the body while eliminating dryness and irritation. To achieve your clearest summertime skin, grab a bottle of this blemish-fighting formula.
Coco Cloud Whipped Luxury Shave Butter
Now for a splash of white, try our fluffy Coco Cloud Shave Butter. It's the creamiest, dreamiest shaving cream for delivering the smoothest, closest shave minus ingrowns and irritation. Plus, it smells like fresh sweet coconut. If you want to look extra smooth in your swimsuit, apply a dollop of this shaving butter to to-be-shaved areas. This fluffy, buttery formula will soften hair follicles and deeply condition skin for the easiest razor glide — and smoothest shave.
Coco Cloud After Shave Serum
Another member of our Coco Cloud Line, this silky serum soothes post-shave inflammation and prevents the formation of ingrown hairs thanks to anti-inflammatory, antibacterial ingredients like coconut, vanilla, and argan oil. Just remember to follow up with sunscreen SPF 30 or higher afterwards to ensure you stay protected from skin-harming UV rays during all those garden parties you'll be attending.
Coco Cloud After Shave Moisturizer
A white and blue swirl of fluffy, coconut-scented body butter to diminish dryness, rough patches, and body irritation after your shave. Made with a nourishing blend of coconut, mango, and shea butter, this hydrating formula will keep your skin smooth and buttery soft all day long — and smelling like a tropical dream! It's also an excellent way to spruce up your vanity or skincare shelfie if you're going for a fourth of July theme.
Glass Skin Facial Serum
A brightening, dew-inducing face serum of sea kelp and willow bark. If you want to get in on the glass skin or glazed donut skin trend, this is the product to try for refining skin texture, hydrating skin, and leaving your complexion looking extra dewy. It also works as a great base for makeup like your foundation, concealer, mascara, highlighter, and eyeshadow.
Moon Rocks Whipped Body Scrub
Time for a splash of blue! Skincare products don't come bluer than our Moon Rocks Whipped Body Scrub. This lightly whipped sugar scrub is made with a nourishing base of organic coconut oil, brightening lavender, and protective vitamin E to buff away dead skin cells and dryness for your brightest, smoothest skin. All in a stunning blue tint, à la ultra moisturizing blue tansy. Moon Rocks Whipped Body Scrub is your secret to looking glowing all over in your red, white, and blue party dress!
Tansy Water
A quick fix for body acne, Tansy Water is infused with a blend of blue tansy, blueberry, and salicylic acid to alleviate inflammation while promoting a nourished, clear, and glowing complexion. One or two spritzes of this will instantly freshen up your skin so you can stay clear and cool in the hot summer heat. You can use it on either your face or body to quickly clear up blemishes.
Blueberry Kush Bundle
A bundle to brighten your skin from head to toe! Blueberry Kush Bundle includes a body scrub, body lotion, body oil, and face oil all formulated with antioxidant-rich blueberries, hydrating coconut, and resurfacing AHAs/BHAs to illuminate and moisturize your skin all over. Try this bestseller for yourself, and sparkle in your summer attire!
TRULY BEAUTY FOURTH OF JULY BEAUTY DEALS
Looking for Truly July beauty sale items? Coming up: our MYSTERY BAG deal. Over four days, we're giving away four different bags filled with Truly favorites when you spend over $175 on sitewide products. While you'll find daily discount codes and FREEBIES on our website and social media pages, the Mystery Bag is a fan favorite. For the best fourth of July sales, check back on our site throughout the month of July to get amazing deals on sitewide products and select items, including on skincare, haircare, bodycare products, and accessories.
These deals are only available on our official site. While Truly products are sold by other retailers such as Amazon, Sephora EU, Ulta, and Target, these offers are exclusive to trulybeauty.com.
Next to our summer sales and July 4th FREEBIES, we've got a selection of red, white, and blue skincare products to spruce up your vanity or shelfie and put a fourth of July spin on it. Our skincare products contain dermatologist-loved active ingredients to deliver your smoothest, glowiest, and greatest skin.
P.S. remember to tag us in your 4th of July shelfies on Instagram! We can't wait to see what you've got in store for us! Have a good one, beauty babes!
Share
---