Seriously Good Salicylic Acid Products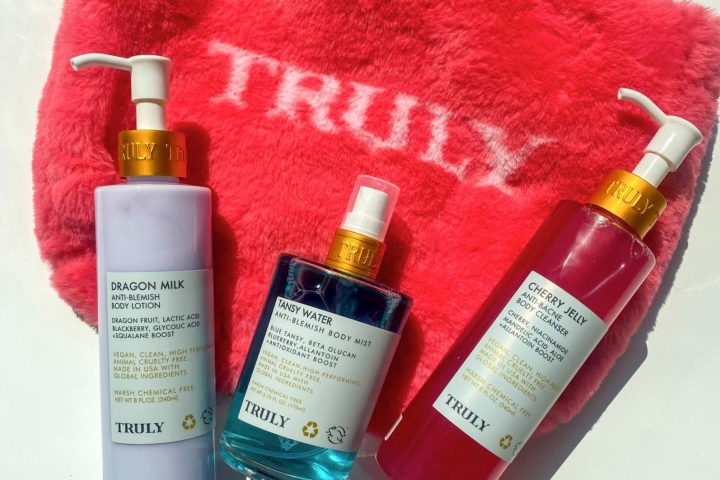 If you've ever had acne, you've probably heard of salicylic acid. Salicylic acid is classified as a beta hydroxy acid (BHA) -- and the only one used in skincare. It penetrates follicles to dissolve sebum buildup, dead skin cells, and other pore blockages, preventing breakouts from forming.
Salicylic acid is famous in the skincare world for its pimple-fighting powers. That's why you'll find it in a range of skincare products, such as cleansers, serums, toners, and spot treatments.
According to the derms, it's a gentle alternative to other zit-zapping ingredients out there such as benzoyl peroxide. And the best part? It pairs well with a range of other ingredients including hyaluronic acid, vitamin C, ceramides, and tea tree. 
If you're trying to track down the best salicylic acid products on the market, here are the ones to choose.
24k Gold Black Soap Impurity Cleanser
This impurity-erasing cleanser contains a host of ingredients that work together to absorb dirt, sebum, and dead skin cells. A combination of 24k gold, African black soap, and salicylic acid, most skin types should see impressively clearer skin with daily use of this face wash.
This 2-in-1 cleanser can be used on the face and body to draw out impurities. It also works as an exfoliator thanks to its salicylic acid content. From whiteheads to blackheads, this cleanser cures all. 
Tansy Water Body Mist
A quick fix spritz for all body acne. Made with a blend of blue tansy, blueberry, and salicylic acid, these skincare ingredients work together to decongest clogged pores, fight inflammation, and leave skin glowing.
Blue tansy and blueberry tackle redness and inflammation by strengthening the skin barrier and fighting free radicals. Salicylic acid works by dissolving dead skin cells and excess sebum to clear existing blemishes and prevent future breakouts. Meanwhile, allantoin restores the skin's moisture levels thanks to its capability to hold water in the skin, reducing dryness.
CBD Jelly Facial Serum
This calming, acne-fighting facial serum contains salicylic acid alongside skin-smoothing retinol and hydrating watermelon to leave skin clear, smooth, and soothed. It also contains hemp to help with redness and inflammation.
This is a daily staple for acne-prone skin. Besides keeping your skin moisturized, it'll actively treat blemishes on the skin. Plus, you can use it everywhere -- including on your body breakouts. Always finish with a generous layer of sunscreen. 
CBD Jelly Anti-Blemish Body Mask
Hemp Jelly Blemish Body Mask is formulated with hemp and salicylic Acid to purify your skin of dirt and excess oil. Whether you've got breakouts on your back, butt, or chest, this mask will quickly decongest pores and keep future breakouts at bay.
Salicylic acid is its key acne-fighting ingredient, known for diminishing dead skin, oil, and debris. Hemp keeps skin from overdrying. And vitamin A (or retinol) speeds cell turnover for visible smoother skin. It's an excellent body acne treatment.
Super Star Pimple Patches
These zit-draining patches may look cute 'n pretty on the outside, but she's not messing around! Flecked with Retinol and Salicylic acid, these pimple patches help drain active zits of gunk and impurities while speeding up the healing process and preventing scarring and hyperpigmentation.
Hydrocolloid drains fluid from freshly popped zits. Salicylic acid penetrates the pores and dissolved dirt and dead skin. Retinol speeds cell turnover rate, allowing the breakout to diminish in size and color.
Golden Leaf Resurface & Brighten Face Mask
This brightening CBD face mask relies on a blend of alpha hydroxy acids and beta hydroxy acids (SA) to resurface skin and clear away zits and discoloration. 
Lactic acid, glycolic acid, and salicylic acid work in harmony to brighten a dull complexion while hemp and green tea bring moisture to the skin and calm down any acne-based irritation. The end result? Smoother, healthier-looking radiant skin.
This face mask works for all skin types. Oily skin, sensitive skin, dry skin, acne-prone skin -- everyone can benefit from regular use of this brightening and clarifying mask. 
CBD Jelly Anti-Blemish Body Wash
A salicylic acid cleanser designed to treat body breakouts. Hemp Jelly Blemish Body Cleanser is formulated with Hemp and Salicylic Acid to unclog pores, soothe irritation, and reduce redness. Wherever your breakouts may be -- this body cleanser can help.
In addition to its small concentration of salicylic acid, this body wash also contains aloe which acts as an anti-inflammatory if your skin gets sensitive or irritated. 
It's an effective topical acne treatment for clearing your skin. Make it part of your daily skincare routine for best results.
Cherry Jelly Anti-Bacne Body Cleanser 
Another powerful antibacterial body cleanser designed to end body acne. A blend of bacteria-zapping BHAs, soothing niacinamide, and hydrating allantoin work together to treat the blemishes that form on your body.
Niacinamide is a stable vitamin that evens pigmentation, promotes elasticity, and acts as an antioxidant to fight free radicals. It can even smooth out fine lines and wrinkles, while fading dark spots and discoloration.
Dragon Milk Anti-Blemish Body Lotion
A salicylic acid acne-banishing body lotion that moisturizes skin while tackling active blemishes thanks to its blend of chemical exfoliants. Resurfacing glycolic acid, bacteria-busting salicylic acid, and smoothing lactic acid blend together to unclog pores, refine skin texture, and seal in long-lasting moisture. Any dermatologist would approve.
Salicylic acid is a fabulous ingredient for treating and preventing acne breakouts. Besides actively treating blemishes, SA is relatively safe to use with minimal side effects. It's well-tolerated by most skin types. However, if you have a skin condition such as eczema or rosacea, pay a visit to your local dermatology office to check these products are safe to use.
You'll find plenty of over the counter salicylic acid products at your drugstore. But we recommend giving Truly's salicylic acid-infused products a try instead. In addition to our vegan, cruelty-free formulas, all our products are super clean and made with high-performing ingredients for only the most impressive results. 
Share
---