The Best Skin Care for Anti Aging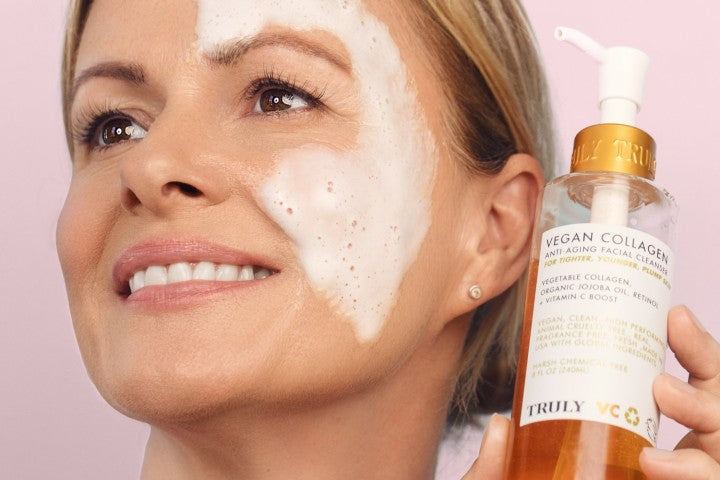 When it comes to skin care for anti aging you aren't short of options. From smoothing serums to retinol creams and firming masks, there are so many anti aging products you can choose from if you're looking to achieve a more youthful appearance.
The big question is, what anti-aging skincare products are really going to make a difference to the appearance of your skin? Whether you're dealing with fine lines, crows feet, deep wrinkles or sagging, you obviously want to know what's going to give you visible results.
It doesn't necessarily mean having to plunge hundreds upon hundreds of dollars into fancy lotions and potions. With the knowledge, you have the power to select the right skin care for anti aging benefits.
Ahead, we show you the causes of skin aging and what you can do to treat it—including the very best products for the job.
What Causes Skin Aging?
Aging is a natural process that takes place over the years, starting after the age of 20. From 20 onwards, a person produces approximately 1 percent less collagen each year, causing the skin to become thinner and less agile with age. 
While it's a natural process that happens to all of us, aging occurs as a result of sun and environmental damage, too. It can sometimes appear as precancerous changes such as actinic keratosis, skin cancer, freckle and sun spot formation. There may also be drastic loss of collagen and elastin—the building blocks of youthful skin. 
Unfortunately, these processes give the skin the appearance of uneven tone, dark patches, roughness, and deep wrinkles. Other factors that contribute to aging skin include diet, smoking, drinking, and even repetitive facial movements.
In order to find the best skin care for anti aging, it's good to know what's causing aging in the first place so you can treat the issue in the best possible way.
What is the No 1 Cause of Skin Aging?
According to dermatologists, exposure to light is the most common cause of premature aging. Sun exposure breaks down your skin's collagen and elastin fibers, causing your skin to age more quickly. 
If you spend a lot of time in the sun, especially without protection, and you're experiencing fine lines and wrinkles, there's a high probability UV exposure is responsible. 
Sun damage really does do a number on your skin which is why it's essential to wear sunscreen and antioxidant serums on a daily basis.
The Best Skin Care for Anti Aging
Looking for anti aging skincare that will actually smooth out your fine lines and wrinkles? Look no further. We've rounded up the best skincare products to restore a smooth and supple complexion. 
Best Anti Aging Cleanser: Vegan Collagen Booster Cleanser
What it is: A gentle anti aging cleanser formulated for the face to remove the day's dirt, oil, dead skin cells, and impurities, as well as product buildup. This daily cleanser will improve skin texture and even prevent breakouts.
Key ingredients: Retinol, Vitamin C, Plant Collagen Booster
Benefits: Cleansing, resurfacing, anti-aging
Best Anti Aging Serum: Vegan Collagen Booster Serum
What it is: A retinol-powered anti aging face serum designed to improve the appearance of fine lines, fade discoloration, and firm up sagging with daily use.
Key ingredients: Retinol, Vitamin C, Plant Collagen Booster, Coconut Oil
Benefits: Hydrating, tightening, resurfacing 
Best Anti Aging Face Moisturizer: Glazed Donut Facial Glow Cream
What it is: An intensely rich and hydrating face cream packed full of antioxidants to reverse time on your complexion while easing dry skin and dullness. It also strengthens the skin barrier over time. Use it as a day cream, night cream, or both! Skin looks glowy after every use.
Key ingredients: Shea Butter, Passion Fruit, Grape Seed Oil, Vitamin E
Benefits: Moisturizing, Soothing, Brightening
Best Anti Aging Mask: Mary Jane Glow Mask
What it is: An exfoliating face mask that speeds up cell turnover and encourages collagen production for firmer, tighter skin. As far as masks go, it's the best skin care for anti aging.
Key ingredients: Vitamin A, Caffeine, Glycolic Acid
Benefits: Exfoliating, brightening, smoothing
Best Anti Aging Body Care: Full Body TREATment Routine 
What it is: A dessert-inspired body sculpting routine featuring six formulas designed to tone the boobs, belly, legs and butt. You get to tone up while indulging in the most decadent skin care for anti aging goodies.
Key Ingredients: Hyaluronic Acid, Retinol, Ceramides, Guarana, Cocoa Butter 
Benefits: Firming, hydrating, smoothing
What Should an Anti-Aging Skin Care Routine Look Like?
To start with, you'll need a good sunscreen. Sun protection against UVA and UVB rays should be worn 365 days a year to protect your skin from free radicals that cause aging. Use a broad spectrum SPF 30. If you're acne-prone, try using a sunscreen that contains zinc as this is ideal for blemish-prone, oily skin types. Since UV rays are the leading cause of skin aging, it makes sense to make sunscreen a priority.
Like with any skincare routine, you should be using a cleanser, serum, moisturizer, and SPF on a daily basis. You can also add in an eye cream to combat fine lines, dark circles, and puffiness in the under eye area.
When it comes to skin care for anti aging you need to pay close attention to ingredients.Especially in your serums and creams, look out for well-known anti-aging active ingredients like retinoids, hyaluronic acid, peptides, alpha hydroxy acids (AHAs), beta hydroxy acids (BHAs), niacinamide (vitamin B3), glycerin, and antioxidants such as vitamin C and E.
If you have sensitive skin, avoid applying topical retinol or hydroxy acid formulations to your skin on a daily basis.
Do you Need Skin Care Products for Anti Aging in Your 20s?
When you look in the mirror, are you seeing baby-soft, wrinkle-free skin or are there fine lines etching around your eyes and mouth that you never noticed before? Either way, if you're in your 20s, there's no better time to start incorporating anti-aging beauty products into your regimen. After all, the earlier the better, right?
Right! According to dermatologists, there's no such thing as being too young to target premature signs of aging (think fine lines, pigmentation, uneven skin tone etc.) The sooner you start addressing or preventing these issues, the more your complexion will thank you in a decade or two.
For the past few generations, skin care for anti aging was predominantly targeted at women 30+. No more! It seems that people are wising up to the fact that starting earlier can prevent a whole lot of issues in the years that follow. 
How to Prevent Aging Skin
Prevention is always better (and easier!) than cure. The best way to prevent your skin from aging prematurely is by investing in a quality sunscreen for starters. Sun protection is key to warding off fine lines, wrinkles, and loss of elasticity, as well as dark spots and hyperpigmentation. Re-apply every two hours when you're outside.
Additionally, it's important to follow and stick to an anti aging skincare regimen. Cleanse, treat, moisturize, and protect every single day. Optimize your anti aging routine by choosing skincare ingredients like retinol (vitamin A derivative), hyaluronic acid, vitamin C, AHAs (glycolic, lactic acid) as these will help boost collagen and elastin in the skin for improved firmness and smoothness. 
The good news is, there are plenty of retinol products and vitamin C serums so you won't be short of choice.
In addition to using good skin care for anti aging the derms recommend eating a healthy diet, drinking plenty of water, and getting adequate exercise. It's also worth making an appointment with a board certified dermatologist from time to time. 
Share
---