Socks, So Long! A Truly Holiday Gift Guide for Guys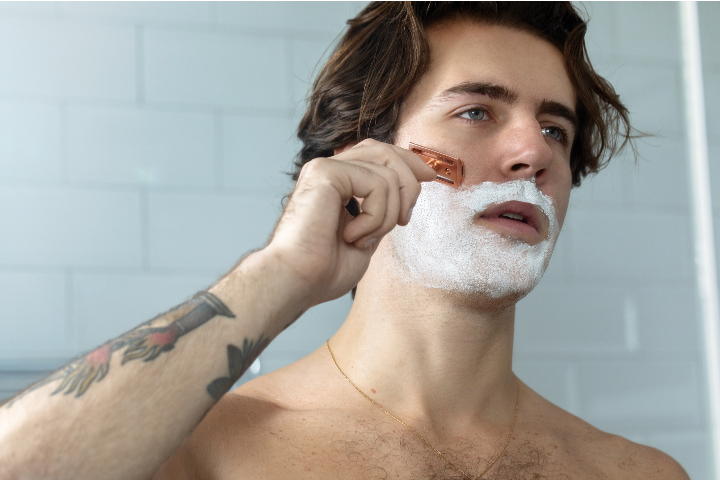 Wondering what to get the men in your life this holiday season? Forget the typical gift idea suggestions -- hot sauce, beanies, t-shirts, and yup, multiple pairs of socks. Instead, choose something he'll really appreciate. A Christmas gift he'll be happy about and enjoy!
Still blank? Here's a roundup of Truly's best holiday gifts for men that he's guaranteed to LOVE. Have fun holiday shopping for your fave dudes!
The Man's Shave Kit
Our 4-step grooming set is a great gift for guys who favor a clean, smooth shave. It features our 24k Gold Cleanser, Coco Cloud Shave Butter, Black Jelly Blemish Treatment, and Glass Skin Serum -- here to provide him with every skincare step necessary for smooth to the touch skin. He'll love it!
Since men have scientifically thicker, oilier skin than women, our products utilize the oil-zapping, acne-fighting powers of tea tree oil and African black soap. Coconut milk and oil lend their hair-softening, skin-hydrating abilities and their anti-microbial properties to combat dryness, irritation, and ingrowns. 
It's the perfect gift set for guys who like indulging in a little self-care. And way more interesting than a charger, earbuds, or gift card!
The 3-in-1 Bundle
Skincare may not seem like the best gift for guys. Why would they be interested in scrubs and lotions? At the end of the day, most guys are just as into their appearance as us. They just won't admit it. Give him the gift of a luxe skincare set this Christmas, and he'll be over the moon. Plus, it means you'll no longer have to share your fave serums and scrubs!
The 3-in-1 Bundle contains our Moon Rocks Whipped Body Scrub, Vegan Collagen Body Polish, and Pimple Party Pack Acne Patches. He can scrub, polish, and patch with Truly's most loved brand staples. It's everything he needs for a well-rounded skincare regimen -- and mega results.
Skincare superstars featured in these formulas include anti-aging retinol, nourishing vitamin E, brightening vitamin C, and acne-fighting salicylic acid. In addition to keeping skin clear and healthy, regular exfoliation helps ward off unwelcome ingrown hairs.
Bodne Bundle
Looking for a last-minute stocking stuffer for bae that isn't games, gadgets, or BBQ accessories? Give Truly's all inclusive body acne kit a shot. This step by step routine is designed to cleanse, mist, moisturize, and spot treat your way to a clear, zit-free bod.
Inside, you'll find: Cherry Jelly Cleanser, Tansy Water Mist, Dragon Milk Lotion, and our Pimple Party Pack work. These skincare products work in tandem to purify skin, minimize the appearance of active breakouts, and speed up the healing process of scars. 
Active ingredients like glycolic, salicylic, mandelic acid, and niacinamide work together in the Bodne Bundle to eliminate excess sebum production while blackberry and blue tansy boost shine. 
It's a great gift box for guys searching for a solution to their skin woes. 
Super Hemp Bundle
Is your guy into CBD? Treat him to our Super Hemp Bundle to cleanse and calm his complexion. The kit includes our CBD Jelly Facial Cleanser, Hemp Jelly Face Mask, and Super Hemp Acne Patches. It's the chill out session his complexion's craving!
Hemp helps calm irritated skin and reduces redness. Salicylic acid helps exfoliate and wash dirt and oil off the skin, creating a freshly cleaned face. And vitamin A decongests pores, reducing their size and appearance.
If you're looking for something other than socks, Apple airpods, or an Alexa, consider bagging this bundle for the guy in your life. 
Moon Bath Essentials
Holiday gift guides for men typically list the usual's: bluetooth speakers, loungewear, air fryers, subscription boxes, and hoodies. But that doesn't mean you need to follow the norm. How about getting him something he'll truly appreciate -- like our Calming Body Cleanser + Spa Mist set.
Moon Jelly Adaptogenic Body Cleanser and Moon Shower Adaptogenic Spa Mist work together to unwind the mind, soothe skin, and calm your senses. They're perfect for those day when you just want to crawl under the sheets and fall asleep. You know the ones -- when everything feels like too much.
Treat the man in your life to this soothing spa set to help him relax and enjoy some me-time. It'll leave him feeling better than any game or drinker could.
Space Candy Bath Rocks
If you're buying for bae, why not treat him to the gift of a soothing, romantic bath session? He may not use these bath rocks alone, but with you -- he'll jump at the chance!
You can still get him a game or that multitool accessory he's been ranting and raving over. Just make sure you throw in a tub of Space Candy Mineral Rocks to encourage him to chill out and enjoy some quality time with you.
Featuring a de-stressing combination of natural healing salts, botanical infusions, and essential oils, these bath rocks promise to calm the mind and body, soothe muscles, and stimulate circulation. And for the fun part -- it turns your bath water blue!
Joggers, stainless steel knives, Nintendos, and socks always seem to make the list when it comes to gifts for men. But what if you're looking for something a little unusual? Something he'd never expect yet still appreciate? You could get him one of those personalized keyrings on Etsy, a fancy water bottle, or a weighted blanket to snuggle under together. OR...you could treat him to one of Truly's tailored for men skincare sets.
All our products feature high-performing, high-quality ingredients. Plus, they're vegan and cruelty-free. He's bound to fall in love!
You will find all our products on the Truly website, Amazon, Ulta, and Sephora. Happy holiday shopping!
Share
---