Surprise Yourself With a Truly Beauty Subscription Box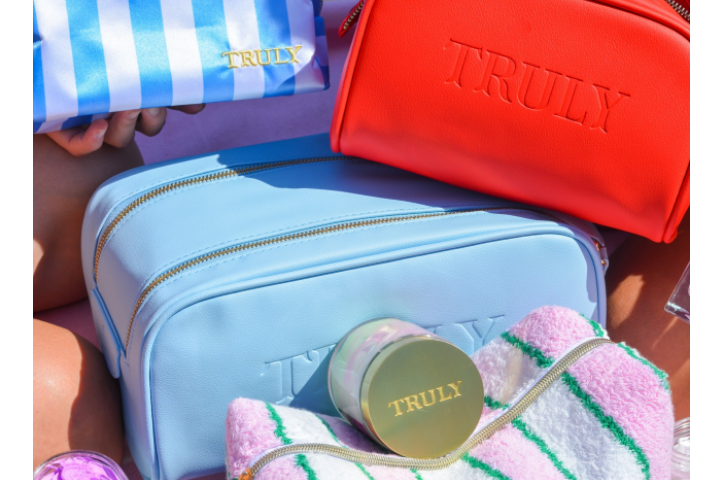 Monthly MYSTERY BOXES are here!
Since you loved our limited edition Mystery Bags so much, we're now releasing monthly Beauty Subscription Boxes! Unbox an assortment of Truly goodies each month with either our Glam Box or Luxe Box, and look forward to discovering new products, saving big bucks, and gaining subscriber-only perks.
Each subscription box contains 4-6 SURPRISE body care items that you can customize into multiple routines. From fluffy whipped shaving butters to tightening serums and luxe accessories, you never know what you'll get each month. Either way, you can expect a delightful surprise!
Scroll down to hear all the deets on the Truly Beauty Subscription Boxes.
TWO TRULY BEAUTY SUBSCRIPTION BOXES TO CHOOSE FROM
Like the idea of unboxing a bunch of mystery beauty products every month? From your first box to your last, our subscription service ensuring you always get your beauty fix of Truly treats! Simply select your subscription...
Signature Truly Mystery Box
✔️ 4 SURPRISE Truly Goodies
✔️Free Shipping
✔️Monthly Delivery
✔️Cancel Anytime
✔️Add a Personal Message + Send to a Friend
SUBSCRIBE NOW, $75 (value of $124)
Ultimate Truly Mystery Box
✔️ 6 SURPRISE Truly Goodies
✔️Free Shipping
✔️Monthly Delivery
✔️Cancel Anytime
✔️Add a Personal Message + Send to a Friend
SUBSCRIBE NOW, $135 (value of $213)
WHY SUBSCRIBE?
There's a reason EVERYONE'S subscribing to our Mystery Boxes. Here's why...
Get a Monthly Dose of Self-Care
Delivered To Your Door
Each month, unbox the joy of deluxe skincare products and accessories. Featuring full-size products like shaving butters, body scrubs, moisturizers, and serums, it's basically a self-care subscription — and one you truly deserve after the tough year. Besides pampering your skin with clean, cruelty-free and vegan skincare, you'll forever be excited for the next box to come! It's the best subscription box for sparking joy!
Save BIG
Best Value Bundles
Enjoy huge savings when you purchase Truly products as a subscription bundle rather than individually. You can save up to $80 in product value on every order. You will also save 10% on every order of other products and bundles when you become a subscriber. That's a whole lot of savings! Best of all, you can subscribe for one month, three months, six months, or longer — and you're free to pause or cancel your subscription plan any time.
Discover New Products
Enhance Your Skincare Routine
If you're a beauty lover like us, you probably love discovering new beauty items. By subscribing, you may just find your new favorites! We try to send a variety of goodies that we know you'll love. Whether you're a Truly devotee or newbie, there's something for everyone in each and every box. Plus, you can use the treats in each box to curate your own beauty routines.
Earn Double Loyalty Points
Tradeable for FREEBIES
Truly subscribers have the benefit of gaining double loyalty points which can be traded in for free products. And there are plenty more exclusive, subscriber-only benefits!
Gift to a Friend
Add a Personal Message
Instead of sending gift cards this Christmas, be creative and send one of our vegan beauty subscription boxes. Alternatively, treat your loved one to a year long subscription, or more! It's the perfect gift for beauty-lovin' babes or those itching to try our TikTok-famous faves. Featuring high-quality clean beauty products and accessories, she'll love unboxing these goodies each month.
Make your gift a little more personal by adding a gift note with your order! No matter where you are, you can send it as a birthday or Christmas gift and remind her how special she is to you!
WHAT'S IN A TRULY SUBSCRIPTION BOX?
All kinds of wonderful things! From whipped shave butters to boob polishes and body firming serums, you'll find lots of fun beauty products that you can pamper yourself with. Obviously, what you'll get each month will be a mystery, but you can definitely expect to be happily surprised with each and every skincare subscription box. Maybe we'll even drop in the occasional hair care formula, face mask, or travel size products...you'll just have to wait and see!
All our body care formulas are suitable for all skin types. And they're sure to bring you quick, visible results! We prioritize your wellness and well being, which is why we want you to treat yourself! You deserve it. From our past boxes to our new boxes, every delivery satisfies! And just the process of unboxing your goodies will relieve stress and anxiety like a sheet mask and aromatherapy session.
Subscribe to Our Monthly Subscription Box + SAVE
Surprise yourself (or a friend!) with our monthly beauty subscription box! Every month, we'll send out a box of surprise goodies so you can discover new Truly products and enjoy the mystery each month brings. You can also gift it to a friend or loved one. And the best part? You can cancel anytime!
There are so many benefits of being a subscriber. You'll get access to exclusive subscriber-only offers, enjoy double loyalty points with you can trade in for freebies, and save big on our bundles!
If you're looking for an alternative to Birchbox, Facetory, Ipsy or ScentBird subscriptions, you've gotta try our Truly mystery subscription boxes. From skincare treats to lifestyle products and accessories, there's something for everybody in each box.
Wanna see the kind of products inside our subscription boxes — used IRL? Check out our Instagram or TikTok page where you'll see our Truly babes slathering their skin in our indulgent formulas.
If you loved our Mystery Bags, you'll ADORE our Mystery Beauty Subscription Boxes! And you'll get them FOREVER! IOW: no need to wait for holidays and special events. You can enjoy a bunch of skin-loving surprises every single month!
Share
---