Tea Tree Oil for Acne: Does it Really Work?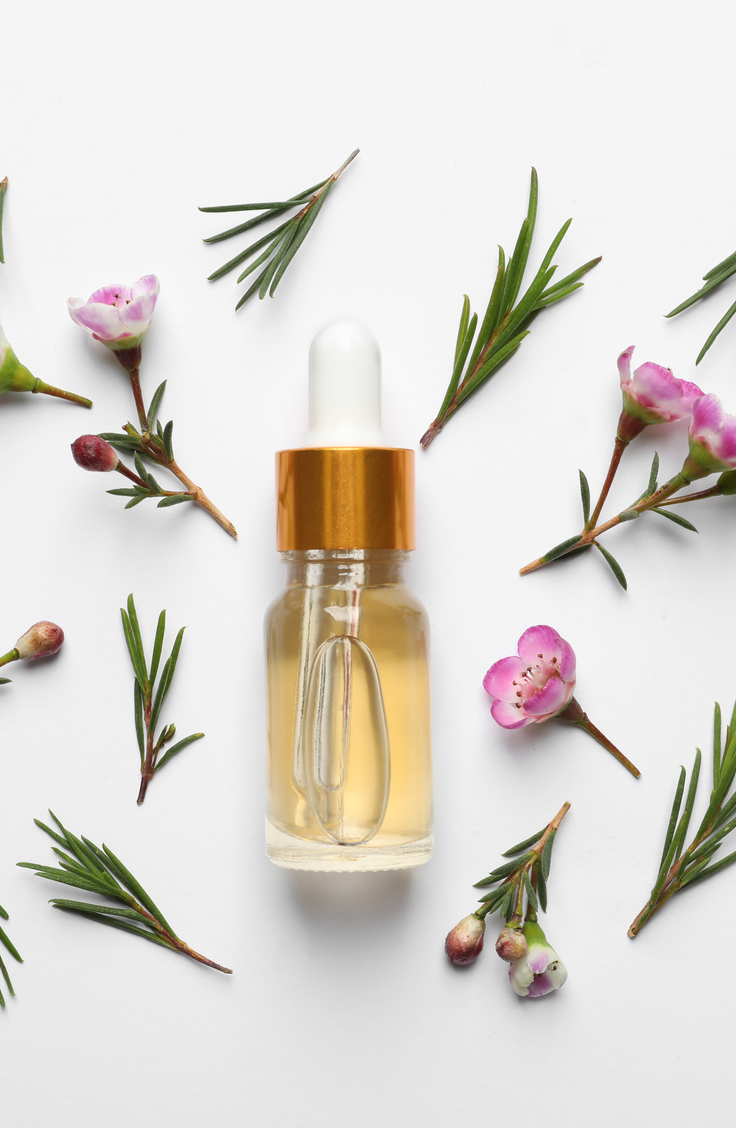 Zits. They have the power to shrink your self esteem and even stop you from leaving your house. But what happens when your skin reacts to benzoyl peroxide or salicylic acid like it's been stung by a swarm of bees? Simple. You choose the natural alternative. 
Tea tree oil is a natural acne treatment that's been around for centuries. It was once used mainly to heal wounds and treat minor illnesses. Nowadays, people use tea tree oil in aromatherapy, as a bug bite deterrent and quite frequently, to treat moderate acne. 
The buzz around it is real. Tea tree oil really can treat acne and several studies prove it. Read on to find out just how good tea tree oil for acne is. 
SO, WHAT EXACTLY IS A TREE OIL?
Tea tree is an essential oil extracted from the leaves of the Australian tree, melaleuca alternifolia. It is usually a pale yellow and has a strong odor. It can be used as an anti fungal to treat infections such as athlete's foot, to reduce skin allergies, and also as a calming fragrance in aromatherapy. 
Most interesting is its effects on acne. 
There's only so much face masks can do for your skin. Sometimes, you need a natural, potent acne treatment that really rids your skin of oil and grime and the irritation surrounding your breakouts. If you've tried all sorts of special oils in the past, then no doubt you're feeling somewhat dubious about the tea tree treatment. But don't lose hope just yet. Wait until you hear how well it can work for your skin. It may just be the acne treatment you need. 
DOES TEA TREE OIL FOR ACNE REALLY WORK?
Several studies have proven that tea tree possesses antibacterial and anti-inflammatory properties, which can reduce acne lesions and prevent future breakouts. It can also calm down any skin irritation that has set in.
According to a 2017 study, participants that used tea tree twice daily over the course of 12 weeks saw a significant improvement in the appearance of acne. 
A year later, another study noted the benefits of combining tea tree oil with aloe vera and propolis on acne-prone skin. One of the coolest benefits of tea tree oil is that it's a powerful antioxidant made up of over 100 compounds, which means it can reduce the number of pimples and lessen moderate acne. Plus, it can diminish dead skin cells and regulate oil production so that it balances out oily skin and stops the oil glands from working overtime - a major acne contributor.
Even if you battle body acne, tea tree oil helps rid the skin of bacteria and bumps out breakouts. Like this Black Jelly Blemish Treatment Body Serum, formulated with tea tree oil, black charcoal and witch hazel. 
HOW TO USE TEA TREE OIL FOR ACNE 
Want to see if tea tree oil works as a spot treatment? The best way is to see for yourself and that starts with applying it to your skin. 
There are many different ways you can use tea tree oil. First off, you can use pure tea tree oil directly on your acne spots using a cotton pad. If you a have particularly sensitive skin type, you can dilute the pure form with a few drops of water. Or, you can add it to your face lotion or serum for some added oomph to your skincare routine.
Skin dermatology experts believe in mixing tea tree with a carrier oil such as almond oil or coconut oil in order to double its beauty benefits. You can either apply it directly to your blemishes with a cotton pad or you can massage it into your face like a moisturizer. 
Some people even use it as a cleanser. Thanks to its antibacterial properties, a few drops of tea tree oil on a cotton bad wiped over the skin is enough to kill grime and bacteria that lead to pimples and blackheads.
This 24k Gold Black Soap Impurity Cleanser contains tea tree leaf oil and is perfect for daily use to keep skin clear and balanced. 
And it treats other skin conditions
Tea tree is a reliable antiseptic that can treat a number of skin conditions, including warts, sunburn, psoriasis, dandruff, boils and septic wounds. That's because it's packed with antifungal, antiviral and antibacterial properties which help cleanse the skin, remove dead skin cells, and reduce inflammation.
How often?
For best results, try using pure tea tree oil on your face daily. Remember you can also use it on body blemishes too if you suffer from chest or back acne. Most importantly, start off by diluting the tea tree rather than just applying it neat to prevent any unwanted skin irritation. That shouldn't happen, but if you know you have sensitive skin, it would be a good idea to save yourself any discomfort.
It can be quite drying if you use too much too regularly, so try to stick applying it twice a day as part of your skincare regimen and see how you go from there. If you have particularly dry skin, apply only to acne spots or if you want to apply it to your whole face, make sure it is diluted and only use a thin layer. 
Any side effects?
It may be a natural product, but you definitely shouldn't overdo it with this oil, just like with any other skincare product. You could end up aggravating your skin. 
In small amounts, tea tree is perfectly safe for the skin. Feel free of course to carry out a patch test prior to using it to ensure it doesn't cause an allergic reaction. Generally speaking, it is considered a natural and safe skincare product with no dangerous side effects. However, do be careful when purchasing tea tree oil products, as not all of them are pure and/or organic. Thus, always check the label of your over-the-counter tea tree oil. 
And if you really want to be on the safe side, book an appointment with your dermatologist to ask their opinion. 
It could be a game-changer for your skin (and make that a self esteem booster too!).
Share
---