The Best Anti-Aging Creams & Serums Under $50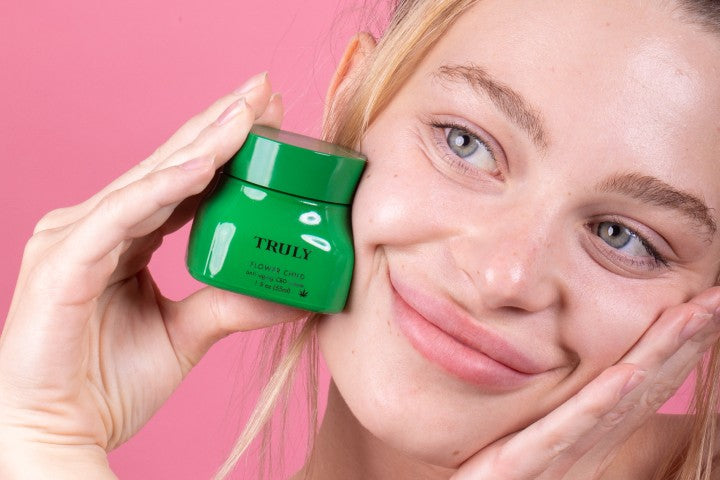 Whether you're 25 or 45, everyone can benefit from using anti-aging skincare products in their daily regimen. You can use them as preventative measures to slow down the signs of aging, or simply to reduce existing signs of aging such as fine lines, wrinkles, and poor elasticity. 
Best of all, you don't need to splurge on fancy formulas to get the job done. Provided that the products utilize high-performing active ingredients and antioxidants, you should be able to find something within your budget that works like a charm.
Here, the best anti-aging products for under $50 -- that work!
Vegan Collagen Facial Serum
Looking for the best wrinkle serum on the market? Truly shoppers will probably point you to our top-rated Vegan Collagen Facial Serum. With nearly 450 five-star ratings, customers are more than happy with what this anti-aging serum does. Some say they've noticed a reduction of fine lines and deep wrinkles, a firmer complexion, and overall smoother skin. 
The formula relies on its power-packed blend of plant-based collagen, retinol, and vitamin C which, when combined, promote skin brightening, resurfacing, and plumping effects. By boosting collagen production and speeding cell turnover, these ingredients also help to reduce the appearance of fine lines and wrinkles while evening out discoloration and improving skin tone.
At $45, it's a total steal.
Vegan Collagen Body Cream
The body is often overlooked when it comes to anti-aging skincare routines. And yet, your body is just as vulnerable to creases and sagging skin as your face. Maybe it's not as exposed to environmental aggressors as much as your face and neck, but it still requires adequate care and attention to keep it looking youthful.
If you want to keep your body looking tight, add Truly's Vegan Collagen Body Cream to your post-shower routine. With its blend of collagen, retinol (vitamin A), vitamin C, and coconut oil, this firming body moisturizer smooths out rough patches and fine lines while stimulating cell turnover for a glowing, youthful finish.
One Truly shopper said, "Thanks to the Vegan Collagen Anti-Aging Body Cream my skin is the softest, firmest, and clearest it's been in forever!"
Another five-star reviewer pointed out how nice it feels on her skin: "I don't like to be weighed down with heavy creams at bedtime but this lightweight cream is hydrating and absorbs quickly. My skin looks so much better since I started using it."
This hydrating anti-aging body lotion is priced at $28, and worth every cent.
Mary Jane Face Serum
With retinol and glycolic acid at the forefront of Mary Jane Face Serum, fading fine lines and brightening lacklustre skin is its main goal. This daily anti-aging formula is crafted to deliver powerful antioxidants to brighten, hydrate, and firm while soothing irritation. It should be applied to your face and neck every evening as the final step of your skincare regimen. 
So if dryness, dullness, or creases are your issue, make this moisturizing serum part of your daily routine. 
Positive reviewers note how gentle this formula is on the skin, making it perfect for all skin types. One shopper wrote, "I have very sensitive, dry skin so I was skeptical about this product. I LOVE the glow and much-needed hydration this product provides. I have never experienced redness, irritation or acne with it, which most products tend to cause for me!"
And the best part? It's only $30.
Blueberry Kush CBD Face Oil
The secret to glowing skin is in this bottle of Blueberry Kush CBD Face Oil.
Formulated with antioxidant-packed blueberry and the AHAs salicylic acid and lactic acid, this formula is designed to buff away dead skin cells and dirt while supporting the skin's barrier function and protecting it from photoaging.
Vitamin C also plays a role in this formulation, there to offer its brightening effects and improve overall pigmentation. This vitamin C serum also utilizes CBD to hydrate skin and combat inflammation, quelling the appearance of puffiness, redness, and active breakouts.
What we love the most about this fragrance-free facial serum is its ability to protect your skin from blue light, keeping it younger, healthier, and dewier for longer. 
It's a sound $38 investment.
Flower Child CBD Face Cream
When you hear hyaluronic acid serum, dollar signs are no doubt popping up in your head. Sure, it sounds luxury. But that doesn't mean you need to break the bank to enjoy its benefits.
Truly's Flower Child CBD Face Cream offers all the things a product marked three times its price offers: hydration, lift, and volume. 
This wrinkle cream is designed to restore skin's elasticity by lifting, firming, and tightening loose skin. It's made with hemp, aloe, and hyaluronic acid to nourish your skin for a plumper, dewier finish. You can use it as a day or night cream (or both!) as part of your daily skincare routine.
Reviewers praise its non-drying, non-greasy texture, and its overall versatility.
"I absolutely love this product I have pretty oily skin and it does not make me feel oily at all goes on well over my sunscreen in the mornings and overall it's just a lovely face moisturizer," wrote one Truly shopper. Another noted, "It does not leave my skin greasy or oily & even when I wore it through the night my face is completely soft, no residue."
Plus, it's well below the $50 threshold at only $35.
Body Star Perfecting Cream
If dark spots, fine lines, and stretchmarks are an issue, blur them out with Truly's Body Star Perfecting Cream. Formulated with prickly pear that reduces discoloration and fades stretch marks and cactus flower that protects against premature aging, it's the anti-aging cream you need for a hydrated, sculpted, blemish-free bod.
As it's made with natural ingredients, retinoid-free, and doesn't contain parabens, this formula is perfect for sensitive skin. Slather it all over your skin for a dose of smooth, dewy hydration that lasts for hours.
And...it's only $28.
For best results, pair these products with SPF for sun protection and under-eye cream to get rid of dark circles and puffiness for a truly flawless complexion. Other excellent anti-aging ingredients to look out for include vitamin E, amino acids, peptides, and niacinamide. 
If you have skin conditions, speak to your dermatologist before using products -- especially retinol creams and drugstore formulas that may irritate the skin. Your derm will point you in the right direction. 
But if you're looking for an alternative to drugstore brands like L'oreal Paris, ROC, Neutrogena, and Olay Regenerist, make Truly products your first pick. 
Share
---