The Best Retinol Products, Ranked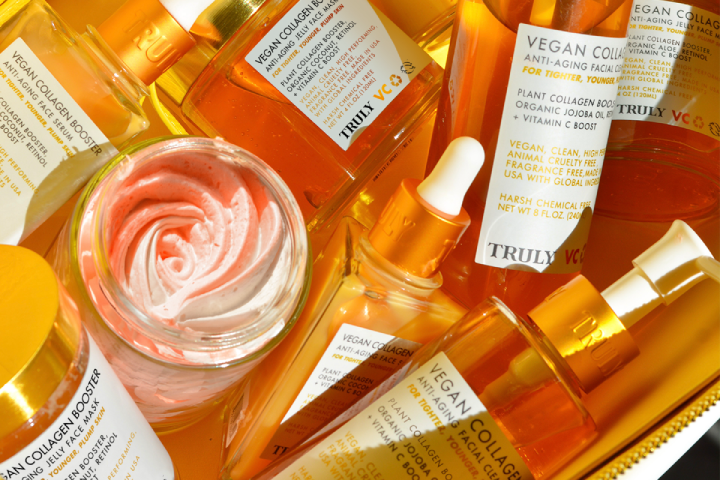 Got fine lines? Wrinkles? Dark spots? Or acne? Retinol cures all!
No really, retinol has been proven to address a myriad of skin concerns thanks to its ability to stimulate collagen production and cell turnover, which can help smooth out creases, improve skin texture, fade dark spots, and beat breakouts. 
This vitamin A derivative has only one downside: it can be irritating. Side effects may include dryness, redness, irritation, and flaking. On the plus side, they can be prevented altogether by adopting the right retinol practices, such as going slow and gradually letting your skin adjust to the active ingredient.
Alternatively, try skincare products formulated with retinol and nourishing, hydrating ingredients so you can reap all the benefits of retinol without the side effects.
From retinol creams to cleansers and serums, here are our favorite retinol products, ranked. And FYI: all of these products below are highly recommended. We're simply ranking them based on our personal faves!
#12: Super Star Acne Patches
These retinol-flecked pimple patches aren't fooling around. Infused with salicylic acid and hydrocolloid too, these acne patches help remove your blemish while prevent acne scars and hyperpigmentation. Plus, they provide an excellent barrier between your breakout and hands to avoid picking and popping, and allow zits to heal faster. 
#11: Anti-Cellulite Mask
An anti-cellulite body mask made with retinol, bitter orange, and coconut oil to blur the appearance of dimpled skin while minimizing the look of fine lines and wrinkles. This powerful toning moisturizer harnesses the power of firming retinol and bitter orange, as well as hydrating coconut for visibly smoother, tighter thighs, hips, and stomach. 
We love how good this retinol body cream makes your skin look and feel. Plus, it's gentle enough to be used on all skin types.
#10: Vegan Collagen Body Polish
An anti-aging body exfoliator that blends healing rose with plumping vegan collagen, youth-restoring retinol, and brightening vitamin C. This extra fluffy polish buffs away dead skin cells while conditioning and hydrating the skin. 
Our plant-based proteins spur collagen production for improved skin strength and elasticity. While its abundance of antioxidants help to soothe redness, balance out the skin's natural oils, and regenerate skin tissue.
#9: Purple Rain Facial Oil
A retinol treatment for rapid wrinkle repair. This skin resurfacing, anti-aging facial booster targets visible signs of aging with vitamin A from rosehip -- a natural source of retinoic acid. It reduces the appearance of fine lines and discoloration to give you a healthy, glowing complexion without leaving skin feeling greasy and sticky. 
Glycolic acid lends its exfoliating properties to treat dark spots, while retinol speeds cell turnover rate to plump out wrinkles and fine lines. 
#8: Acai Your Boobies Butter
Perk up your pair with this hydrating and sculpting retinol lotion. Buttery, fluffy, and luxuriously rich, Acai Your Boobies is designed to smooth skin and nips while also tightening and firming your twins! It can also smooth out stretch marks and fine lines for a youthful, radiant chest.
Formulated with acai, dragon fruit and apricot, too, this retinoid butter moisturizes as well as soothes, so sensitive skin types can use freely without suffering irritation and dryness that often occurs with pure retinol products.
Oh yeah, and it's clinically-proven to work in four weeks!
#7: Vegan Collagen Facial Cleanser
Cleanse, soothe, and reverse signs of aging with this retinol-infused facial cleanser. Other key skincare ingredients include vitamin C, vegan collagen, and coconut. All work together to cleanse, plump, and brighten skin for a youthful, luminous complexion. 
While it won't smooth out deep wrinkles since it's not on your skin long enough, it's a great way to incorporate retinol into your skincare routine -- and reap the benefits of doing so.
#6: Mary Jane Glow Mask
An exfoliating face mask made with retinol, glycolic acid, CBD, and caffeine to tighten, brighten, and reduce inflammation. It's perfect for oily, aging, and acne-prone skin types!
This carefully crafted formula delivers powerful antioxidants and actives to firm and brighten skin tone while replenishing essential hydration. 
#5: CBD Jelly Anti-Blemish Facial Cleanser
There's a common misconception that retinol only comes in anti-aging beauty products. The truth is, you can use retinol to clear up acne. In fact, you should! 
According to dermatologists, retinol skincare products can be highly effective for treating and preventing breakouts. That's why you'll find it in our pimple clearing face wash. It's also made with salicylic acid, watermelon, and hemp to tackle blemishes while soothing inflammation and warding off dry skin. 
#4: Buns of Glowry Butt Scrub
Made with your tush in mind, this retexturizing butt scrub relies on watermelon, wheat protein, and retinol to intensely hydrate and plump your skin while fading discoloration. 
Plus, it's clinically-proven to work in four weeks!
#3: Vegan Collagen Body Cream
It's one of the best retinol creams for your body. 
Our vegan collagen body cream intensely hydrates your skin while infusing it with powerful anti aging ingredients, such as vegan collagen, vitamin C, and retin. This rich blend of ingredients join forces to strengthen the skin barrier and give you smooth, plump, baby soft skin.
#2: Vegan Collagen Face Mask
Forget ceramides, peptides, niacinamide, lactic acid, and hyaluronic acid. All the ingredients you need for silky-smooth skin are in this formulation.
Whether you're a retinol beginner or expert, this anti-aging face mask is highly effective at reducing the appearance of fine lines while improving overall texture and smoothness. 
#1: Vegan Collagen Facial Serum
Seriously the best retinol serum ever!
Why does it earn first place? Unlike many over-the-counter night creams and eye creams, this anti-aging face serum contains a high concentration of powerhouse ingredients like retinol, vitamin C, and collagen to give skin back its bounce.
Plus, it's fragrance-free, paraben-free, and cruelty-free! What's not to like? We're giving you premium quality at drugstore prices. 
Just remember to layer under sunscreen spf 30 to prevent sun sensitivity when going outdoors.
Visit your local dermatology office if you have a skin condition to get the all-clear for using retinol products. Alternatively, try bakuchiol -- a retinol complex alternative.
You will find all the Truly retinol products + more on our online store, as well as on Amazon, Sephora, and Ulta!
Share
---