The Konjac Sponge - Why You Need One In Your Life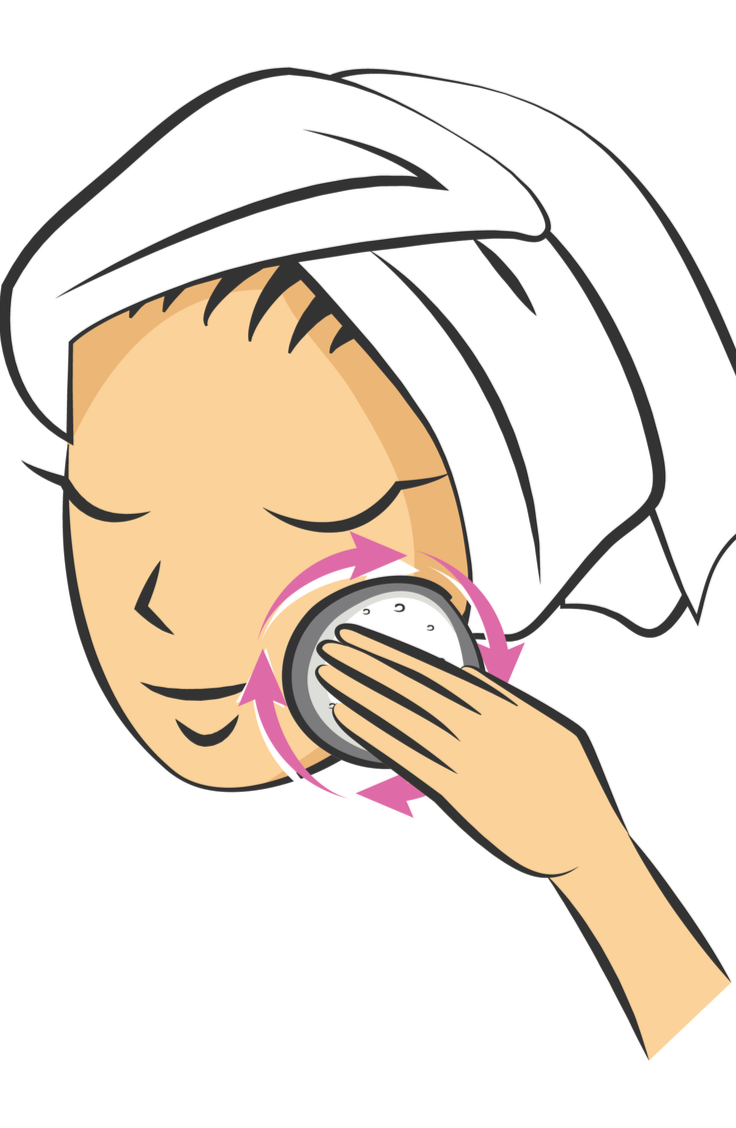 Sustainable? Check. Vegan-friendly? Check. Skin transforming? Check. 
Meet the konjac sponge, a game changing skin care tool very much deserving of a place in your beauty cabinet. That is, if you dream of glowing, radiant skin. 
It may not rotate or vibrate, like the sonic cleansing brushes we've all come to love, but it does promise gentle cleansing and exfoliation that leads to smooth and blemish-free skin.
The konjac sponge is also extremely versatile. It can function as a daily cleanser, makeup remover, and body scrub all at the same time. If there's one skin care tool to get excited about, it's the konjac sponge. Just wait til you hear more about how it works ... things just get even more exciting!
WHAT IS KONJAC SPONGE?
This rubbery, teardrop-shaped sponge, comparable in appearance to a beauty blender, is made from konjac root, a porous vegetable grown in Asia. Japanese farmers originally created konjac sponges as a tool to cleanse a baby's skin. Since then, these handy little sponges have made their way into the US market and are now used for cleansing and exfoliating purposes to slough away dead skin cells. You could say they're kind of like a mini loofah, only a lot gentler. Plus, they're safe on all skin types unless you have rosacea or dermatitis in which case you should consult your dermatologist beforehand.
Different color konjac sponges translate to different active ingredients. The classic konjac sponge is gray or black as it contains charcoal. Other colors include green which would usually contain green tea and red, which would most likely contain red clay. Green clay would be for oily skin, whereas red clay would be more suited for sensitive skin. However, skin experts say the active ingredient doesn't necessarily make a difference as it doesn't touch your skin long enough to have any effects. In other words, it's actually the scrubbing device itself that offers the most benefits. 
BENEFITS?
The konjac sponge is one of the simplest, yet most effective skincare products available and the best part is, it's wallet-friendly. Here are just a few reasons why you need one in your life.
They're excellent makeup removers
Used with your favorite face wash or soap, konjac sponges can take off all your makeup without leaving any traces behind. Unlike your hands, which can only usually remove the surface of your makeup, this cleansing sponge can effectively remove all your makeup, while providing your skin with a deep clean to eliminate all impurities. It penetrates the pores and makes sure all that makeup residue is out of there, getting rid of the breakout breeding ground. You can even use it around your peepers to remove eyeliner and mascara.
They give you glowing skin
Konjac sponges are natural exfoliators. That means they'll slough away all your dead skin cells and leave you with a nice glow. While it's not yet been proven if they can get rid of blackheads and breakouts, it is clear that they are still beneficial for acne-prone skin thanks to their deep cleansing abilities. With regular use, the sponge will keep pores unclogged and prevent future breakouts by keeping your complexion clean and oil-free. 
You can use them all over your body
They were invented for that very reason. And they work very well in cleansing the body skin. Even if you have sensitive skin that reacts easily to new skin care products and tools, the sponge is gentle enough to cleanse without causing irritation. So if you want to remove rough skin or get rid of those pesky body blemishes, try massaging this sponge all over your body in circular motions. It's also worth using prior to applying fake tan, as it helps provide the perfect base for a golden, streak-free body. Make sure you follow up with a body lotion after every exfoliation session. This will keep your skin soft and hydrated. 
They're 100% biodegradable 
There are so many amazing skin care products out there. Unfortunately, half of them aren't eco-friendly and the other half aren't animal-friendly. That's what makes the konjac sponge so impressive. It's not only awesome in terms of what it can do for your skin, but also vegan-friendly and 100% biodegradable. That means, once you've finished using it, you don't have to feel guilty about throwing it away. You can compost it along with your plant leftovers instead. That makes for happy skin, happy animals, and a happy environment! Triple score!
HOW TO USE KONJAC SPONGE LIKE A PRO
Now you've seen all the benefits of using a konjac sponge, it's important to know exactly how to use one in the right way so you reap the most benefits from this cleansing sponge. 
1. Soak your sponge
Some sponges come in moist packages, ready to use. Others require a little prep time before use. If your konjac sponge is firm and dry, you'll need to soak the sponge in warm water for 5 minutes until it fully expands and softens. Now it's ready to use.
2. Use circular motions
Drizzle face wash over your sponge or just plain water, then gently massage the face in circular motions until your skin is smooth and clean. If you're using face wash, rinse the sponge and rub over your skin after cleansing to get rid of any cleanser residue. Squeeze out the excess water, hang it up with a peg and leave it to air dry over night. 
3. Use it daily
For best results, use your konjac plant sponge 1-2 times per day. The wonderful thing about this facial sponge is that it cleanses and exfoliates thoroughly without irritating the skin and it's suitable for daily use. You can use it morning and night, followed by a gentle moisturizer for gorgeous, glowing skin. 
4. Replace every month
Because these sponges are made from a natural, biodegradable material, they will need to be replaced every 5-6 weeks. Plus, like every cleansing sponge, over time they will accumulate dirt and bacteria, so changing yours regularly will ensure your skin stays clean and healthy. The last thing you want is to scrub dirt and grime into your pores. That's just a recipe for more blemishes. 
Whether you have oily skin, dry skin or sensitive skin, the konjac sponge is an excellent addition to your skincare routine. The charcoal konjac sponge is the most popular and is an excellent daily exfoliator to keep your skin smooth, healthy and glowy. You know, the kind of skin we all want! Add it to your wishlist this Christmas!
Share
---