The Only Ingredient You Need in Your Beauty Cabinet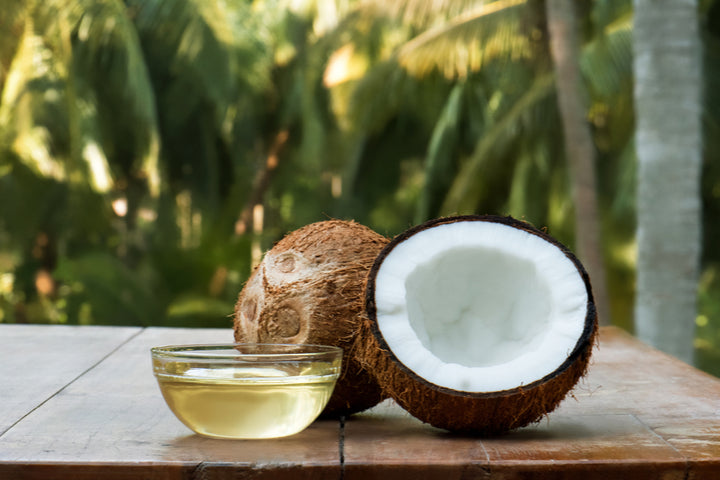 Coconut oil in skincare is pretty much a staple these days. You'll literally find it in everything – from serums to lotions, oils to scrubs. That's because coconut oil is considered a "cure-all" in the beauty world. Besides easing skin complaints like acne and eczema, coconut oil can also hydrate thirsty strands and promote thicker, longer hair too.
But what happens if we use coconut oil alone as a beauty treatment? Instead of just looking for it in skincare and haircare products, what if we bought an organic jar of coconut oil and used that as our go-to beauty source instead?
It turns out, there are plenty of ways to use coconut oil in your beauty routine. Scroll down to discover them for yourself.
Makeup Remover
Coconut oil is an amazing makeup remover. If you've ever heard of the oil cleansing method, you'll know why. Coconut oil works by breaking down impurities like makeup, dirt, and grime, and removing excess oil. It's best used as an initial cleanse before following up with a deeper cleanse. 
New York City board-certified dermatologist, Robert Finney, explains it best.
"Coconut oil can actually do a fairly good job at getting rid of dirt and oil buildup that occurs throughout the day, but it often leaves an oily residue behind which can lead to breakouts, so if you have acne-prone skin and still want to try this method, just make sure to use a gentle cleanser afterward to remove excess oil."
Melt several teaspoons of coconut oil and mix it with a few drops of grapeseed oil. Then leave it to cool. Massage a generous amount of the oil directly onto your skin and use a damp washcloth or cotton pad to wipe it away.
Body Moisturizer
Packed with essential fatty acids like lauric acid, coconut oil is an excellent natural moisturizer. However, because it's quite comedogenic (aka, pore-clogging), dermatologists don't recommend using it on your face – particularly if you're prone to breakouts.
Instead, use it as a body moisturizer. Thanks to its anti-inflammatory properties, it's not only hydrating but soothing too. What's more, coconut oil provides a strong barrier control to keep skin healthy and protected while preventing dryness. 
Best of all, it's not like a lot of DIY beauty potions that feel icky on your skin. Coconut oil has a creamy texture and lightness that easily glides over the skin, without feeling gross.
Melt a few tablespoons of coconut oil and several drops of your favorite essential oil. Let it cool before massaging it into your skin. 
But if you don't fancy slathering oil on your body, try Truly's organic coconut-formulated Vegan Collagen Body Cream instead. It's just as nourishing and plumping.
Deodorant
Surprisingly, fresh-smelling pits don't always need to be the result of roll-ons. Coconut oil will deliver just as much under-arm freshness thanks to its antimicrobial properties, which banish bad odors and replace them with a coconut-infused scent.
Combine it with baking soda and your favorite essential oil to make a simple yet effective DIY deodorant.
Hair Mask 
Battling brittle hair? Try using coconut oil as a hair mask or leave-in treatment. Because it's rich in fatty acids and vitamins, coconut oil can help repair damaged hair caused by heat, coloring, and the sun. It also works well as a pre-shampoo treatment to protect dry hair before you wash it. For best results, leave it in for at least an hour so that it can work its hydrating magic on your strands.
As a hair mask, slather on a generous amount of coconut oil to damp strands. Leave it on for 10 minutes before rinsing with cool water. 
If coating your hair in oil isn't really your thing, opt for Truly's Unicorn Locks Repair Hair Mask instead. Formulated with coconut oil, avocado, and cocoa butter, it'll leave your hair just as silky, healthy, and nourished.
Lip Balm
Rich in natural fats, coconut oil helps replenish lost water that leads to dry lips. That's what makes it such an effective lip balm. It creates a thin but powerful barrier that locks in water and keeps dryness away. 
And because it's semisolid at room temperature, it's a lot less messy than other oils. In fact, it hardly looks much different to your average lip balm. 
You can also use coconut oil as a lip primer before applying lipstick. Then you get a pop of color with a whole lot of hydration. 
Frizz Tamer
Coconut oil is a great, natural frizz tamer. Best of all, you only need the tiniest amount. 
"Rub a pea size amount between your fingers to warm it up and then apply it to a few flyaways on your roots to smooth hair into place," says celebrity aesthetician Sonya Sonya. "Use it on your ends too from about mid-shaft down for controlling split ends and frizz."
DIY Body Scrub
You don't need to go far to get a luscious body scrub – just as far as your kitchen. Coconut oil and brown sugar are all you need to make your own body scrub. If you have essential oils, that's a plus.
Melt half a cup of coconut oil with one cup of brown sugar and stir well. Optional: Add several drops of your favorite essential oils. Leave it to cool fully before massaging it into the skin and rinsing off with cool water.
Don't worry if you've got sensitive skin, either, as coconut oil can actually counteract the irritation from exfoliation. Just don't go overboard – 1-2 times per week is enough.
If making your own scrub sounds like too much hard work, grab a tub of Truly's Matcha Scrub instead. Made with green tea, coconut oil, dead sea salt, and matcha, this invigorating scrub delivers gentle exfoliation without irritating the skin. You can use it on the face or body.
As you can see, there are plenty of ways to use coconut oil in your beauty routine. Now you can see why we call it the queen of versatility. There's very little coconut oil can't do.
Share
---