The Pantry Staple You Need to Be Slathering All Over Your Face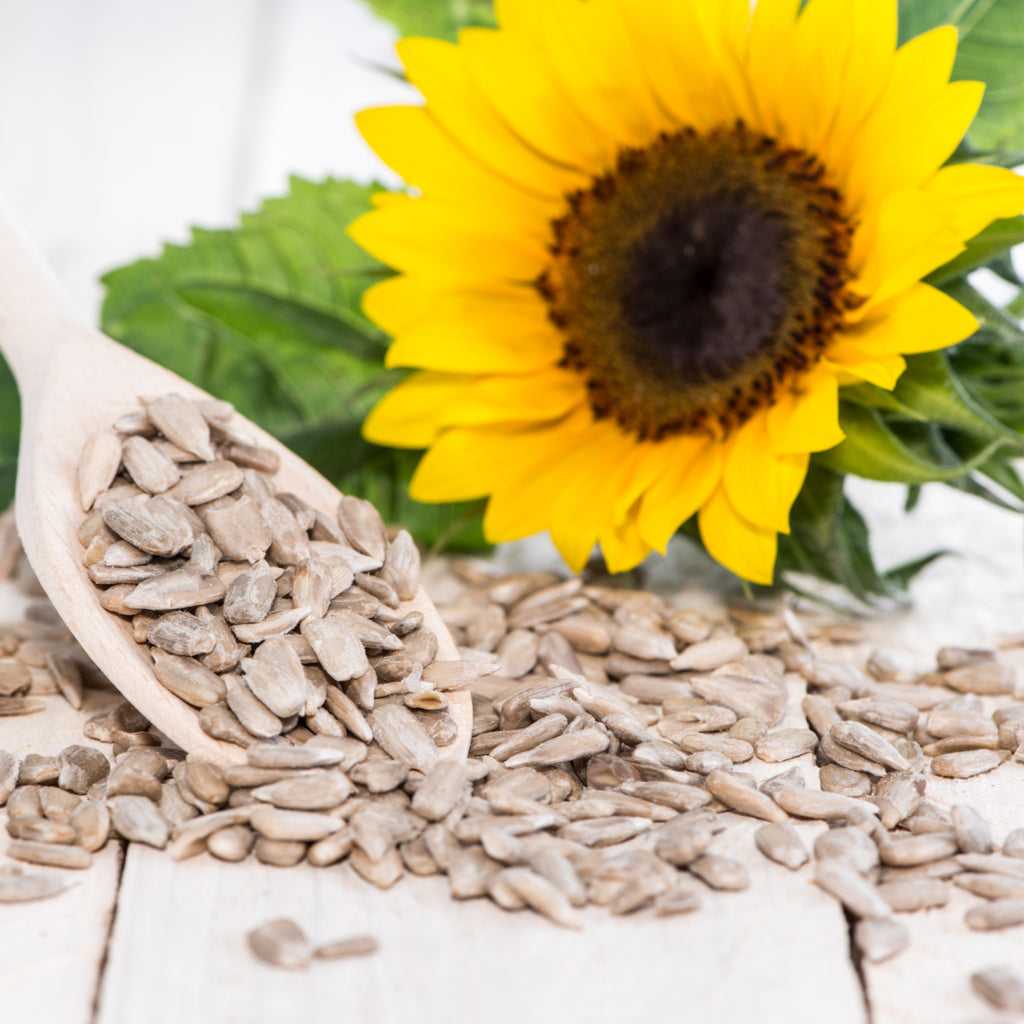 Sunflower seed oil, or sunflower oil, is an excellent skin care ingredient that can tackle everything from dry skin to heart disease. Rich in vitamin E and high in polyunsaturated fats, sunflower oil has been used by the American Indian tribes since 3000 BC. 
While most people associate sunflower oil as a cooking oil, it can do wonderful things for the skin thanks to its high content of essential fatty acids such as omega 6, linoleic acid, stearic acid, and linolenic acid. 
Of all the vegetable oils, sunflower isn't the most highly ranked for its heart health benefits. Flaxseed, olive oil, and grapeseed oil are. But we're not here to rank the most healthy cooking oils. We're here to tell you why you should make sunflower seed oil part of your skin care routine.
WHAT IS SUNFLOWER SEED OIL?
Sunflower oil is derived from the seeds of the sunflower tree plant (helianthus annuus). Packed with vitamin E and vitamin A, studies show that there are many health benefits of sunflower oil. It can allegedly lower cholesterol levels and triglycerides, as well as support heart health. 
But what can sunflower oil do for the skin? 
As a natural anti-inflammatory and emollient, high oleic sunflower oil can do a number of great things for your complexion. Let's take a closer look.
BENEFITS OF SUNFLOWER
 OIL 

FOR SKIN

Nowadays, there are so many oils you can slather on your face for a whole variety of benefits. From coconut oil to avocado oil, you certainly aren't stuck for choice. One oil you've probably never considered using as a skincare product is sunflower seed oil. But guess what. It really rocks!

 

Skin Protector

Sunflower oil possesses antioxidant properties (thank you vitamin E) that can help protect the skin from free radicals and premature aging. Using a skincare product formulated with sunflower oil is a great way to enjoy vitamin E and give your skin the TLC it needs to look its best.

 

Natural Moisturizer

Linoleic acid aids the health of the skin's natural barrier, supporting its ability to retain moisture. 

Because it is also an anti-inflammatory, used topically it can extremely beneficial for dry skin and for inflammatory skin conditions, such as eczema.

According to a small study with 19 volunteers, sunflower oil applied topically way more effective at improving skin hydration that olive oil. It was also shown to better maintain the integrity of the skin cells.  

 

Acne Fighter

Because of vitamin C's anti-inflammatory properties, beet root extract is an excellent treatment for acne. As per a 2018 study, beet root extract is most powerful for treating acne when it is used alongside other ingredients such as zinc, magnesium stearate, and antibiotics. 

If you have severe acne, you may benefit both from topical application and oral use of garden beet extract. Speak to a healthcare professional before taking beetroot juice supplementation to ensure it is right for you. 

 

A Glowing Complexion

Besides vitamin E, sunflower seed oil is also packed with vitamins A, C, and D - excellent acne fighters. It also contains vitamins and fatty acids that function as antioxidants to regenerate new skin cells, while ridding the skin of acne-causing bacteria. Unlike palm oil and coconut oil, it also won't clog your pores and cause breakouts.

 

Skin Soother and Healer

Sunflower oil has fatty acids that help to maintain the skin barrier and ultimately promote smoother skin. It also contains anti-inflammatory properties that help lessen skin redness and roughness. 

An animal study also discovered that topical use of sunflower oil was effective for healing wounds faster. This may be due to its mid-oleic acid content, which can be helpful for wound care.

Thanks to its unsaturated fatty acids, sunflower seed oil can treat a number of skin conditions including dryness, irritation, and roughness.

 

Perfect for All Skin Types

Sunflower oil is a non-comedogenic oil which absorbs quickly into the skin, and won't clog your pores. The great thing about sunflower seed oil is that it's non-irritating, non-comedogenic, and fast-absorbing. In other words, it can be used on all types of skin, including dry, oily, normal, sensitive skin, and acne-prone.

 

Sunflower Oil in Aromatherapy

In addition to being a skincare hero, sunflower seed oil can also help calm the mind.

Sunflower oil is used in therapeutic aromatherapy practice and can help in the treatment of skin conditions, sinusitis, hemorrhoids and leg ulcers.

To enhance the effects of this oil, combine it with other carrier oils and essential oils for ultimate relaxation. There are a number of essential oils you can choose from - we recommend sticking to a light and soothing one like lavender or eucalyptus. 

 
SUNFLOWER SEED OIL - YAY OR NAY?
Today, sunflower oil is widely used in cooking as a vegetable oil. However, it may also be hiding in your skin care products without you even realizing it.
From what we can tell, sunflower seed oil is a versatile oil which offers a number of benefits. Packed with vitamins and essential fatty acids, it is a superb skin care ingredient that can help everything from an inflamed complexion to the early stages of aging, i.e. fine lines and wrinkles.
Fortunately, sunflower oil is a safe and virtually harmless ingredient that is only dangerous to use if you have an allergy to it. 
In the United States, sunflower oil is a staple in most households. But not for the reason you were hoping. We're hoping that will soon change as they begin to learn the slew of beauty benefits sunflower oil yields.
RECOMMENDED SUNFLOWER OIL PRODUCT
24K Gold Black Soap Impurity Cleanser
What do you get when you mix 24k gold together with sunflower seed oil? Pure, pure gold! Theoretically, of course.

Truly's 24k Gold Black Soap Cleanser combines two major skincare trends to create a unique high performing cleanser that'll cleanse, hydrate, and rid you off all your impurities.
African black soap has been used for centuries to treat acne and other skin ailments. Used together with the healing and hydrating properties of sunflower oil and shea butter, this gold healing soap is a dream come true for all skin types. Whether dry or oily, sensitive or normal, this luxurious cleanser is both an indulgence and a daily necessity. 
How to Use:
Apply 24k Gold Black Soap Cleanser to wet skin and gently massage in a circular motion. Rinse thoroughly with cool water. For best results, use three times per week. 
Get your 24k Gold Black Soap Impurity Cleanser for only $25.20!
Share
---