This $28 Eye Cream Brightens Dark Circles Overnight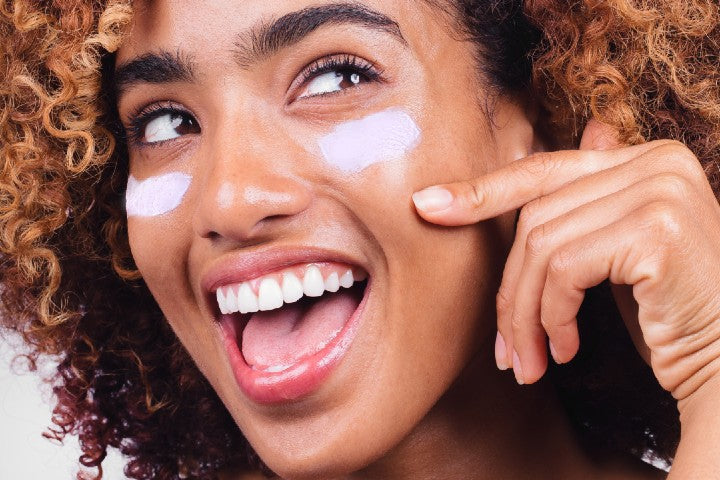 Whether the result of too many late-night Netflix binges, a long-haul flight, or a particularly stressful week, dark circles have long been a common beauty woe.
Dark circles stem from genetics, vitamin deficiencies, allergies and more. Eliminating them is possible, provided that you find the proper treatment and alter your lifestyle choices.  
Let us introduce you to: Truly Eye Candy Anti-Puff Eye Cream. This under-eye cream contains a perfectly formulated blend of ingredients that work in harmony to visibly transform tired eyes. Hyaluronic acid helps support collagen, which helps plump sagging skin. Sea kelp helps fade dark circles and reduces inflammation.
This under-eye corrector can be applied morning and night, using your finger to gently massage in a small amount of product around the eye area. It can also be worn under makeup to wake up your eyes.
Truly's formulation is free of toxic ingredients like sulfates and loaded with only natural, plant-based oils, and extracts.
WHAT PEOPLE ARE SAYING ABOUT THIS UNDER-EYE AREA ILLUMINATOR
Eye Candy Cream is already a crowd-pleaser. Many say they've seen results overnight with this correcting cream. One person wrote, "I used to have really bad bags under my eyes and now they are practically non-existent."
Another gushed: "Instant results!!! First eye cream that I have ever used and saw results!!"
"After starting college and bar tending at the same time my eyes became constantly tired looking," said another shopper. "My lids and under eye were dark, kinda sunken and puffy. But after a few weeks of use the skin around my eyes are bright and smooth again. I don't feel like I need to concealer around my eyes any more either."
WHAT CAUSES DARK CIRCLES UNDER THE EYES?
Dark circles under the eyes can affect everyone at some point or another. According to ocuplastic surgeon and aesthetic doctor Dr. Maryam Zamani, "There are a variety of different reasons that dark circles appear but, contrary to popular belief, fatigue isn't actually one of the main causes."
So sleepless nights might not be the cause of your under-eye circles, in spite of common beliefs.
Hyperpigmentation is one of the most prominent reasons, which can be caused by sun exposure, smoking, and genetics.
"Individuals of Asian and African skin types are predisposed to having hyperpigmentation under the eyes because there is a common genetic trait of very thin lower eyelid skin," says Dr Zamani. "This allows veins to show through, resulting in a darker appearance."
Let's not forget seasonal allergies, either! These can be major contributors to poor circulation in the lower eyelid, which leads to dilated veins and ultimately dark under-eyes.
Even aging can be a cause of dark circles. With the loss of fat and collagen under the eyes, the skin becomes thinner and more sunken looking, magnifying the appearance of under-eye shadows.
And the biggest culprit of all: our digital devices. We're all spending more time staring at a screen, and our eyes are bearing the brunt of things. With more screen time comes more eye strain, causing blood vessels around the eyes to enlarge and give the appearance of dark circles.
HOW TO GET RID OF DARK CIRCLES?
Besides wearing Truly Eye Candy Eye Cream morning and night, there are some other tips for keeping your under-eyes shadow-free.
Sleep on an Extra Pillow
"If dark, puffy bags seem to be the morning problem, consider sleeping on your back with an extra pillow so that fluid doesn't pool overnight," says Rebecca Tung, a dermatologist based in Florida. "Keeping your pillow protected from allergens (dust and dust mites) with a protective encasement can also help when allergies are the culprit."
You could also try sleeping on your back, which can help drain the fluid build-up under your eyes.
Prioritize Sun Protection
Dark circles can also be caused by sun damage, which increases pigment in the skin. To prevent under-eye shadows happening as a result of sun exposure, wear a broad-spectrum sunscreen with SPF 30 every day.
"First and foremost is protection with sunscreen and sun protection with sunglasses in order to protect from ultraviolet damage that causes aging of the skin and further pigmentation," says Melissa K. Levin, MD of NYU Langone Medical Center and Mount Sinai Hospital.
Avoid Rubbing Your Eyes
Rubbing your eyes is just as bad as spending an hour in the sun, unprotected.
"Consider your under-eyes as sensitive skin even if you may not necessarily have sensitive skin," says Joshua Zeichner, the director of cosmetic and clinical research in dermatology at Mount Sinai Hospital in New York City. "Undereye skin is among the thinnest on the body, so any trauma or irritation can cause skin inflammation."
When using makeup removers or any under-eye products, take gentle strokes in one direction rather than rubbing your skin.
Treat Allergy Symptoms
Allergies and sinus congestion can often be to blame for perpetuating dark under-eye circles. So that's something you'll want to address if you think it's what's causing those shadows.
Try over-the-counter medications or speak to your doctor about getting antihistamines that might ease your symptoms.
TRY TRULY'S BARGAIN EYE BRIGHTENING CREAM
Daily use of an eye cream, like Truly's Eye Candy Under-Eye Cream will temporarily plump skin to reduce the visibility of blood vessels. It's better to use a cream designed for the eye area rather than a regular face cream, which has a higher concentration of emollients and can be too thick for the thin skin in that area.
GH Beauty Lab senior chemist Sabina Wizemann recommends looking for a product containing hyaluronic acid and glycerin to hydrate the area around the eyes.
To improve the appearance of under-eye shadows, try Truly's Eye Candy Anti-Puff Cream, which contains hyaluronic acid, sea kelp, coconut oil, glycerin, and vitamin E to moisturize, brighten, and smooth your skin.
For best results, use twice daily (morning and night) to a freshly cleansed face. Swipe under the eyes in one direction to avoid rubbing the skin. Wake up with bright, illuminated peepers!
Share
---