Truly Beauty's VIP Collection 2.0 Just Arrived w/ Exclusive FREEBIE!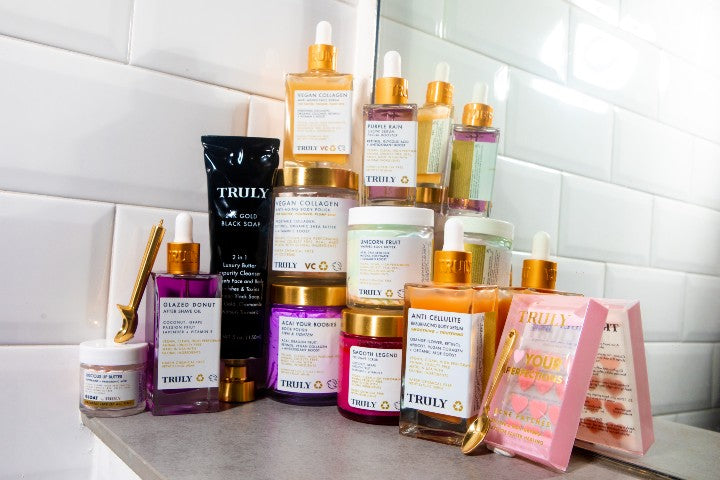 Our VIP Collection is back and crammed full of our favorite beauty essentials. VIP 2.0 features a lineup of TikTok-famous bestsellers to customize into limitless skincare routines for the face and body. As a bonus, on-the-ball babes will receive a FREE luxe limited edition Truly Robe so you can scrub, shave, hydrate, tighten & treat looking chic and feeling snug.
Here's everything you should know about VIP Collection 2.0, from what's inside to all the routines you can create from it + all about that exclusive FREEBIE. Already made your mind up? Snatch up this XXL Bundle before FREEBIES run out. 
Truly Beauty's NEW VIP Collection 2.0: What's Inside
A scrub designed especially for your cleavage area with serious smoothing, firming, and lifting powers. Acai Polish is made with powerhouse actives like retinol, acai, and dragon fruit to boost collagen production, speed cell turnover, and leave skin more radiant than ever. It's clinically proven to work in four weeks.
Vegan Collagen Body Polish 
A fluffy, retinol-powered polish that blends shea butter's moisturizing capabilities with vegan collagen's anti-aging properties to visibly improve the skin's suppleness. Vegan Collagen Polish is one of our fave body care products for acting fast and showing noticeable results.
Vegan Collagen Facial Serum
Another skincare product from the Vegan Collagen lineup, this anti-aging serum conditions, smooths, and rejuvenates skin. Made with retinol, vitamin C, collagen, and coconut oil, this formula also offers brightening effects while helping to treat hyperpigmentation.
Unicorn Fruit Whipped Body Butter
Our iconic multi-colored body butter is loaded with natural, skin-repairing ingredients such as acai, matcha, vegetable collagen, shea butter, and rose. While it primarily serves as a body butter, this colorful, candy-scented formula can also be used as a lip balm, parfum, hair mask, shaving cream, and cuticle softener. 
Smooth Legend Pre-Shave Scrub 
A gentle, lightweight scrub to buff away dead skin cells, loosen hair follicles and lather away pore-clogging products to reveal fresh, glowing skin. Smooth Legend Scrub can be used alone or before shaving for a super silky, irritation-free shave. 
A skin toning serum of bitter orange and retinol that works to boost collagen, mobilize stored fats, and ultimately, reduce the appearance of dimpled skin on the thighs, stomach, and hips.
Not just a regular body serum. Glazed Donut Shave Oil is a cooling, summer-scented daily shave serum that restores moisture while combatting irritation, blemishes, and ingrowns. It's particularly effective for sensitive skin types! Use it straight after shaving for the smoothest shave of your life. 
24k Gold Black Soap Impurity Cleanser 
Exfoliate away dirt, oil, and makeup for a fresh and clear complexion. 24k Gold Black Soap Impurity Cleanser contains a blend of oil-sapping charcoal, elasticity-restoring gold, and bacteria-banishing black soap to clarify breakouts and leave skin glassy clear.
With the power of hydrocolloid, these pink heart-shaped acne patches work to drain bacteria and debris from deep within the skin and speed up the healing of your blemishes while preventing the formation of acne scars. And OMG, they work like a charm! 
Age-defying retinol and skin resurfacing glycolic acid join forces in this formula to smooth the look of fine lines and wrinkles to leave you with a youthful, radiant glow. Purple Rain Oil is a high end formula that offers a slew of skincare benefits.
GLOAT Luscious Lip Butter 
An irresistible butter enriched with hydrating hyaluronic acid and plumping peppermint to soften lip lines, lock in moisture, and leave lips pillowy soft all day long. Keep GLOAT Butter in your purse along with your mascara, sunscreen, credit card, and cell phone to stay soft and glowy on the go. You can also double this up as a lip plumping mask!
Mini Gold Spoon + Gold Ice Cream Scoop
These little goodies make product application so much easier, cleaner, and convenient. Scoop up our swirls with our Gold Ice Cream Scoop and our scrubs and masks with Mini Gold Spoon. 
ALL THE SKINCARE ROUTINES YOU CAN TRY
With 11 full-sized bestsellers, you can choose from a range of skincare routines depending on your heart's (or skin's!) desires. Here are a few of the routines you can create from these 11 ultra-nourishing formulas. 
A Boob Care Routine
Using Acai Polish + Unicorn Fruit Whipped Body Butter
An Anti-Aging Routine
Using Vegan Collagen Body Polish + Vegan Collagen Facial Serum + Purple Rain Facial Oil
An Anti-Blemish Routine
Using 24k Gold Black Soap Cleanser + Heart Pimple Patches
A Butt Care Routine
Using Vegan Collagen Body Polish + Anti-Cellulite Serum + Unicorn Fruit Whipped Body Butter 
A Lip Smoothing Routine
Using Smooth Legend Pre-Shave Scrub + GLOAT Lip Butter
A Shaving Routine
Using Smooth Legend Pre-Shave Scrub + Glazed Donut Shave Oil + Unicorn Fruit Whipped Body Butter
A Dry Hair Rescuer
Using Unicorn Fruit Whipped Body Butter + Gold Spoon
Buy Now, Get a FREEBIE
Whether you're getting it as a gift set for yourself or a friend, VIP Collection 2.0 offers everything anyone needs to keep their skin looking smooth, clear, and sparkly. 
For a LIMITED TIME ONLY, we're giving away a FREE luxe pink robe with every VIP Collection 2.0 purchase. 
Pink, lush, and premium quality, our full-length bathrobe means you can take on your skincare routine in style and comfort. It features pockets, ultra-lush teddy lining, a hood, detachable tie waist, and our signature embroidered Truly logo on the sleeve. 
Available ONLY for the first 1,700 orders! So shop, and checkout before our robes run out!
SHOP VIP Collection 2.0
VIP Collection 2.0 is our latest beauty drop. 
It features 11 full-sized Truly bestsellers and multiple routines, complete with a complimentary luxury pink robe -- if you swipe it in time, of course!
While you're here, be sure to check out some of our other bestselling products like our Buns of Glowry Tighten Butt Polish, CBD Anti-Blemish Range, and Cooka Bundle. They're also available at Ulta Beauty and Sephora. 
Share
---