Truly Roundup: Our Top 3 Favorite New Beauty Products Dropped in 2021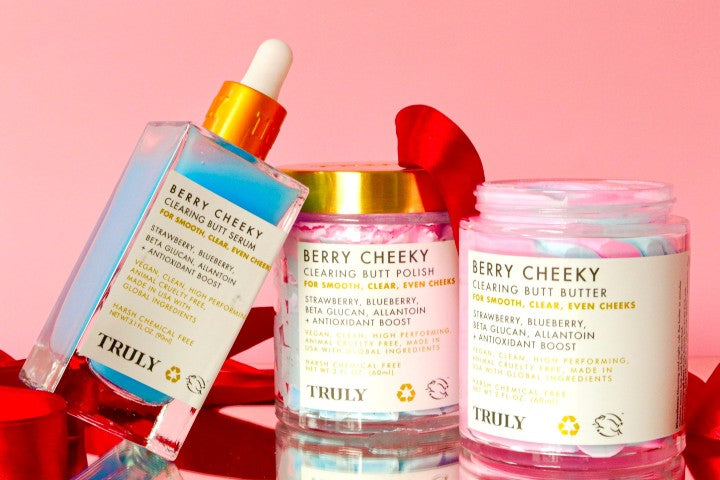 At Truly, we pride ourselves in providing the cleanest, most high-performing, most adorable skincare products around. Besides all our products being vegan and cruelty-free, we utilize only the best active ingredients in our formulas, including retinol, AHAs, BHAs, vitamin C, and hyaluronic acid to elevate your beauty routine. 
This year, a dozen new products have landed on our shelves...and they're just longing for a home in your skincare cabinet. 
Here's a roundup of our top three favorite new beauty products that dropped in 2021.
Cooka Bundle
Cooka Bundle, aka the Bikini Line Kit, is a hydrating, skin-soothing duo designed to soften pubic hair, alleviate ingrowns, and leave the skin super smooth. Formulated with gentle, natural antimicrobials such as tea tree oil and lavender, this bikini line kit can ease even your most sensitive skin. 
The kit includes two key products: Cooka Oil and Cooka Concentrate. Both contain the same ingredients, but both have different textures since one is an oil and the other is a serum. 
While tea tree and lavender lend their redness-reducing, soothing powers, jojoba oil offers its hydrating properties while primrose lends its acne-fighting powers. Together, these ingredients work together to soothe irritation, diminish dryness, and limit excess sebum. 
And the best part? Cooka Bundle products aren't just for your bikini line. They can be applied anywhere on the body where hair meets skin to alleviate irritation, up moisture levels, and promote healthy hair growth.
How to Use
Cooka Oil: Apply a thin layer of oil to anywhere hair meets skin, including the pubic area, underarms, and legs. Apply lightly on clean skin and hair. Follow up with SPF 30 when used during the daytime. Or SPF 50 if you're super fair!
Cooka Concentrate: Apply a thin layer of serum as needed on areas prone to dryness and ingrowns, including the pubic area, legs, and brows. Use anywhere on the body to hydrate and heal. Follow up with sunscreen when used during the daytime. 
Berry Cheeky Trio
Got breakouts on your butt? Sagging, cellulite, or dark spots? Our Berry Cheeky Trio features a clearing exfoliator, serum, and butter designed to condition, plump, and clear blemishes in a made-just-for-your-bum skincare routine. This nourishing trio is exactly what you need to make skin look smooth, soothed, and extra glowy.
Formulated with gold-tier ingredients like beta glucan, blueberries, and allantoin, these formulas promise to resurface, brighten, and fight acne.
Beta glucan is a humectant moisturizer that is excellent in preventing moisture loss, quelling irritation, and fighting against the formation of fine lines and wrinkles. Packed with antioxidants and vitamin C from blueberries, this trio works to neutralize free radicals and diminish dark spots while brightening dull skin. You and your butt are guaranteed to love it!
Plus, it's suitable for all skin types. 
How to Use
Berry Cheeky Butt Polish: In the shower or bath, scoop out a small amount of Berry Cheeky. Mix with water so you get a nice lather, then rub it over your booty in circular motions and rinse. 
Berry Cheeky Butt Serum: Apply several drops of serum to your booty to hydrate, tighten, and firm. 
Berry Cheeky Butt Butter: Morning and night, massage the butter in circular motions across your butt until fully absorbed.
Moonlit Shimmer 
Yearning for a year-round glow? Reach for our Moonlit Shimmer to get sparkly anytime, any place. If your skin tone tends to get dull once winter comes around, or you're just looking for a way to highlight certain areas, Moonlit Shimmer is your go-to product.
Made with a blend of witch hazel, turmeric, aloe, chai, and vanilla, this shimmery, pigmented body oil will get you head-to-toe dazzling in a matter of minutes. Our beauty editors are officially obsessed!
You can use it on your cheekbones, cupid's bow, collarbone, cleavage, or thighs. Basically anywhere you want to emphasize and add sparkle. Pair with a swipe of mascara, eyeshadow, eyeliner, and lip gloss -- and you're good to go! Feel free to spritz on your fave eau de parfum if you're going out with friends or on a date.
How to Use
Use a gentle cleanser to prep skin followed by a thin layer of lightweight lotion. Now rub on a small amount of Moonlit Shimmer to areas you want to highlight. Start with a very small amount -- it goes a long way! Apply more, the more shimmery you want to become.
OTHER NEW ARRIVALS TO CHECK OUT
While those might be our top three favorites, we've got plenty more in store for you if you're eager for more! Scroll through our other new arrivals in 2021.
The Man's Shave Kit
Our first ever man's skincare bundle, featuring everything he needs for an ultra smooth shave: 24k Gold Cleanser, Coco Cloud Shave Butter, Black Jelly Blemish Treatment, and Glass Skin Facial Serum. It's the ultimate wellness treat -- for dudes!
Unicorn Party Kit
Our cult-favorite Unicorn Fruit products, bundled. Made with good-for-your-skin ingredients like matcha, rose, chia, and vegan collagen, these products nourish while a fragrant, candy-coated scent of vanilla and black sugar leave you smelling delicious!
Featuring our Unicorn Fruit Body Polish, Body Butter, Lip Balm, and Signature Eau de Parfum, our social media fans are already in love!
Smooth Legend Shave Kit
We're one of the few beauty brands that dedicate a lot of time to perfecting your shaving routine. This is our second shaving kit to date!
Exfoliate, hydrate, treat ingrowns - this 3-step shave kit ticks all the boxes for irritation-free, silky soft skin. Featuring our Smooth Legend Pre Shave Scrub, Happy Hairless Shave Butter, and Glazed Donut Shave Oil, it guarantees a great shave every time.
You can stay updated on all of our latest product arrivals by checking in at Trulybeauty.com. We're here to bring you the best skin, body, and haircare products around made with you especially in mind!
You will also find Truly products sold on other retail sites such as Amazon, Ulta, and Sephora. 
Share
---