Truly's 8 Best-Selling Beauty Products (All Under $29)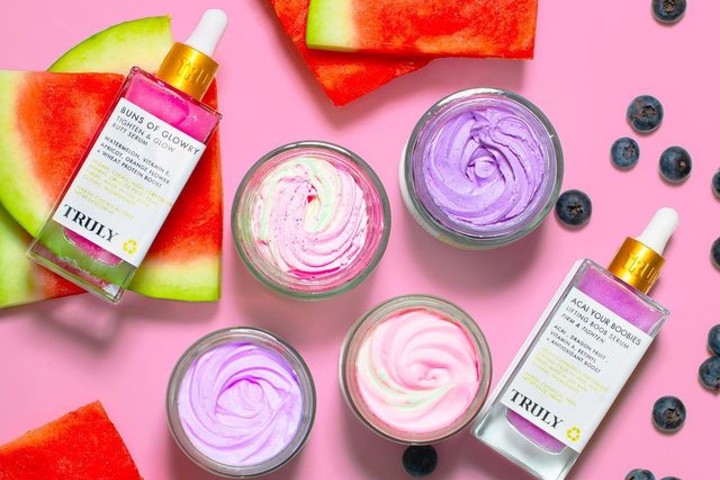 If you've browsed the virtual aisles of Truly Beauty before, you'll know that we have a treasure trove of luxurious whipped body creams, vitamin-loaded serums, and colorful scrubs to choose from. It's easy to fill your shopping cart with multiple items.
To make things even more awesome, all our products are vegan, cruelty-free, and 100% clean. We are committed to plant-based, ethical beauty. And we are dedicated to providing luxury without compromising on your values.
To wrap up 2020, Truly shares its bestselling products that all come under $29. Scroll through the products that flew off Truly's virtual shelves in 2020 – and make sure you stock up immediately!
Buns Of Glowry Glow & Tighten Butt Serum
Keep your booty in perfect shape with Truly's Butt-glowing Serum, a lightweight formula that sinks in fast to strengthen, firm, and hydrate skin. Powered by wheat protein and watermelon extract, this serum will fill in any hollowness and help fade discoloration with continued use. It's a must-get if you want a lit and perky booty.
Apply 4-5 drops to the bum area after showering. Use daily.
Coco Cloud Whipped Luxury Shave Butter
Deemed one of the "best shaving creams" by Vogue, this shaving formula will transform your shower ritual and make shaving fun. Yep, we said it.
Instead of relying on your bar of soap or shower gel for suds, give Truly's Whipped Shave Butter a try. A pleasant and luxurious shaving session begins with using the right cream. Coco Cloud delivers a deeply hydrating lather to soften hair for an ultra-close, nick-free shave without leaving behind bumps or ingrown hairs.
Made with coconut milk and argan oil to soften skin, this cream makes shaving totally easy and enjoyable and leaves skin feeling extra smooth. Plus, it'll help you avoid any cuts, nicks, or irritation.
Using warm water, lather up Coco Cloud and apply to the skin. Shave following the growth direction of hairs. For an even smoother, closer shave, repeat the process.
Unicorn Fruit Whipped Body Butter
TikTok might have made Unicorn Body Butter a viral sensation in 2020, but the beauty community has highly respected the lotion for years. 
This candy-scented swirled rainbow of pastel hues combines plant-based butters such as shea and mango with nourishing oils like coconut, almond, and jojoba to hydrate, rejuvenate, and moisturize skin. It's also loaded with antioxidant-rich acai berries, elastin-boosting matcha, and soothing rosewater. Apply daily, all over your body, for intense hydration.
Acai Your Boobies Boob Serum
Retinol continues to be one of the most popular multi-purpose ingredients. You can use it to treat a range of skin complaints including fine lines and wrinkles, discoloration, and even acne. In this case, it's to tighten and reduce the appearance of fine lines and stretch marks on your chest.
This retinol-packed boob serum also contains dragon fruit, acai, and apricot to feed the skin antioxidants, replenish lost moisture, and smooth the skin. Apply 1-2x per day for all-day dewy hydration.
Buns Of Glowry Smoothing Butt Polish
It's an exfoliating treatment for your bum – with major butt-hydrating effects.
This formula is highly concentrated with wheat protein and watermelon, so you only need a small amount to get glow-boosting, cellulite-fading results. It also contains skin-smoothing butters and oils like shea, mango, and jojoba for baby-soft buns.
Try incorporating it 2-3 times per week before making it part of your daily skincare regimen.
Black Jelly Blemish Treatment Body Serum
Consider this your go-to treatment for pesky body breakouts. The charcoal-formulated, quick-drying treatment can be used on both face and body, but it's mainly designed to zap away zits on the shoulders, back, and chest. Charcoal and tea tree sink in fast to dry out pimples, while witch hazel and baobab oil team up for a hydrating effect.
This bottle of black jelly clears up stubborn body breakouts by absorbing stale sebum and grime and targeting inflammation deep within your pores, leaving you with smooth, clear skin. Apply 4-5 drops to blemish-prone areas after showering. With continued use, you'll soon see your pimples clearing up.
24k Gold Black Soap Impurity Cleanser
You can always rely on this popular 2-in-1 face and body acne treatment if you're looking for an alternative to breakout-banishing ingredients like salicylic acid. As effective as salicylic acid is at fighting blemishes, some skin types find it too irritating.
Truly's Black Soap Cleanser combines 24k gold and African black soap to deliver a gentle yet high-performing spot treatment that hydrates the skin while ridding it of impurities.
Apply to damp skin and massage in a circular motion for 60 seconds. Rinse thoroughly. For best results, use it three times per week.
Acai Your Boobies Boob Polish Firm & Tighten
Truly's Boob Polish is a great steal worth stocking up on. It delivers significant smoothness and perkiness in a whipped, berry-scented formula you'll want to slather your body in daily.
Packed with retinol, acai, and dragon fruit, this polish smoothens skin and nips, while fading stretch marks and fine lines. It's also highly nourishing, providing your skin will all the nutrients it needs to glow. No wonder people have been ranting and raving about it all over TikTok!
Coat your chest in Acai Your Boobies Polish. Leave it on for 5-10 minutes before rinsing thoroughly. For best results, use daily.
You really don't need to spend a fortune to get high-performing vegan skincare products. Just look at Truly's bestsellers. They're all under $29 and are proven to provide visible results.
Whether you're looking for hydrating body butters, resurfacing butt scrubs, or skin-clearing face cleansers, you'll find everything you need on the virtual shelves of Truly Beauty.
We believe in providing high-quality vegan beauty products with wallet-friendly price tags so that you don't need to pay extra for shopping with a conscience.
Share
---