Truly's Top Skincare Products of 2021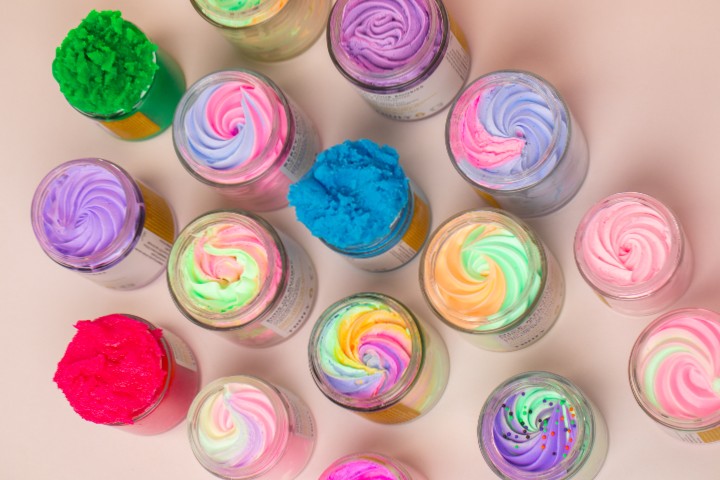 With new products continually flooding our virtual shelves -- and selling out quicker than we can restock them -- it's been an exciting year for skincare at Truly! We're truly pumped to bring you the cleanest, kindest, most-high performing skincare around.
At Truly, we blend gold-tier ingredients like hyaluronic acid, vitamin C, niacinamide, and glycolic acid with plant-based oils like jojoba and coconut to wake up and revive your complexion. We're a skincare brand that cares about quality. And we deliver only the best products at drugstore prices. 
Keep scrolling for our favorite new releases and bestsellers in 2021.  
Smooth Legend Shave Kit
Includes: Shave scrub/exfoliator, shave butter + after shave oil
It's your one stop shop for the smoothest, silkiest shave of your life. Exfoliate, hydrate, and eliminate ingrowns -- Smooth Legend Shave Kit is everything you need for smooth to the touch skin sans nicks, cuts, and bumps.
Featuring our Smooth Legend Pre Shave Scrub, Happy Hairless Shave Butter, and Glazed Donut Shave Oil, these essentials will leave your skin feeling soft and smelling like sweet, warm donuts. Yum!
Formulated with hydrating coconut oil, soothing lavender, and nourishing vitamin E, these ingredients work together to resurface, tighten, and moisturize skin. 
Ultimate Smooth Legend Shave Kit
Includes: Shave scrub, shave butter, after shave oil, razor + fuzzy pouch
Our 3-step bestselling shave kit, plus our magnetic razor and fuzzy pouch to sweeten the deal. 
Inside you'll find our cult-favorite products -- Smooth Legend Pre Shave Scrub, Happy Hairless Shave Butter, Glazed Donut After Shave Oil, plus our life shaver starter razor + fuzzy pouch.
Upgrade your shaving routine with these skin smoothing and brightening beauty products. Thanks to our complementary fuzzy pouch, you get to transport your Truly shaving collection for a smooth shave on the go. 
Hot Swirl Summer Edit
Includes: Butt butter, polish, serum, boob butter, polish, serum
Skincare products for your boobs and butt! For some crazy reason, butt and boobs don't make an appearance in skincare routines. It's time that changed! When we found out that the boobs and butt are also vulnerable to issues like dryness, dullness, breakouts, and premature signs of aging, we decided to create a formula to reverse and prevent those concerns! Enter: our limited edition Berry Cheeky and Nice Melons Boob and Butt trios. 
Utilizing ingredients like berries, beta glucan, kigelia, and cantaloupe, these products make sure conditioned, tightened, and brightened curves are in your future. 
Blemishes, dullness, and dry skin will be a thing of the past when you start making the most out of this butt and boob 6-step routine. Any dermatologist would approve!
And remember, just 'cos summer's over doesn't mean your days of applying sunscreen are. Continue wearing SPF 30 right through winter -- including on your boobs when you're wearing low cuts or v-necks.
Acai Your Nippies
Includes: Nourishing Nipple Butter
Our newest addition to our Acai Your Boobies line, Acai Your Nippies, is made using a nourishing, anti-inflammatory blend of acai, dragon fruit, mango butter, and antioxidants. Shea butter is the base of this formula, lending its hydrating, collagen-boosting abilities for smooth, stretch mark-free skin.
Best of all, it contains zero retinol, making it suitable for nursing mothers to soothe dry, cracked, or inflamed nipples. It's a skincare staple for new and nursing moms!
Think of it as a body lotion or creme -- only way more nourishing and designed especially for your nips. 
Date Night Survival Kit
Includes: face wash/body wash, body lotion, acne patches, shave butter, butt + boob polishes 
Planning a hot night out or a cozy night in? The Date Night Bundle features a lineup of Truly's best skincare products to keep you smooth, perky, and fragranced. 
Our Date Night Bundle includes Buns of Glowry Smooth Butt Polish, Acai Your Boobies Lifting Boob Polish, 24k Gold Black Soap Cleanser, Coco Cloud Shave Butter, Super Heart Patches, and Coco Rose Fudge Butter. 
Retinol appears in both polishes, which works to stimulate collagen to smooth out fine lines, fade hyperpigmentation, and leave skin glowy. Salicylic acid lends its de-clogging, acne fighting abilities in Black Soap cleanser. Other top ingredients in these skincare products include African Black Soap, coconut, argan oil, watermelon, and acai. 
Ultimate Cooka Treatment 
Includes: Pubic oil, serum, razor + bath towel 
2021 has been a big year for pubic care. Whether you like to keep things smooth or bushy, our Cooka oil and concentrate offer hydration, relief, and softening effects for a smoother bikini line and noticeably softer hair.
This set is everything you need to show your lady parts some love. Cooka Oil, Cooka Concentrate, signature razor and Truly bath towel pave the way for a silky smooth shave. 
Formulated with tea tree oil, primrose, lavender, and jojoba oil, these two formulas soften coarse body hair, relieve post-shave dryness, and quell irritation even on the most sensitive skin types. Plus, it's fragrance-free, offering a delicate tea tree oil scent to skin.
Cooka Bundle
Includes: Pubic oil + pubic concentrate
This duo works in tandem to alleviate stubborn ingrowns, clear pores, and delete post-shave dryness. It can also soften coarse pubic hair while limiting excess sebum and irritation. 
Best of all, these multitasking serums work not just on your bikini line -- but anywhere hair meets skin. Yep, you can use them anywhere on your body!
Thanks to jojoba seed oil's hydrating abilities, lavender's soothing abilities, and tea tree's antimicrobial properties, these formulas leave you with post-shave silky, smooth, burn-free skin. Meanwhile, primrose lends its anti-aging and skin barrier strengthening superpowers.
Unicorn Blast Bundle
Includes: Body polish, body butter, lip balm
All the bestsellers, bundled. 
Moisturize, polish, and plump with the lineup of the most decadent Truly must-haves: our 2-in-1 hydrating body butter, our BRAND NEW plumping polish and the versatile balm that works all over. Expect head-to-toe dewiness from this bundle!
While the polish buffs away dead skin cells to reveal brighter, smoother skin beneath, the butter conditions the skin, and the lip balm adds oomph to thin, dry pouts.
Superstar ingredients in the formulas include aloe, shea butter, vegan collagen, acai, and peppermint. 
The hype around our Unicorn products is real! 
You'll find a slew of skin-transforming, wellness-forward formulations on Truly. From face masks to vitamin C serums, eye creams to BHA-infused toners, our virtual shelves are brimming with solutions to your skin woes.
We pride ourselves in using the best ingredients around. From nut butters to plant enzymes to AHAs like glycolic and lactic acid, we've got a formula for every skin type and concern. Dry skin, acne-prone skin, dark spots, uneven skin tone, or dark circles -- we've got you covered.
You can purchase our top skincare products on Sephora, Ulta, Amazon, or on our official website. 
Share
---