We Reformulated our Most Wanted Products. Here's Why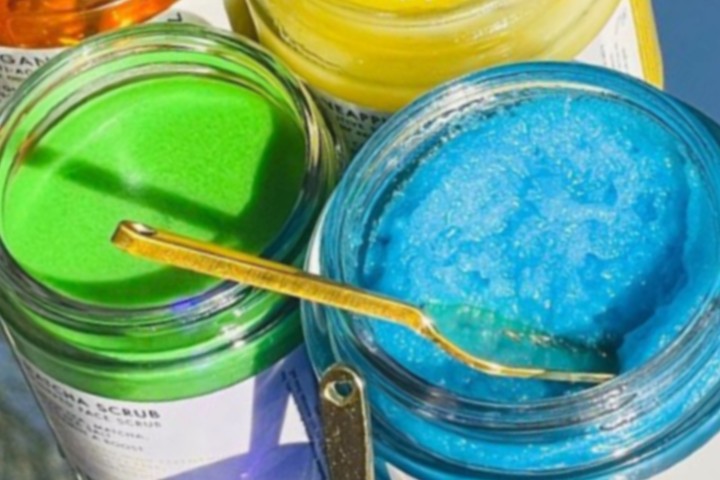 Our bestselling scrubs have just been revamped: same benefits, more to go around!
During the pandemic, a few Truly customers expressed their love for our Matcha and Moon Rocks Scrubs, but pointed out that these sugar-based scrubs separated over time. 
We hear you. That's why we've reformulated these popular products to perform even more awesomely than they did before. Only now, you have plenty more of it to enjoy!
At Truly, we take your feedback on board. Not happy with something? Tell us. Want more of something? Tell us. Think something can be made even more incredible? Tell us!!!
Meet the new and improved Moon Rocks & Matcha Scrubs, aka, our fan-favorite beauty products.
New Texture
Now made with a cane sugar base fused with organic virgin coconut oil, vitamin E, sunflower seed oil, and organic neem seed oil, Matcha Face Scrub and Moon Rocks Scrub offer a brand new texture. It feels gentle on the skin yet grainy enough to slough away dead skin cells to reveal beautiful, glowing skin.
You can simply scoop out a palm-sized amount and lather it with water to create a paste. Massage into the skin using circular motions. 
This reformulation means you can enjoy a skincare product that delivers clearer, smoother, blemish-free skin. What were once great products are now even better ones.
More Product
With the new product versions comes a higher quantity of scrub. With their more liquidy texture, we can now fit more of these products into our jars, meaning you get much more for your buck. You like? So do we! Because more is always better, right?
No Separation
Remember before how our scrubs used to separate over time resulting in you having to re-stir them? The new formula saves all that messing!
Thanks to their new stabilized bases, the Moon Rocks & Matcha Scrub new formulation will no longer separate over time. So you can look forward to products that stay exactly as they are - even several months later.
With these product developments, we decided no Truly customer deserves to see a change in their product. They should look and work the same as the first time you used them. Thus, we took our bestsellers and verified they'll stay consistent over time.
Improved Results
Now that these scrubs feature more stabilized bases and increased key ingredient volume, they offer higher overall effectiveness and better results. Going forward, these two trending items will be more consistent in their makeup and the results they provide.
They'll exfoliate your skin and reduce inflammation for a smoother, clearer, brighter complexion. You don't need any fancy skincare gadgets for stunning skin - just one of these revitalizing scrubs.
Even More Positive Reviews
Product reviews can shape someone's opinion of a brand, product, or product line. Just like influencers and bloggers on social media convince people to purchase top trending products via tutorials. Or marketers make elaborate statements that compel you to buy.
Well, our new formulations are gaining a lot of buzz on TikTok and on our ecommerce store - where you'll find Truly product reviews.
"Love this scrub! Leaves my face feeling so fresh!" one customer recently wrote about Matcha Face Scrub. Meanwhile, another Truly customer expressed their love for the upgraded product, writing:
"Absolutely love this scrub and I've only had it a few weeks. I try to only use it a few times a week (1-3) but it's amazing on my sensitive skin. I can already tell the jar will last a while because a little goes a long way and with exfoliating it feels like it does its job but not too harshly and almost melts into my skin and fingers after scrubbing. Little to no smell which is nice and doesn't leave me red."
As for Moon Rocks, Truly fans are digging the new formula just as much.
"Used this for the first time last night and I'm in love", gushed one reviewer, while another posted, "Very gentle and leaves my skin smooth and soft. Only a tiny bit is needed."
Same Price Tag
You shouldn't have to pay for product improvements. It's completely down to us to deliver the best possible product that provides the best possible results. You shouldn't need to pay extra to get that. And we don't expect you to. 
You'll still be able to purchase each product at its original price. In other words, you'll be getting much more for your money. Your best bet is to stock up on these goods from our online store so you can enjoy more of a good thing.
WHY WE'RE REFORMULATING SOME OF OUR PRODUCTS?
In a world with Google trends, hashtags, and giveaways, it can be hard to really distinguish how good a product is. From hair care to health care, there always seems to be a new product trending online prompting people to click over to Amazon or Ebay in a rush to get! get! get!
New trends are fun, sure. But when it comes to our philosophy, we're all about beauty for the long haul. In other words, we want to give you products that work and will effectively address your issues for many years to come. 
That's why we reformulated two of our most popular products. When we heard our target market wasn't 100% satisfied with these products, we got to work straight away on improving the formula. 
At Truly, we know and understand our target audience. We know you're too smart to fall for revamped marketing campaigns that claim a product is better - even though the formulation remains the same. We don't want to undermine your intelligence. Instead, we've decided to embrace your feedback and use it to improve our existing formulas.
We have been working to create more effective and consistent skincare products across the board. We'd love to hear your feedback on our new and improved scrubs, and hope you continue to love these products as much as we do!
Share
---