What Skincare We Are Loving for Taurus Season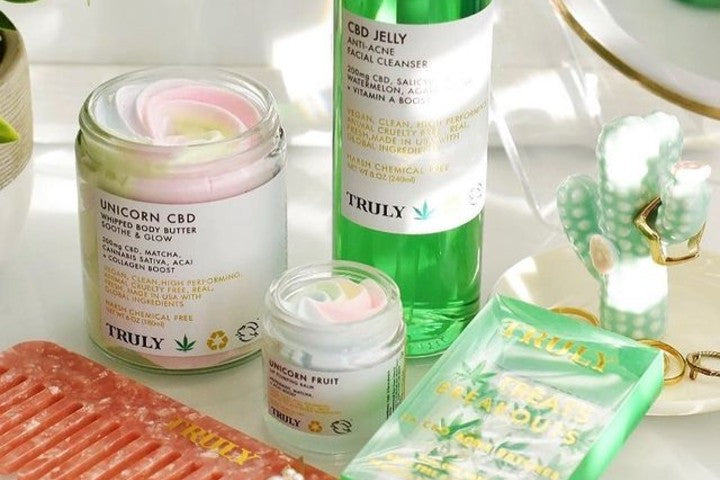 Tauruses…they're tactile, tasteful and always on trend. They love serenity, soothing aromas, and succulent flavors. Governed by Venus and besotted with love, money, and beauty – skincare is right up their alley.
Tauruses tend to love the good things in life, even if they come at a price. They favor quality over quantity when it comes to skincare.
Here are some top picks we think are especially Taurus-esque that you or the Taurus in your life might need.
Blueberry Kush Bundle
Serene with succulent flavors, all the products featured in the Blueberry Kush Bundle are ideal for Tauruses. And the key ingredient all these products contain? The luscious, power-packed fruit that is blueberry.
According to Stephanie Clarke, co-owner of C&J Nutrition in Manhattan, "That deep blue/purple color that makes blueberries so gorgeous translates to helping your skin look young too."
She elaborates, "This color is a result of compounds called anthocyanins, powerful antioxidants that shield the skin against harmful free radicals that can damage the collagen that keeps your skin firm."
Inside the bundle: Blueberry Body Scrub, Blueberry Body Lotion, Blueberry Face Oil & Blueberry Body Oil.
All these products contain 1,000 blueberries, vegan collagen, and an AHA/BHA boost to clear away impurities, illuminate the skin, and deliver a head-to-to glow.
Every product in the bundle smells divine and feels luxurious on the skin – something Taureses will much appreciate. And seeing that your super power is being able to carry things through to completion, you'll definitely see visible results with regular use of these products.
Unicorn CBD Whipped Body Polish & Butter
You find yourself attracted to Instagrammable packaging and bold colors, but only if it's effective. You like to invest in high-quality products that do their job. Truly's Unicorn CBD products will be right up your street.
For starters, these two products are adorable – and definitely Instagrammable.
Whipped and rainbow colored, they look pretty on the outside but it's what's on the inside that really matters. Besides looking cute and colorful, this polish and butter have multiple benefits for the skin. They soothe stressed out skin, deliver moisture to dehydrated skin, and give your skin a gorgeous glow.
Formulated with CBD, matcha, acai, and collagen, these ingredients reduce inflammation and promote flawless skin. And did we mention they also smell like candy? It's really yummy!
Start with the polish to exfoliate and remove dead skin cells for smoother skin and better product absorption. Then end with the butter to deliver nutrients to your skin and lock in moisture for the rest of the day. They're a perfect post-shower combo for healthy, glowing skin.
Get the Polish and Butter here.
Moon Bath Essentials
Tauruses love being in peaceful environments, surrounded by fragrant aromas and calming colors.
To aid your relaxation, stock up on Truly's Moon Bath Essentials. This calming body cleanser and spa mist deliver a delicate, floral scent perfect for inducing a sense of relaxation – wherever you are.
The Moon Jelly Body Cleanser combines lavender with shatavari and an ashwagandha boost to soothe all your senses as you take a shower. As for the Moon Shower Mist, that sets the tone for a stress detox. You can spray it in the shower to calm your spirit and upgrade your bathing routine to a spa-like experience.
Formulated with adaptogenic herbs and soothing ingredients like eucalyptus oil, this mist heightens the senses, promotes clearer breathing, and de-stresses the mind for a more restful night of beauty sleep.
As a Taurus, you love indulging in me-time and self-care sessions. That's what makes this bath time bundle perfect for you.
CBD Jelly Bundle
According to astrologer Aliza Kelly, Taureses are prone to getting clogged pores. Thus, you should be choosing products with ingredients that decongest your pores and make way for clearer, smoother skin.
The main issue standing in the way between Tauruses and clear skin is the habit of hanging onto things longer than you should. We know you love that daily cleanser you've been using for years, but if it's not addressing your skin issues, it's time to cut your ties with it.
"Earth signs are more pragmatic and grounded," explains Kelly. "Earth is about retaining things. They want to anchor themselves in the physical world. Earth has a hoarding quality." And you certainly don't want dirt and grime sticking around, do you?
Invest in skincare products that contain pore-clearing ingredients like salicylic acid and retinol. These will reduce the appearance of clogged pores by boosting skin turnover.
We recommend giving Truly's CBD Jelly Bundle a try. Inside you'll find four blemish-clearing formulas both for the face and body: facial cleanser, facial toner, facial serum, and body cleanser. All these products utilize pore-minimizing ingredients such as salicylic acid, retinol, vitamin C, and glycolic acid so you can finally take charge of your acne – and very visible pores.
Plump Your Lips Bundle
For more fun and color in your life, try Truly's Plump Your Lips Bundle.
The bundle features a jelly lip plumping mask and butter to soften, smooth, and plump up your pout. Plus, they smell incredible!
So if you're looking for a formula that works to add some volume to your lips, we highly suggest giving this lip kit a try.
Made with high-performing, science-backed lip plumping ingredients like aloe, peppermint, and acai, this duo plumps, hydrates, and nourishes.
Is there really any connection between your star sign and your skincare routine? Astrologists think so. As for us? We like to believe there could be.
That's why we put together this article: so that you, as a Taurus, can establish the best skincare products according to your zodiac sign.
So take a look through our suggested products, give them a try, and see what you think. You may just be surprised how accurate these are!
Share
---