Why To Up Your Retinol in Winter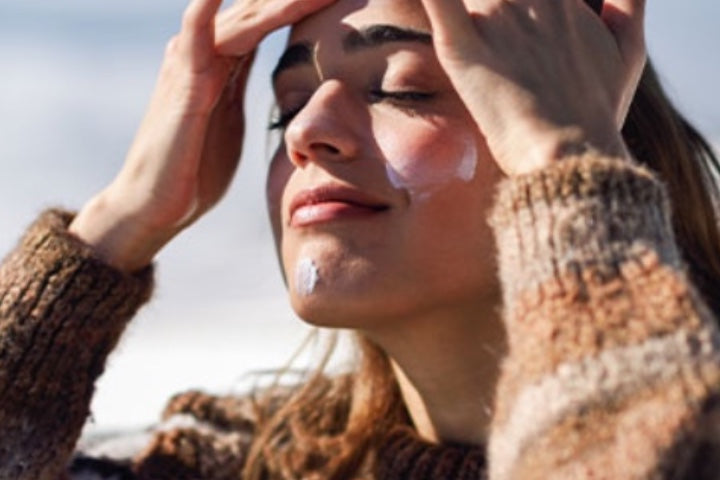 Retinol is of the skincare industry's darling ingredients, beloved by dermatologists and estheticians all over. This vitamin A derivative is known for its potent anti-aging effects -- boosting cell turnover, stimulating collagen production, and fading hyperpigmentation. It's also effective at clearing breakouts and improving skin tone and texture. The benefits go on and on!
That said, there are some rules to using retinoids the right way. For starters, some skin types (like sensitive skin) need to go easy on retinol products to prevent irritation and other unwanted side effects. And another thing: winter just might be a better time to introduce retinol into your skincare routine to reap all its benefits.
Here's why you should start using retinol throughout the winter months for flawless, radiant skin. 
Less UV Radiation
Retinol can increase photosensitivity, which is why the derms recommend wearing it only at night. Since it's no longer summer, UV rays are less powerful, making it the perfect time to incorporate retinol products into your skincare regimen.
While your face might be seeing the sun less this time of year, remain vigilant about wearing sunscreen with SPF 30 every day -- even if it is cloudy outside. If you've got sensitive skin, you may still want to stick to using retinol only at night to prevent side effects like pigmentation issues.
Brighter Skin
Winter skin tends to be duller than summer skin. Since retinol speeds cell turnover and encourages healthy skin cell production, it's excellent for brightening the skin tone. 
You will often find retinol included in glow-enhancing toners, serums, and moisturizers. These skincare products are designed to delete dullness in favor of a healthy, radiant glow using ingredients such as retinol, antioxidants like vitamin C, hyaluronic acid, and ceramides.
Alleviates Acne
In winter, the skin may actually be more acne-prone than in the summer. Between bacterial and immune system shifts and the shock of the cold weather, blemishes can become more prevalent during the winter time.
"When the skin is void of oils, moisture leaks out of the skin and causes dryness," says New York City-based dermatologist Dendy Engelman. "When it's cold, there is less moisture in the environment; when the skin's natural moisture barrier is compromised, it less able to fight bacteria [like P.acnes] and infection."
Incorporate smart products into your routine, such as cleansers and serums formulated with exfoliating acids like salicylic acid and actives like retinol. 
Tips for Using Retinol in Winter
Start Low
Using high concentrations of retinol is a quick way to worsen dry skin and experience issues like itching and flaking. When it comes to using retinol, always begin with a low concentration to save yourself the negative side effects. Begin with a lower strength formula then gradually work your way up to a higher concentration as your skin adjusts.
"When it comes to a straightforward retinol, I would recommend that people should start on a 0.2 per cent or 0.3 per cent, and then build up to one per cent when starting out," says Daniel Isaacs, director of research at Medik8.
Pay attention to how your skin reacts. Is it feeling drier? Normal? You can increase or decrease the concentration depending on how your skin reacts.
Start Slow
With potent topicals like retinol, it's always a good idea to start slow. Introduce retinol into your routine twice a week for the first two weeks, then every other day after that. If your skin is actually totally normally by then, try using it every night.
You don't need to use retinol daily to see results. If you have sensitive skin, you can still reap the anti-aging benefits of retinol by using it 2-3 times per week.
Always Wear Under Sunscreen
Even though winter is safer for wearing retinol creams and serums, you'll still need to protect yourself from those harmful UV rays that are present even on cloudy days. Before leaving the house, always apply sunscreen as the last step of your beauty routine.
Best Retinol Skincare Products 
One ingredient -- so many benefits! Here are some of our fave retinol-infused products to brighten skin, alleviate acne, and diminish signs of aging.
Vegan Collagen Booster Bundle
The ultimate anti-aging kit! Every product in this bundle contains a nourishing, fine line-fading blend of retinol, vitamin C, coconut oil, and plant-based collagen. Inside you will find a facial cleanser, face mask, face serum, and body lotion, all designed to plump, hydrate, and tone your skin.
Boobie Bundle
A three-step routine that was made for your boobs. Sculpting, moisturizing, and retexturizing, this bundle is everything you need for a perky pair. Retinol tackles cleavage-area breakouts while boosting collagen and elastin for firmness. Antioxidant-packed acai berry boosts the skin's moisture retention to delete dryness, revitalize dullness, and delay skin aging.
Glow Up Kit
Boost your glow with our Glow-Enhancing Mask + Serum + Acne Patches. Retinol, caffeine, and glycolic acid work together to force new collagen growth, enhance elastin, and in turn, elevate radiance.
Anti-Cellulite Bundle
Our citrusy, cellulite-busting mask and serum duo is loaded with a blend of flavonoids, retinol, and vegan collagen to mobilize stored fats, fight inflammation, and manifest smoother, plumper skin. It's one of the most effective over-the-counter treatments for cellulite.
CBD Jelly Bundle
If acne's your issue, reach for our Blemish Clearing Bundle -- a lineup of four retinol-infused, salicylic acid-packed formulas designed to clear up blemishes on the face and body. Featuring a face wash, facial serum, toner, and body cleanser, it's the daily skincare routine you need for finally putting acne to rest.
Retinol is a gold-tier skincare ingredient known for fading fine lines, lifting skin, battling breakouts, and improving overall radiance. It turns out, you may just need it in your winter skincare routine. Besides being the safest time of year to use it, retinol can also delete winter-related dullness and acne. Frankly, we highly recommend making it a year-round skincare staple for year-round flawless skin. 
Share
---