Your A to Z Guide to the Best Skincare Antioxidants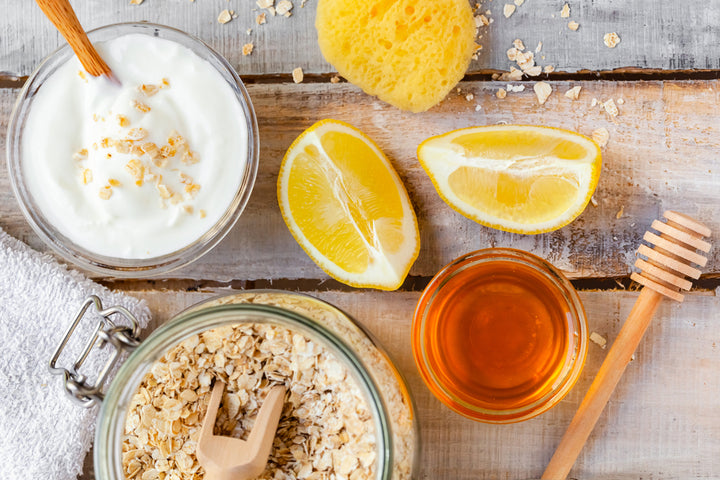 Antioxidants are used extensively in beauty products like serums, creams, and face masks – after all, they really are the hardest-working skin-care ingredients.
Used topically, antioxidants can protect and prevent free radical damage, as well as improve the overall appearance of your skin. Plus, they can help assist with hydration and inflammation.
Board-certified dermatologist Rhonda Klein explains how antioxidants work perfectly:  
"Antioxidants protect the skin by limiting free radical production, which can damage the skin. With daily use, they can reduce lentigines (sun spots), help combat visible signs of aging and calm skin inflammations. Several antioxidants provide the skin with hydration and increase moisture retention to help revitalize dull-looking skin."
By adding antioxidants into your daily skincare regimen, you can reduce and counteract free radical production, maintaining optimum skin health and reducing fine lines and wrinkles.
Luckily, there are a variety of sources you can choose from to get your daily dose of antioxidants.
From A to Z, let's take a look at the best skincare antioxidants around.
Vitamin A
Otherwise known as retinol, vitamin A is a powerful antioxidant with potent skin beautifying effects.
"I'd say that vitamin A, retinol, and the retinoid family is one of the most potent antioxidants with the most evidence suggesting that it can stimulate collagen production and fight free radical damage," says board-certified dermatologist Dr. Rachel Nazarian.
That means it has the power to reduce visible signs of aging, improve skin texture, and even treat breakouts. Triple win!
Choose Truly's Purple Rain Facial Oil. It's loaded with retinol, glycolic acid, and other antioxidants to lift and plump your complexion.
Alpha Lipoic Acid
Another badass antioxidant, alpha lipoic acid can protect the skin from sun damage when applied topically. Studies also show that creams with 3-5% concentration have improved sun damaged skin when applied daily for a consistent period of time.
Vitamin C
Vitamin C may be famous for its glowing, brightening effects, but we've got to give it more credit than that. Research shows that vitamin C can help protect the skin against sun damage and even skin cancer.
Further studies show that the antioxidant can also reverse discoloration and lines associated with aging. That's because vitamin C speeds up the skin's natural repair systems and prevents further damage.
But be aware, vitamin C is quite an unstable ingredient meaning it can lose it potency and efficiency when exposed to light or air.
Dermatologist and medical director at Dermstore, Ashley Magovern, advises, "It's probably best to store it in a cool, dark drawer or cabinet. Tetrahexyldecyl ascorbate, or THD, is a form of vitamin C that is inherently more stable, and it's lipid soluble, which means that it can better penetrate into the deeper levels of the skin to stimulate collagen production. Some prefer this formulation, which tends to be a bit velvety and creamy rather than serum-like."
CBD
CBD (cannabidiol) is a powerful antioxidant with a slew of amazing skin benefits. Studies show that CBD is even more potent than vitamin C. In other words, it's about time you got yourself a bottle of CBD oil or a product that contains it anyway.
Try Truly's CBD Jelly Facial Serum. Made with CBD, salicylic acid, and watermelon, this formula helps diminish acne without drying out the skin. It's also extremely calming and soothing – so perfect for sensitive skin types.
Vitamin E
We're all aware that vitamin E is an important vitamin in our diets – but what about in our skincare regimens? Equally as beneficial! Besides being an awesome antioxidant, it's also recognized for its ability to accelerate healing, treat dry skin, and reduce the appearance of stretch marks.
"Topically, it can be very helpful [for] a range of skin disorders, as well as skin repair," says board-certified dermatologist Ava Shamban. "It assists in various kinds of cellular restoration from sun damage to healing support for scars or burns."
She also points out that vitamin E is a natural anti-inflammatory, meaning it can be soothing for the skin. In addition, it's great for hydrating the skin and protecting it from the sun – to an extent.
Ferulic Acid
Topical ferulic acid acts like other antioxidants in that it slows down the aging process by lessening the effects of free radicals on the skin. Experts say it can also protect the skin against sun damage as well as improve skin that's experienced over-exposure.
The best way to use ferulic acid is in conjunction with topical vitamins C and E, as they enhance its stability and efficiency.
Niacinamide
"Niacinamide, also known as vitamin B3, is a powerful antioxidant that improves the skin's texture and tone," explains Dr. Klein. "It reduces fine lines, wrinkles and hyperpigmentation and exhibits anti-inflammatory properties."
This antioxidant treats skin conditions like acne and rosacea, and is suitable for all skin types. You can even combine it with your favorite skincare products and ingredients like retinol and vitamins A and C to enhance their performance.
You'll find it in: Truly's Glass Skin Serum.
Resveratrol
Resveratrol is a chemical compound found in fruits like grapes and berries, tea, and red wine. Studies show that this superstar antioxidant can protect skin from air pollution, UV radiation, and weather changes.
"Resveratrol can form soluble, complex molecules with certain metal ions, inactivating them so they cannot produce free radical formation," explains Dr. Lesley Rabach, a skincare expert at New York's LM Medical NYC. "This action, in combination with its powerful antioxidant capability, makes resveratrol highly effective in combating the damaging effect of free radicals that leads to skin aging."
Resveratrol really is an anti-aging powerhouse, which can drastically improve the appearance of fine lines, wrinkles, and age spots.
So there you have it, your a-Z list of skincare antioxidants offering a goldmine of eye-pleasing effects. Without a doubt, these antioxidants offer a myriad of benefits for your skin and the best part is, you'll easily find them on drugstore shelves. Practically every skincare brand these days offers antioxidant-packed formulas – for obvious reasons.
Share
---